At the risk of jinxing it, it appears spring is finally, really, actually, officially and irrevocably here. Seems like a safe-enough time—quick, knock wood—to send the sweaters packing and turn to pressing matters like our sandal and swimsuit situations.
With Memorial Day squarely in sight, Bare Necessities is here to start things off with the swim part of the equation. And since we're just coming out from under all those layers and feeling a bit more…well, pale and squishy, frankly…than we hope to be by July or August, we're doing it delicately.
That can only mean one highly essential thing: cover-ups.
Those chic, breezy security blankets are the perfect segue between showing no skin and baring it all, between feeling warm rays on your shoulders and promptly burning to a crisp, between showing up for those first warm days and endlessly waiting for the height of summer.
This season, our swim buyer Megan Puma has assembled the freshest cover-up mix to date, and paired them for you with a few good suits. Pretty much all that's left to do is put one on and head on out.
WHAT TO WEAR FROM BEACH TO BAR
Elan Bell Sleeve Cover-Up
Check out the Coachella of cover-ups: This trendy bell-sleeve, off-the-shoulder silhouette can transition from shore to street by swapping flip flops for a cute pair of wedges. Inspired by dark-wash denim, the floaty fabric works like a neutral, and the one-size-fits-most (2-14) cut makes it a total throw-on-and-go no-brainer.
Fantasie Byron Bay Swim Cover-Up
A boyfriend-style, cotton-blend shirt with a cool print, slouchy fit and high-low hem doubles as a tunic whenever you pull it on with black leggings, jeans or cut-offs. You could tuck it into a denim skirt, too—in other words, it plays exceedingly well with your everyday wardrobe.
Becca Nantucket Cover-Up
A classically preppy striped dress feels fresh with an embroidered, plunging neckline that works just as well showcasing a swimsuit as it does a little skin. No need to pack a whole different outfit to switch from poolside to happy hour.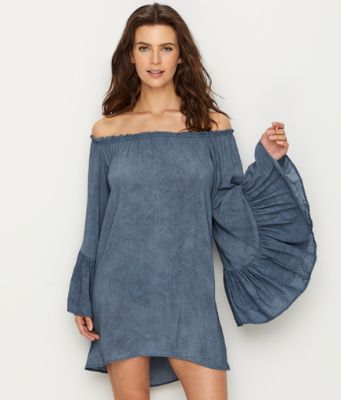 GO-WITH-EVERYTHING, PACKABLE OPTIONS
Freya Sundance Crochet Cover-Up
Tropical solid colors make it easy to match any suit (like, say, your favorite matching Sundance style); the deep ocean color is an on-point new hue. It's cut like a flattering dress, with a waist-cinching tie detail, and the crochet makes it ever so slightly sexy. Shoulders get a little bit of burn protection, too. It's perfect stroll-around-the-resort-wear.
Becca Breezy Basics Tank Cover-Up
Let us count the ways we love this knit tank dress: 1) so comfy, 2) easy to slip into, 3) the neutral shades go with literally any swimsuit, 4) the cute knotted hem and keyhole back add interest, 5) foolproof sizing means it's going to fit and 6) did you see the price?
Magicsuit Taylor Cover-Up
The little black dress of cover-ups is a little bit extra thanks to its pointed hem, deep V-neck and racerback. While simple, make no mistake, it's sophisticated at the same time. The best part: It rolls up to practically nothing inside a suitcase.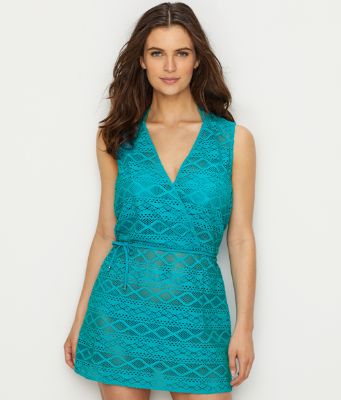 FAB PLUS-SIZE PICKS
Elomi Plus Size Indie Crochet High Neck Cover-Up
What do we want? Coverage! How do we want it? Without a nautical mile of extra fabric! Not unlike a tankini, this high-neck cover-up provides a little layer you can easily tan through. If it makes you feel comfortable and confident rocking a bikini, all the better.
Dotti Plus Size Free Spirit Hooded Cover-Up
The elaborate openwork detail is a cool contrast to an otherwise sporty, light, easygoing style with a drawstring hood and front zipper that lets you slide it over your suit and go, go, go. Also, did we mention it has pockets?!
Becca Etc Plus Size Granada Chiffon Cover-Up
Printed chiffon has a very boho-chic vibe. Put it on with a solid suit to punch up the look, or go boldly by coordinating it to the matching Granada tankini.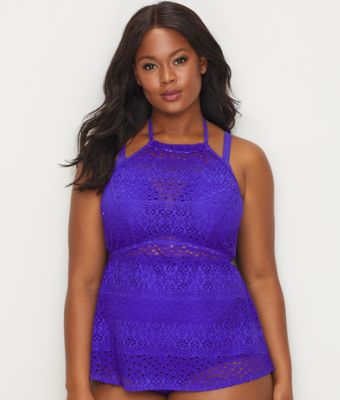 NOW TRENDING: BOTTOMS
Hard Tail Flowy Palazzo Woven Yoga Pants
Cover-up pants keep growing in popularity; here's a foolproof way to try the trend. These easygoing black pants pair with every last thing, and they keep scorch-prone legs stylishly under wraps while wearing whatever you want up top.
Dotti Safari Ruffle Sarong
Sarongs have always been a feminine fashion do, yet they suddenly feel very new. Love the adjustability here and the simple, sweet ruffled hem. A solid color compliments pretty much any suit—and so does the price. Check out the extended-size version, the Dotti Plus Size Safari Sarong.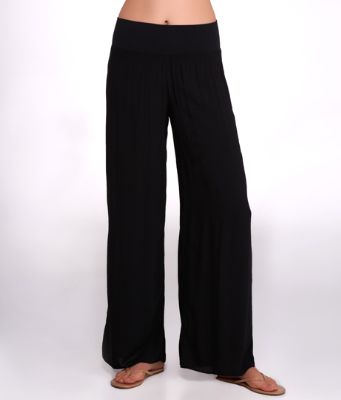 The following two tabs change content below.

Brooke is the editor of this here blog. In a previous life, she was an editor at Good Housekeeping and O, The Oprah Magazine. Brooke has written for Glamour, Travel+Leisure, New York Magazine and more. She's into concerts, travel and her exceptionally adorable daughter and husband.

Latest posts by Brooke Glassberg (see all)