Alyssa Hertzig of The Sparkly Life blog is no stranger to the "treat yo'self" philosophy. A mom and a wife, a lifestyle blogger, a beauty writer for some of the world's top magazines and, oh yeah, a Bare it All Power Figure, we knew Alyssa would be the perfect person to talk to for our holiday gift yourself guide.
Bare Necessities spent the day with Alyssa at her home outside Manhattan, hanging with her adorable kids Sadie, 7, and Nate, 4, and pup Easton. Alyssa was in full sparkly life mode during our photo session, while her in-between moments were spent trying to feed the kids, get them to after-school activities, talk to the babysitter, let the dog out….
Real life, meet the sparkly life.
That's what this gift-yourself guide is about: the times when the reality of every day rubs up against who we imagine ourselves to be…polished, put-together, at our best even when kicking back.
"As moms, we tend to put our kids before us—and we should do that! But it doesn't mean we don't matter, too," says Alyssa. "I dress my kids in adorable PJs each night, but if I'm being honest, I've kind of let myself go in that area. I had fallen back on wearing sweatpants and an old tee shirt to bed—not exactly chic." And since Alyssa spends a lot of time working for home, "that outfit often follows me into the next day, so I love the idea of giving yourself the gift of cute loungewear or sleepwear. It can be just as comfy as your standby sweats, but you feel so much cuter and more confident."
Who doesn't need a daily dose of that? Read on for where she found it.
"This year, we curated an assortment that's not only comfy and cozy but chic and fun. I wanted the sleep department to feel classic and true to holiday and be more lifestyle-driven than ever—a lot of these pieces are as good outside the house as they are in. Our hand-picked mix gives you a reason to pick up something special not only for friends and family but for yourself as well, because you're giving the gift of comfort, which is pretty priceless these days," says Alyssa Bernard, our sleepwear buyer here at Bare Necessities.
Out of the new sleepwear collection, ranging from snuggly to sexy, here are the five sets The Sparkly Life's Alyssa is most excited about this season. Because as lengthy as her holiday gift list is, she's not about to leave herself off it entirely; nor should you. In fact, both Alyssas have made it exceedingly easy to pick up one little pick-me-up or a whole upgraded PM wardrobe.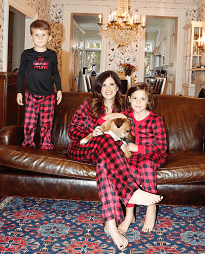 GIFT YOURSELVES: Karen Neuburger buffalo check family pajamas family pajamas
The family that matches together has the most fun together, and coordinating pajamas are an adorable new trend for the holidays when everyone just wants to relax at home together in comfort and maybe take a few Instagram–worthy family photos.
"These are so much fun!" says Alyssa. "My daughter loves a good pair of onesie PJs and couldn't get enough of this big-girl version. My son loves the 'Elfie' saying on his pair—he finds it hilarious! It's so fun matching with my kids…and my dog! When does that ever happen? I'm not sure how much Easton enjoyed his outfit, but we sure loved watching him wear it. Now we just need to convince my husband to join in!"
GIFT YOURSELF: PJ Harlow "Anne" blush satin cami top, "Jolie" lounge pants, "Amelia" knit cardigan wrap  with Acorn spa thong slippers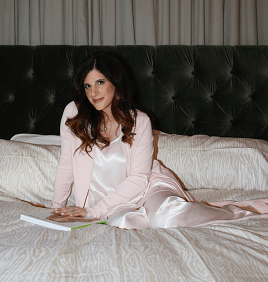 PJ Harlow is a hit around here because it's an entire stylish, dressed-up-dressed-down wardrobe meant for lounging around the house. Every satin and cotton-m
odal piece feels really good to the touch, which is all you want out of your after-hours attire.
"These are kind of sexy without being too sexy," Alyssa says. "I love the soft blush-pink color and the fact that there are so many pieces in the collection to mix and match. I can go with the shorts in the summer or the pants if I'm going to be working from home all day. The cardigan is lightweight and airy but still perfect for keeping a little bit covered on a chilly day."
You can also answer the door and feel totally pulled-together in a set like this. Matching slippers make the whole look feel as thoughtfully put-together as anything you'd wear out and about.
GIFT YOURSELF: P.J. Salvage "Ski School" flannel pajamas with matching P.J. Salvage faux-fur slippers
When done right, pajamas should make you smile, and a sweet print like this ski motif checks that box whether you're more of a fan of black diamond runs or après ski rest and relaxation, like Alyssa is.
"These are so soft and comfy, and the print is a little tongue-in-cheek. They're the perfect thing to put on for a cold winter night," she says. "When it's warmer, I'll wear the pants with a tank top or solid tee."
And fuzzy slippers are always a good idea. The thong style makes this pair seasonless.
Just like we dress for the weather with our day-to-day wardrobe, why not do the same and keep your sleepwear feeling seasonal, too? This set feels right for right now, putting you in a festive mindset.
"I adore these PJs because they're a bit more fitted than your run-of-the-mill flannel pajama set, so they're actually very flattering yet still totally comfy. And the stylish black slippers keep my feet toasty warm and are cute enough and substantial enough that I could actually wear them to run outside and grab the mail or walk Easton."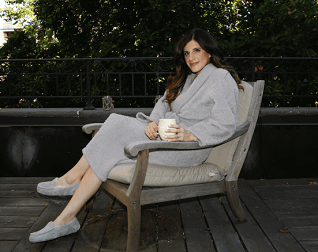 When it comes to a bathrobe you're going to wear on the daily, Alyssa's number one requirement is that it feel like a cloud.
"I've been a fan of Barefoot Dreams robes forever! Nothing feels as soft and cozy as they do! I put mine on straight out of the shower and keep it on as I wake up my kids for school, make breakfast and pack lunches. It keeps me as warm as if I were still in bed," which Alyssa appreciates on crisp mornings. On the occasional agenda-less fall weekend, she even gets to have her morning coffee on the deck in it.
"I love the sophisticated, neutral dove gray color because it goes with anything you're wearing underneath and always looks pristine."
You can enter for the chance to win a Barefoot Dream robe on Alyssa's blog, The Sparkly Life.
Browse our full selection of pajamas, nightgowns and robes in our sleepwear collection.
The following two tabs change content below.

Brooke is the editor of this here blog. In a previous life, she was an editor at Good Housekeeping and O, The Oprah Magazine. Brooke has written for Glamour, Travel+Leisure, New York Magazine and more. She's into concerts, travel and her exceptionally adorable daughter and husband.

Latest posts by Brooke Glassberg (see all)