April Compertore, 35, is never not on the go. She's a meeting planner and a mother of two little girls, and both roles keep her on the move. As a former professional touring musical theater performer, though, she's used to it.
These days, April is always up for "giving my daughters experiences," which, in the summer, usually translates to getting into a swimsuit and hitting an amusement park or town pool. And she definitely wouldn't mind parking it for a few days in a lounge chair on a Caribbean island for her ten-year anniversary with her husband later this year.
For all these reasons, April was game for Having a B.R.A. (Before – Revelation – After) Fit, the swimwear edition. While she wasn't far off in terms of bra size, she was missing the style and support a bra-sized swimsuit can give and the precious free time a personal shopper could save her.  
BEFORE
Prior to her bra-sized swimwear makeover, you would've found April in a Lands' End suit—practical, if not the most body-conscious and, with a soft-cup bra inside, not the most supportive. April has had a hard time finding swimsuits that are "not designed for a 20-year-old party person who enjoys crazy tan lines. When I can find a suit that fits my chest, it's huge everywhere else, which isn't very slimming," so she gravitates to tankinis that move with her and are "easier than a one-piece."
A friend had told April about bra-sized swimwear, so she was ready to give it a go. She called Bra Fit Expert Melissa, who had April measure herself on speakerphone—she was either a 30DDD or a 32DD (what's known as a sister size); the bra she was in at that moment happened to be a 34DD. "Even though they're both DDs, the cups on your 34 band are actually bigger than the DD cups on a 32 band, which not a lot of people know," Melissa explained. "Cups change size relative to the band even though the letter itself stays the same. So let's split the difference and look at 32DD and DDD swim tops. I don't want to start at a 30 because swim tends to run small to begin with."
Melissa pointed out that bra brands that make bra-sized swimwear are more supportive than swim-only brands because that's their wheelhouse. "While a 34 band from, say, Anne Cole may fit you, I don't think the bra would support you enough."
With size and fit handled, they jumped to style. April had pre-shopped barenecessities.com and was drawn to tankinis and one-pieces because "I'm usually bending down in the kiddie pool, so I don't like very low-cut tops." She preferred halter swimsuits for the same reason: no need to spend one second dealing with falling straps. "A smaller band will definitely help with that problem," said Melissa. "The next time you bra shop, look for a U-back design." They talked one-pieces, too: "In general, they're made for someone who has average proportions relative to the band, so if you're a 32 band but a little bigger in the hips, you may want to go up to the 34." (Side note: Who knew?)
Enough said. April was all in on bra-sized swim.
"Now that I know your preferences, I'd love to give you one or two suggestions," said Melissa, who recommended perennial favorite Freya Pier for its cute polka dots and little ruffle. "I like Freya because it's true-to-size, and this one is pretty versatile," she reasoned.
"How do you feel about florals?" Melissa asked, pointing out the Fantasie Agra collection next.
"That pattern is really beautiful. Definitely cute!" April said.
"And it has a matching fold-over bottom, so you could wear it a little bit higher or lower, depending on the day."
Lastly, they considered a bandini, a straight-across style that can be worn with or without straps. "People tend to stay away from bandeau or bandini swim tops because they fear they'll fall down, but truthfully, if you're in the right size, they stay up best of all because they're meant to be worn without straps," Melissa pointed out. "I recommend them a lot to mothers with teenage daughters who have large chests and can't buy a swimsuit off the rack. They're less revealing than most bikinis because they don't have a deep plunge. I think the bandeau gets a bad rap!"
One parting thought from Bra Fit Expert Melissa: "Like with jeans, there's not a lot of consistency across swim brands. So you'll try on, and we'll see."
THE REVELATION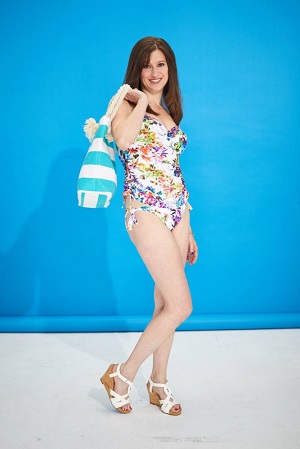 April started with two different brands—the Fantasie Agra tankini in a 32DD and a 32E, and the Pour Moi Starboard halter one-piece in a 32E because, per Melissa, the brand tends to run small. From home, April nixed the one-piece ("It flattened my boobs more than my stomach") and fell for the Fantasie floral tankini.
A lot about April's fitting surprised her: "I couldn't believe Melissa could calculate my size accurately over the phone, and she had me considering suits I wouldn't ordinarily look at." When April couldn't choose which size to go with, she emailed her Bra Fit Expert two quick pics from the comfort of her bedroom to get her expert opinion.
Melissa took a look and asked April to run through the Fit 5, the Bare Necessities way of deciding whether a bra fits at five points: the band, cups, center gore, underwire and straps. "The two sizes are just an inch of volume apart, so if you're at the top of the DD range or the bottom of a DDD, it would be difficult to notice a big difference in the fit. You liked the way the DD looked throughout the rest of the suit, hugging your waist and giving you a more defined shape, so that's the one to go with."
Imagine it: satisfied with swimsuit shopping in one go-round. That's the difference an Bra Fit Expert makes.
AFTER
"I feel confident wearing my new suit, and I felt good about the whole experience," said April, who just broke out the Agra over Memorial Day Weekend and looks forward to packing it for her anniversary trip.
Now she's paying forward her friend's advice: "If you don't already know about bra-sized swimwear, look at Fantasie, look at all the brands on Bare Necessities. Until now, I had found very few options. Depending on what appeals to you, even within the same suit, there are so many options there," said April. "With Melissa's help, I found a suit that makes me feel secure and is still so pretty. It's young and feminine but not too young—perfect for summer vacation."
Don't forget to check out all of this season's incredible bra-sized swimwear makeovers:
The following two tabs change content below.

Brooke is the editor of this here blog. In a previous life, she was an editor at Good Housekeeping and O, The Oprah Magazine. Brooke has written for Glamour, Travel+Leisure, New York Magazine and more. She's into concerts, travel and her exceptionally adorable daughter and husband.

Latest posts by Brooke Glassberg (see all)