We devote a decent amount of thought to what we wear to go out, but when it comes to our downtime, we're likely to give the ones we live with the short end of the stick. Why do we care so much about how friends, coworkers and acquaintances see us, and so little about our families…and to be honest, ourselves?
This season, Bare Necessities sleepwear buyer Melissa McDonald is out to correct the imbalance, because throwing on threadbare pajamas, ancient college tees or holey sweats does nobody any favors. "Day or night, when you get dressed, it should be to feel your best. Look good, feel good, sleep good," said Melissa. "It's as simple as that."
Check out her four favorite easy updates, and head to bed feeling glad that you heeded your better angels.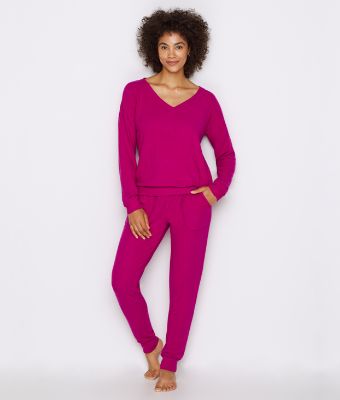 INSTEAD OF: sweatpants
TRY: joggers and lounge pants
It's finally time to graduate from your gray alma mater logo sweatpants to something more polished—but equally warm and snuggly. Taking their cues from the same kinds of comfortable but pulled-together pants you would wear to Sunday brunch or on a long flight, joggers (roomy in the hips and thighs, tapered at the ankles and oftentimes with pockets) are the trim version of those beloved old sweatpants; a more generously cut spin on stretch leggings.
Not quite as casual or as cutesy as pajamas, joggers or lounge pants (which generally have a wider, straight-cut silhouette) are what to change into when you get home. Go for an unexpectedly uplifting color like these magenta P.J. Salvage Peachy Jersey Knit Joggers, a pretty design like the P.J. Salvage Floral Embroidered Knit Jogger Pants or a versatile neutral print, like the quietly camouflaged Onzie Weekend Jogger Pants. Most of the joggers in our assortment coordinate with a specific top for a cool, modern spin on the sweatsuit. Matching is the new mixing.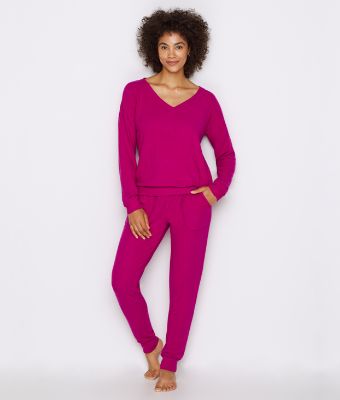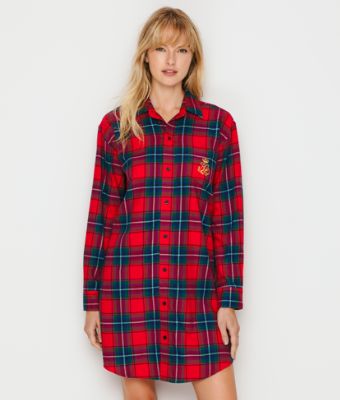 INSTEAD OF: T-shirts
TRY: sleep shirts
If you're the type who likes your legs to feel unfettered under the covers, consider the sleep shirt. A major step up from a pullover-style tee (not to mention more booty-covering), button-downs are just as easy-wearing, with refinement to spare. Go for crisp cotton, soft blends or fuzzy flannel from designers like Ralph Lauren and Donna Karan who really know their way around tailoring.
So what's new lately? The lengths these go to. You can do either a nearly-to-the-knee top like the Lauren Ralph Lauren Further Lane Woven His Shirt or, for extra warmth and maxidress-inspired style, to the ankle, as with this Donna Karan Flannel Long Sleep Shirt in a bunch of contemporary stripes and classic plaids. You know it's a mega-trend when you can find completely different ones, like Pour Moi's Lazy Days Constellation Sleep Shirt, Karen Neuburger's Minky Fleece Sleep Shirt and Ugg's Laura Flannel Sleep Shirt (fuzzy socks included!). For a holiday splurge (start dropping hints and sharing wish lists now), check out the Sleepy Jones Korda Monogram Woven Night Shirt or the Arlotta Cashmere Sleep Shirt version.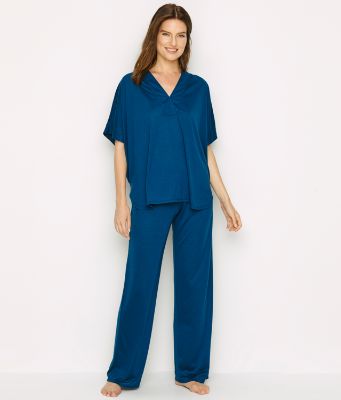 INSTEAD OF: mismatched separates
TRY: swanky pajama sets
Well sure, you could wear an old thermal or that free T-shirt you got from a half-marathon fifteen years ago with a pair of gym shorts or faded leggings, and the world would keep turning…but your self-esteem won't exactly soar. Take it from women like Melissa who know the secret power of sleepwear: Your mood improves when you do something as seemingly insignificant as trading out random pieces for intentional after-hours attire.
That includes anything and everything from PJ Harlow (the entire line of generously-cut satiny separates is designed to be worn interchangeably), as well as Lauren Ralph Lauren classics (we're partial to the aristocratic new Velvet Pajama Set) and the ever witty designs of Kate Spade New York (including the black, white and pink polka-dotty pair shown above).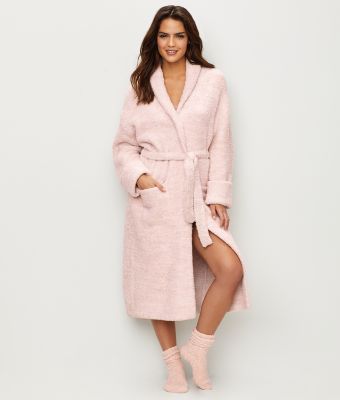 INSTEAD OF: a ratty robe
TRY: a fancy bathrobe
Nothing says "I've given up" quite like a bathrobe that's seen better days, but it doesn't have to be that way. They can be airy and touchably soft in microfiber, silky and sexy in charmeuse or timeless and toasty in terrycloth. In fact, we'll go so far as to say there are different robes for every season: Do a long, light modal knit in spring and fall, and something short, airy and breathable come summertime.
Right now, though, all we want is a chic, more presentable version of a throw blanket. May we suggest the decadent Barefoot Dreams CozyChic Heathered Robe? It's so deliciously soft, you'll be hard-pressed to change out of it. When it comes to cotton, we always come back to the Monarch Cypress collection because these are the same substantial robes you'll find in luxury hotels around the world. For something so trim and attractive you could wear it right out of the house in the morning, Ugg robes and cardigans, as you might imagine, are just so, so good.
What's your typical going-to-bed outfit? Leave us a comment and please let us know!
The following two tabs change content below.

Brooke is the editor of this here blog. In a previous life, she was an editor at Good Housekeeping and O, The Oprah Magazine. Brooke has written for Glamour, Travel+Leisure, New York Magazine and more. She's into concerts, travel and her exceptionally adorable daughter and husband.

Latest posts by Brooke Glassberg (see all)