"I'm 58 years old and have never been fitted for a bra before. That's a long time not to know," says Carole Walker, founder and president of Integrity Marketing and Media, where she works with major brands —"they don't intimidate me"—to find solutions to problems.
We got the vibe that a bra intervention wouldn't unnerve Carole in the slightest. "I'm an open book," she told us. "I'm always up for an adventure and learning something new." The same can be said for the Bare Necessities Bra Fit Experts, our in-house team of fit and fashion gurus.
Let's do this, Carole.
BEFORE
When it comes to bra sizing, "You don't question it. You assume all bras are the same and any fault must be yours—oh, I didn't adjust the straps properly or I put it on the wrong hook and that's why it doesn't fit," says Carole, who prefers her bras "smooth but still pretty. I don't like frills or any show-through."
Carole also cops to "going through phases. The phase I'm in now is Warner's and Maidenform because they're really comfortable, and that's important to me." She tends to buy whatever is on sale: "Aren't they all the same?" (Spoiler alert: No.) Carole also owns a lot of bras that she never wears: "Once I wash them, they don't fit anymore." To a Bra Fit Expert, that's a red flag that Carole was coming from a less-than-ideal size or fit.
Her final ask: "The big wish of my life has been for some cleavage, but I don't want to wear push-ups anymore. Is there a solution for bringing these puppies closer together? There's the Grand Canyon in between."
Ask and ye shall receive.
THE REVELATION
We put Carole on the phone with Bra Fit Expert Mette, who found that Carole's 36D wasn't very far off the mark—she's actually wearing her sister size—but the fit sure was. Mette's mission: to guide Carole to what else is out there that could work even better for her.
"I wanted Carole to experience the luxury of bras with benefits: bras especially from full-busted brands that design for full-busts," Mette says. She pointed her to bras with elevated fabrications and highly technical construction, with more components assembled by hand than by machine, that would last longer and boost her confidence…and her cleavage.
Mette recommended three Chantelle bras (with its three-part cup, lay-flat lace and visual interest, the Rive Gauche was the favorite over the Merci Demi Bra and C Ideal Plunge T-Shirt Bra), the smooth OnGossamer Mesh Bump It Up Bra (by twisting the adjustable center gore, she solved her "Grand Canyon" concern) and the Freya Hero Side-Support Plunge Bra for lift, support and centering. After a quick try-on at home, Carole was all set with a new bra wardrobe.
"It turns out I've been wearing the wrong bra size for the better part of my life"
"Before I spoke to Mette, I thought I knew how to measure for a bra," says Carole. "I was so sure I didn't need a professional's help! But I suppose you can't be an expert in everything, and it turns out I've been wearing the wrong bra size for the better part of my life."
Like many of the women the Bra Fit Experts talk to every day, "I think I had some misunderstandings about bra sizing," Carole says. "I thought that, no matter the manufacturer, every bra of a certain number and letter adhered to a strict set of measurements, down to the millimeter. To me, the biggest aha is that they don't! It's the same as with other women's clothes—you have to understand how certain designers fit and which will work well with your body. I was hoping there was one category out there where women would be able to catch a break. Why does it always have to be so complicated for us?"
The surprise: It doesn't, at least not when there's a Bra Fit Expert on call to do the work for you.
And in the Chantelle Rive Gauche bra, much to Carole's surprise, "I'm still comfortable! I didn't believe it when Mette told me I could go down a band size. I've been in a 36 for the last decade. I mean, who's a DD? It sounds so busty! But it fits perfectly, looks pretty and feels fantastic."
AFTER
Carole reports that her new bras make her feel more self-assured during her busy days: "I don't shift around so much, and neither do the bras. I actually have some old bras that squeak, which I now get is a sign of poor fit and quality. Things are staying in the right place, and the better fit has even given me more lift."
In fact, so much became clear from Carole's bra makeover that the first thing she did was teach her 22-year-old daughter how to find a proper fit. They went into a store together to try to replace some of her 50 or so obsolete bras. "What I noticed is that the DD+ bra selection doesn't exist in a store. It blew me away, that was so eye-opening! I think I saw three options. Now I completely get why it makes sense to buy bras online. When I found and could order the right ones, I was dancing in my room."
Music to our ears.
For a bra-fit revelation of your own, chat with a Bra Fit Expert at barenecessities.com or call 877-728-9272 (select option 4).
CAROLE'S BEST BRAS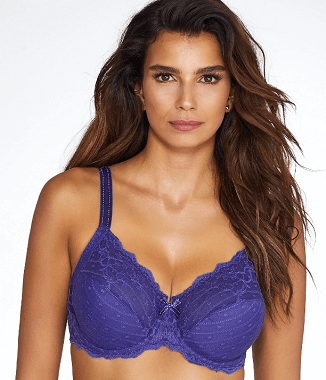 The following two tabs change content below.

Brooke is the editor of this here blog. In a previous life, she was an editor at Good Housekeeping and O, The Oprah Magazine. Brooke has written for Glamour, Travel+Leisure, New York Magazine and more. She's into concerts, travel and her exceptionally adorable daughter and husband.

Latest posts by Brooke Glassberg (see all)