Weight fluctuations happen, especially in summer when we're by turns our most physically active and our absolute laziest. Safe to say we've all been there, blinking in disbelief at the read-out on the scale or puzzling over our sudden inability to button a single pair of jeans. (Or is that just me?)
Luckily, through trial and error, we Bare Necessities staffers know there are some pieces that'll never let us down—even when all the others won't make it up past our thighs. No need to throw a fit over the perfect fit, or ditch your wardrobe and restock it with the next size: We found those magical everyday must haves that seem to be made with equal parts Spandex and tender-loving mercy.
Natori Bliss Perfection T-Shirt Bra
"I would say this for a lot of Natori bras, actually, but this one has the easiest fit. If you tend to go up and down by a few pounds or you regularly wear two different sizes, you'll be happy with this bra." —Heather, premium brands buyer
DKNY Litewear Convertible T-Shirt Bra
"Gosh, so there's this DKNY bra that I have three of. They're my go-to when my weight fluctuates. They're like my tried and true, there for me no matter what, best friend bras. I just adore them." —Kathleen, email marketing coordinator
Coobie Scoop Neck Bralette
"One Size Fits Most is usually a recipe for One Size Fits None, but that's so far from the truth here. These stretchy things somehow fit and lightly support small and full busts alike. I wear one whenever I can get away with it." —Brooke, editor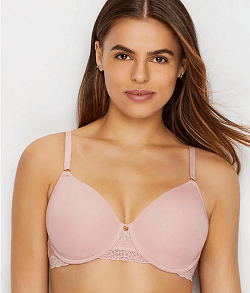 Chantelle Soft Stretch Collection
"Personally, I like the Soft Stretch Hipster. It's the softest fabric I've ever worn: It feels like butter on my buns. You cannot see ANY panty lines, no matter what I wear. And even though I have a big butt, it never rides up on me. My weight is constantly up and down five pounds, give or take, and it always fits the same." —Kristyn, Bra Fit Expert
"I love the Soft Stretch Retro Thong the most because even though it doesn't have any compression, I still feel a little supported in my lower tummy area. They're so smooth, don't pinch your sides and pair perfectly with maxi dresses, high-waisted pants or anything where you don't want panty lines. Literally obsessed." —Maryann, Bra Fit Expert
Hanky Panky Signature Lace Retro V-kini
"I have owned these in a size small and a size medium, and I still wear both—thanks to the stretch lace, the fit is pretty similar. Either way, they stay where they belong, comfortably cover cheeks and stomach, and still have that throwback styling about them, which I love." —Brooke, editor
Calvin Klein Invisibles Hipster 3-Pack
"They feel like you're not wearing anything at all. They don't give you any panty lines. Most importantly, they stretch with you when and where you need it, but they don't stretch out." —Amber, controller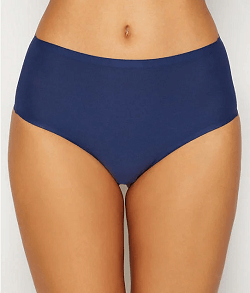 TC Fine Intimates No Side Show Firm Control Bodysuit
"This all-in-one silhouette addresses back fat, tummy pooch and muffin top; wire-free cups to adjust to your shape and to your bra. I like the great colors it comes in so it can be seen or not, the silky microfiber for an all-over smoothing effect on any body type, and that it's light enough to layer on every day." —Melissa, buyer
Yummie Cotton Seamless Tank and Yummie Cotton Seamless Thong
"These give light-to-medium control, which in my opinion makes for the perfect base layer. They're cotton for breathability in the summer heat. The tank doesn't ride up, smooths and contours yet still feels airy. The thong prevents panty lines, and its seam-free construction means a forgiving fit and nonstop comfort." —Melissa, buyer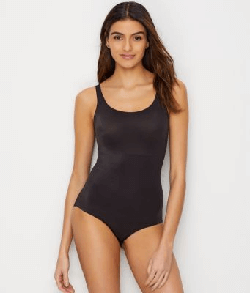 The following two tabs change content below.

Brooke is the editor of this here blog. In a previous life, she was an editor at Good Housekeeping and O, The Oprah Magazine. Brooke has written for Glamour, Travel+Leisure, New York Magazine and more. She's into concerts, travel and her exceptionally adorable daughter and husband.

Latest posts by Brooke Glassberg (see all)