Dana Tosk, 37, has always been busty. "But even when I was younger, they were very saggy. After nursing three kids for a year each, they were the breasts of an 80-year-old woman. I'm pretty fit and happy with my body at this stage in my life, and I wanted my breasts to match the rest of me," she told Bare Necessities.
That's when she scheduled an appointment with a plastic surgeon.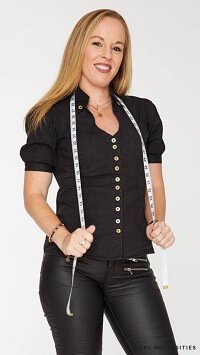 About to start training to become a yoga instructor, Dana has gotten deep into health and fitness the past few years; she works out six days a week. Now totally recovered from having an augmentation, Dana suddenly needed every kind of bra.
"My biggest gripe is that when I bend over, my boobs fall out. I feel like I'm always tucking the girls back in. I want to be held up and not have to worry about them. Specifically, I need a good sports bra to support my chest while I'm exercising without straining my neck. And would it be asking too much for a bra to not pinch my back fat? Smooth and seamless all around would be great."
Dana had been in 34DDs from Target and Victoria's Secret: "I admit that I'm part of the problem. I buy cheap bras, and they suck. I also haven't been measured since my augmentation, so I really don't know my size. I would love for an expert to tell me what I'm doing wrong and help me feel more comfortable."
Like, say, Bra Fit Expert Kristyn.
BEFORE
A mother of three young kids herself, Kristyn empathized with Dana's figure changes. She measured Dana over the phone and found her to be a 32DDD.
"Though technically that's the sister size of the 34DDs you're already in, the tighter band will give you the lift you need," explained Kristyn, who prioritized finding a more supportive sports bra (bye-bye, stretchy XLs) and stepped-up bras for the rest of the day. "Dana is still wearing T-shirt bras because that was all she could wear before implants. She hasn't made the mental leap yet. I want to show her how to fit her new figure. Her breasts are slightly wide-set, so I'd like to try bringing them closer together. And I'd love to see her in something a little sexier since she has these great new boobs!"
Dana was all about it: "I paid a lot for them, so I want them to look good!"
THE REVELATION
After shipping out the first round of try-ons, Dana and Kristyn were vibing.
For the weekday grind, the femme, on-trend new Camio Mio Lace Balcony Bra—exclusive to Bare Necessities—fit as though it were custom-made for Dana. Stabilizing straps and lightweight foam cups trimmed in a very contemporary lace solved her spillage, smoothness and comfort concerns and brought her breasts in and up like Kristyn hoped a bra would.
When it came to sexy, Freya kept coming out in front. The sheer yet intricately constructed Freya Fancies Plunge Balcony bra that Kristyn gravitated toward first looked superhot while lifting and supporting at the same time.
On the sports bra front, "I don't think Dana even realized they come in bra sizes," said Kristyn. "She'd been wearing a much-too-big pullover style to accommodate her chest, but what she gained in capacity she lost in support." Instead, she found Dana's just-right fit in the Anita Air Control Wire-Free Sports Bra. "While all about function, it also happens to looks gorgeous on her."
"Everything you sent me is cute and comfortable. I wear cotton T-shirt bras and sports bras every day…I'm not used to such attractive bras! It's nice to feel pretty," Dana emailed.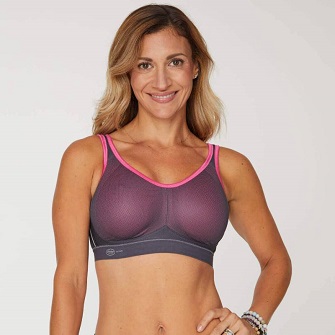 AFTER
"They're all wonderful!" Dana said of her bras the day of her photoshoot. "The sports bra is super supportive and very comfortable. The black lace one shapes me just right and is so sexy. The pink pushup makes the girls perky without having them fall out when I bend over."
But putting herself in an expert's hands was Dana's biggest aha! moment of all: "Kristyn was so nice and made me feel so comfortable. The bras she picked right away were the ones that fit best. Speaking with her was an education. She explained what was wrong with my old bra size, then sent me exactly what I wanted and checked to be sure it fit right. It was a lot more enjoyable trying on bras in the comfort of my bedroom than in a poorly lit mall dressing room. Returning what I didn't like was a breeze, and I found four bras that work for my life."
Kristyn couldn't have been happier with the outcome of this bra makeover: "Hopefully she'll ditch the T-shirt bras for good and stick with sexy support!"
DANA'S BEST BRAS
Camio Mio Lace Balcony Bra
Freya Fancies Plunge Balcony
Anita Air Control Wire-Free Sports Bra
Let us handle your bra gripes for you, too. Call a Bra Fit Expert at 877-728-9272 x4 or chat via barenecessities.com.
The following two tabs change content below.
Brooke is the editor of this here blog. In a previous life, she was an editor at Good Housekeeping and O, The Oprah Magazine. Brooke has written for Glamour, Travel+Leisure, New York Magazine and more. She's into concerts, travel and her exceptionally adorable daughter and husband.
Latest posts by Brooke Glassberg (see all)