The holidays are reliably two things: fun and cold. So what's one to wear after hours, when you want to feel festive yet need to feel comfy?
Cheeky sleepwear, natch. Delightfully cozy, holiday pajamas come in jolly prints that don't take themselves too seriously and, above all, make this short, sweet time of year feel just a bit more special.
And while she loves everything she sources, this week, Bare Necessities sleepwear buyer Melissa McDonald is recommending her very favorite smile-inducing holiday styles from our top brands. (Be sure to check out the Holiday Gift Shop for jammies for the whole fam, while you're at it.)
Pick the PJs that speak to you and yours, then add eggnog and Hallmark movies to taste.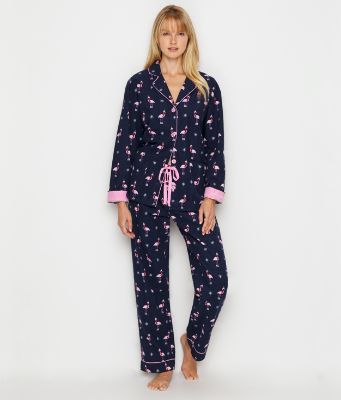 Let's Flamingle Flannel Pajama Set: Kitsch is in at Christmastime, as these scarf- and hat-wearing pink flamingoes go to show. If you or someone you love is dreaming of spending the winter someplace warmer, this design is especially fitting.
Bearly Awake Flannel Pajama Set: Listen, polar bears like to ski, too (apparently). This particular print of the cult favorite brand's decadently snuggly, top-quality cotton flannel pajamas are, in fact, beary adorable.
Happy Llamakah Flannel Pajama Set: Get into the Hanukkah spirit with llamas, as one does. The festival of lights just got a little more lighthearted.
Ba Hum Pug Flannel Pajama Set: Everybody knows these smushed-face doggies couldn't be any more adorable. Oh wait, yes they could, when they're wearing Rudolph red noses, antlers and pom-pom hats, sipping from tiny mugs.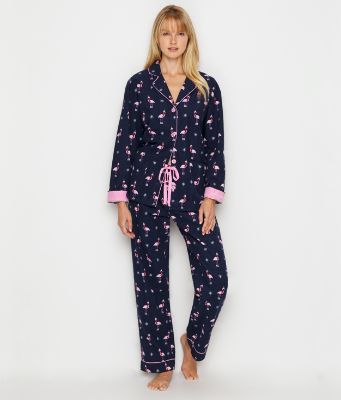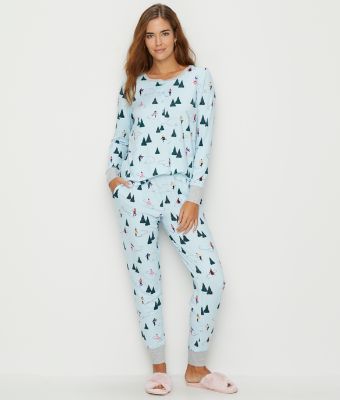 Skaters Jersey Pajama Set: This brand has legions of devoted fans for its thoroughly modern designs with a wink of vintage charm. To wit: These festive figure skaters in a winter wonderland, turning loops that spell out Kate Spade.
Cat Shoes Jersey Pajama Set: They're cheetahs. In red high heels. Truly, what more do you need to know to understand their unmitigated fabulousness? The Henley styling and jogger pants are pretty much as cool as pajamas are ever gonna get.
Double Hearts Jersey Pajama Set: You can wear these seasonally-appropriate Henley and joggers set from now until Valentine's Day. We heart the idea of giving a pair to your bestie and keeping one for yourself—double hearts, indeed… (Check out the red Deco Dots above, too.)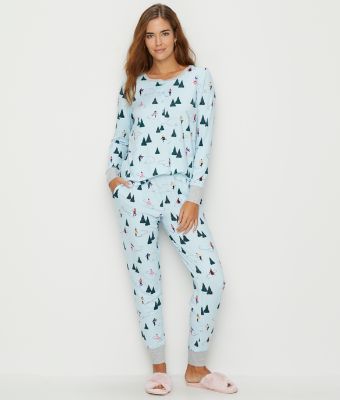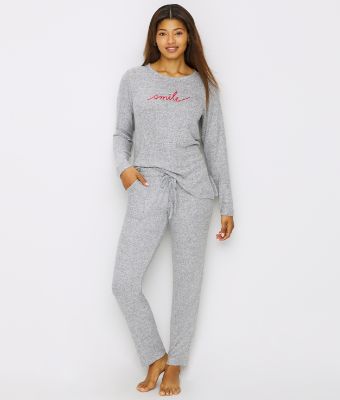 Smile Knit Pajama Set: If "smile" isn't the operative word of the season, then something's gone terribly wrong. If it is, then this is your uniform for both lounging around at home and dashing to the store for another roll of wrapping paper.
Sueded Fleece Fa-La-La Pajama Set: From the mistress of merriment comes these supremely soft fleece jammies with both a Christmas and a canine motif. Bet you could think of someone who would like to while away a weekend in them, pup in lap, within arm's reach of a gorgeously decorated tree.
Sueded Fleece Dog Pajama Set: With a sweet beagle on the shirt and timeless checked jogger bottoms, this subtler gray set could easily go from fall into spring next year. Heck, one could even wear the sweatshirt-esque top out of the house (with jeans, though).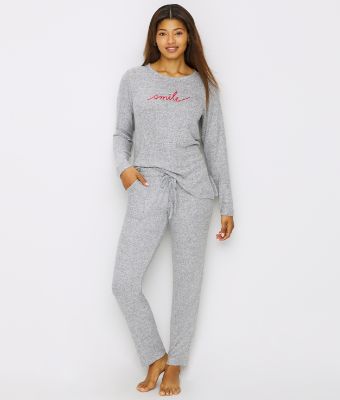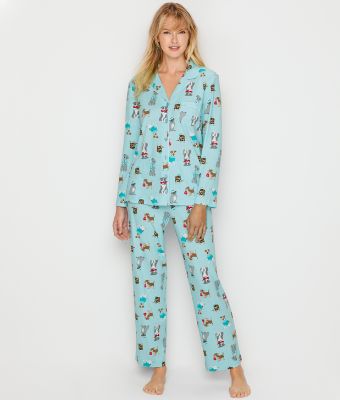 Girlfriend Knit Dog Pajama Set: For the dog person in your life, these pups will be both perennial (look, they've got high-heels and purses!) and annual (they're wearing winter sweaters and scarves!) favorites.
Girlfriend Knit Sheep Pajama Set (also in Plus Size): Sorry to report you won't be counting sheep for very long in this snuggly, soft cotton-blend. They make an irreverent present for the black sheep in the family who prefers to always go her own way.
Girlfriend Knit Cat Pajama Set: Literally the cat's pajamas, these pink cotton PJs with cute cartoon kitties are sure to please even the most finicky friend.
Ski Patrol Fleece Pajama Set: For the one who likes to mix things up, there's this cotton "Fa La La" top and fleece lumberjack plaid pants that work just as well the other eleven months of the year with a black tee or tank.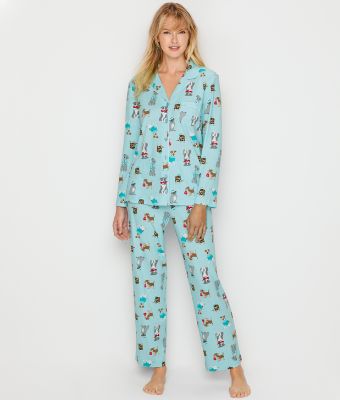 Do you get as excited about holiday jammies as we do? Tell all in the comments below…
The following two tabs change content below.

Brooke is the editor of this here blog. In a previous life, she was an editor at Good Housekeeping and O, The Oprah Magazine. Brooke has written for Glamour, Travel+Leisure, New York Magazine and more. She's into concerts, travel and her exceptionally adorable daughter and husband.

Latest posts by Brooke Glassberg (see all)