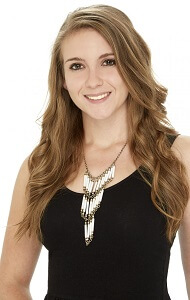 Believe it or not, swim season is upon us. Of course, for many of us, shopping for swimwear has been a beyond stressful experience in the past. Fret no longer. Our resident swim expert, buyer Megan Puma (at left), is here to help.
We caught up with Megan to find out what's new in the world of swimsuits and, most importantly, how you can look and feel your best in a bathing suit.
Interview with Megan Puma, Swim Expert and Buyer
Q: How did you come to work in the swimwear industry, and what do you love about it? 
A: I've been working in swimwear since I was 16 years old, when I started out in a specialty swimwear shop as a sales associate. I gained a lot of one-on-one experience helping women find suits that made them feel comfortable in their own skin. Then I went to college to study fashion, marketing and management. While there, I worked in the swim company's corporate office to learn about different aspects of the business, including buying.
I've been involved in buying a few other product categories, and swimwear has always been my favorite. Most women struggle with finding a suit that they're comfortable in. At Bare Necessities, we have this incredible platform to put together an assortment to suit women of all shapes and sizes and hopefully make everyone feel confident. My passion comes from those "lightbulb moments" customers have when they try on the right suit—when they finally find the style that will let them enjoy the summertime activities they were dreading before.
Q: What has your experience taught you about women and swimwear? 
A: That we shouldn't focus on the number of the size printed on the tag! Instead, let's focus on wearing whatever size suits our body the best. As in all product categories, sizing isn't the same across the board. While I was working in the stores, there were times when I would rip the tags off the suits so the customers would try on the size I knew would work best for them. We all get so hung up on a number, but the point should really be to find what makes you feel the most amazing.
The advice I always come back to is this:
You can't look good in something you aren't confident wearing.
Swimwear gets looser in the water. Make sure bottoms and top fit snugly to start.
Sometimes less coverage is better. Covering up too much can accentuate areas you're trying to camouflage.
Q: What are the big trends you're noticing for 2017, and what do you love about them?
A: High necks are everywhere! You can find a variety of bikinis, tankinis and one-pieces all within this one trend. It's a modern update to any suit and very functional at the same time. Sun protection is incredibly important, so it's a fashionable way to protect yourself. They are the perfect style if you're looking to make a fashion statement, are an active person or you just want modesty without looking matronly.
I love that one-pieces have become popular again…and these aren't your grandma's one-pieces, either! You can find one-piece suits with as much or as little coverage as you like.
What I love about the sexy swimwear trend is that you can find suits in a really broad range of styles and coverage levels. Sexy doesn't just mean a tiny bikini! Styles with sheer panels, strappy detailing and cut-outs are big this season.
Q: What are some of the new contemporary brands you're excited to carry this season?
A: This year we've added some amazing new brands I think our customers are going to love. Each of these brands offers a range of on-trend silhouettes and prints with some cup-size component, which appeals at every age.
ViX: These are some bold, sexy suits! The brand is known for its prints and excellent detailing.
Seafolly: This Australian company embodies the beach lifestyle. They have everything: strong prints, gorgeous solids and trendy silhouettes.
Tommy Bahama: I love that this island lifestyle brand offers distinctive prints in a range of silhouettes with luxurious add-ons like hardware and shirring.
Coco Rave: This brand offers a range of cool, fashion-y styles, all in bra sizes, from A/B to DD-cup. You can have fun mixing and matching them for a day at the beach or a summer festival.
Becca: We've carried Becca before; starting this spring, we've really expanded the assortment. With a new cup-size addition to their line, we have so many feminine styles that cater up to an F-cup.
Q: Why is swimwear so intimidating?
A: Swimwear is even more intimate than what you wear under your clothes—people actually see it! So without a doubt, comfort and confidence are of the highest importance here.
Q: What are some cute cover-ups that you recommend this season?
A: Seafolly has an amazing caftan at a great price point. Tassels are so on-trend right now, and I can't pick which color I love more, the neutral navy or the hot pink.
I also love this Dotti woven button-up shirt as a cover-up. It's easygoing and slouchy and sweet, the solid goes with everything and it has crochet detailing as well to give it that little something extra.
Stay tuned for more insider swimwear advice from Megan throughout the season!
The following two tabs change content below.

Abby Gardner
Abby started out covering beauty, fashion, lifestyle and health at Jane, Allure and YM before diving into digital at The Daily Front Row, Fashionista, Glo, MarieClaire.com and Cosmopolitan.com. She's a freelance writer/editor/consultant now, obsessed with style, sports and pop culture.

Latest posts by Abby Gardner (see all)