Before it was a thing, Liz Forkin Bohannon came up with the idea of making sandals with interchangeable ribbon ties that could be made by women, for women, to raise enough money to send girls in developing nations to university. She launched Sseko Designs in 2009 from her home base in Portland, Oregon. From a handshake deal under a mango tree in Uganda, she's grown her fair trade business to 65 employees in almost as many time zones, a third of whom at any one time are earning money to go on to higher ed. From that game-changing sandal concept, Sseko now sells more than 300 different items like scarves, jewelry, handbags, clothing and, as of a few weeks ago, coffee.
In 2015, Liz brought the business onto Shark Tank and, in 2019, she wrote Beginner's Pluck: Build Your Life of Purpose and Impact Now. "It's all been such a fun, wild ride," she told Bare Necessities.
Find out what's next for this Power Figure on a mission to make the world a more equitable place for womankind.
Q: How did you get where you are now?
A: I grew up in St. Louis, Missouri and went to the University of Missouri's journalism school for undergrad and graduate school. I always knew I wanted to do more advocacy work around social justice, primarily gender equality on a global level. Because I graduated with zero real life experience, it turned out that the New York Times was very uninterested in hiring me, so I took a job at a corporate communications firm. A few months in, I was asking myself what I was doing there, and I had this aha moment: Of course no one's going to pay you to do the kind of work you want to do; you don't know anything about it! Just go learn. So I bought a one-way ticket to Uganda.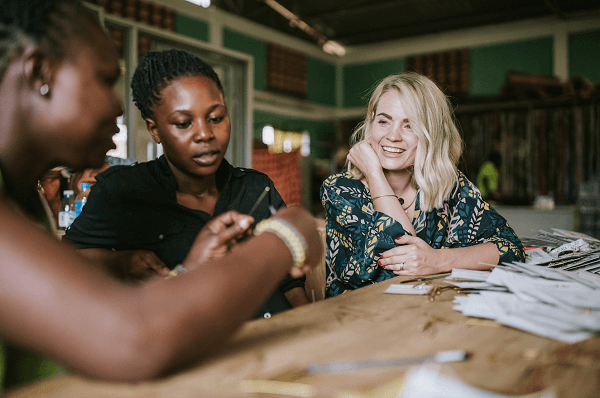 My goal was to meet people, to make friends, to build my community. I had all this data understanding of the challenges facing women and girls, but no community-based knowledge. I got involved with an organization that was working to create a college preparatory program for the brightest scholars from disadvantaged programs and poor rural areas who were facing a challenge in the nine-month gap between high school and university. Once they return to their villages, the likelihood of going on to college is low. There's a lack of finances, a loss of social support to continue their education, pressure to marry and have kids…. Surely we can bridge the gap, I thought.
I came up with the design for a sandal, though I have no background in fashion or design. I hired Mary, Mercy and Rebecca underneath a tree and told them if they would make sandals for nine months, I promised to sell them so they could go to college. So just as your parents want you to do with a Master's degree in journalism, I started selling sandals out of the back of my car. Incredibly, there was a lot of interest in the product itself, a leather sandal with interchangeable ribbon ties. At the time, there was nothing like it on the market. I knew we could scale the business and make a difference.
"Just as your parents want you to do with a Master's degree in journalism, I started selling sandals out of the back of my car"
The first five years we spent building the manufacturing side from scratch to be the best in class; we've become one of the larger exporters in Kampala. We're not a fair trade organization that happens to sell stuff; we use raw materials to make really beautiful, well-made, high quality, on-trend products women are going to love. Four years ago, we launched a social selling direct sales model. In February, we took our top sellers to Uganda for 10 days to meet the artisans' families, to take photos… it's become this really cool long-term relationship. That's the game-changer: The product is cute and my friend made it. There's a really deep connection built in.
Q: What challenges have you had to deal with running Sseko Designs?
A: This has been a very stressful time to lead a company, but what's amazing is these artisans all over the world are saving the careers of women in the United States right now, enabling our families to continue during hard times. There is no safety net in Uganda, there is no stimulus package, no personal protective equipment. It was really scary for us, but it's been so good to see our community rising to the occasion. Our mission matters now more than ever.
For us in particular, it's always been the breadth of work. It's atypical to source materials, design, manufacture and handle logistics, sales and marketing. So my challenge is to maintain a sense of focus within an enormous scope. To know our limits. Especially when you have this social focus, it turns out if you raise your hand to solve one problem, there's pressure to solve a lot of other problems as well, and they're all worthwhile problems to solve. So many entrepreneurs get spread too thin. It takes having the focus to say "as an organization, this is the problem we're dedicated to solving."
Q: How does your work empower female entrepreneurs and further the cause of social justice?
A: We have so much work to do, but I feel deeply hopeful about our role in what's happening because there is this shared vision we can all get behind: Every girl should have the opportunity to learn and to lead. The onus is on us; we're not going to be a company advocating on behalf of Black women in Africa and not recognize the same root of that inequality in our own neighborhoods. The work of people of color for the last 400 years who have been laying the foundation for doing the work, finally it seems there is a more mainstream awakening. While I will say we've been working intentionally on creating a diverse, inclusive community, we have so much learning to do. We're struggling through and leaning in. It's so messy, but this is the work of justice.
Q: What drives you?
A: A very deep belief that all humans deserve to be treated with dignity and respect, and the fact that's where that's not the case, we can actually do something about it. I'm far enough away now from the idealism of my youth and all the hyperbole about changing the world, but what if I can change it for some? What if I can create a place of dignity and opportunity where it didn't exist before, and make tomorrow a little more just than it was yesterday? As challenging as this road has been, I try not to take for granted that I believe deeply in change. We can pivot, iterate, get things done. That provides a deep well of motivation.
"What if I can create a place of opportunity where it didn't exist before, and make tomorrow a little more just than it was yesterday?"
Q: How did you learn how to lead?
A: Trial and error, and embracing a "yes and" philosophy. There is no magic bullet for most companies; there are just different seasons. I'm working around the clock to lead an international company through a global pandemic and a civil rights movement while raising two young kids, so I'm letting go of the idea of balance this season. Right now, I have no boundaries, and that's not healthy or sustainable, but sometimes you have to do it. Eventually, I will  need to put up boundaries, but you have to be okay with those ebbs and flows. I'm not about to ask the meta questions about work-life balance; I'm just trying to find out what works for us this week and be okay with that.
Outside of work, I'm rooted in community and friendship. It's important to have people in my life who are willing to say, "Hey, it seems like this is taking a toll on you. What can we do?"
Q: What do you want women to know who are coming up like you did?
A: How hard it is, and how worth it. We have a lot of really unhelpful narratives in our culture about following your passion and dreaming big that leave a lot of people feeling broken and unfulfilled day to day. Just know that if it's really hard, it's probably because you're doing something right. Keep experimenting, and keeping working on your own ego. By being a part of something bigger than yourself, when those moments of failure do hit, you can tap into that knowledge that it's not about you; you play a part in that story.
THE WORLD ACCORDING TO LIZ
Favorite bra: Natori Bliss Perfection Wire-Free T-Shirt Bra.
Favorite Sseko design: Our canvas travel bag is the ultimate. It's super chic, versatile and sophisticated.
Personal mantra: As Ram Dass said, "We're here to walk one another home."
Best way to de-stress: A walk to the neighborhood rope swing with my two boys.
Greatest extravagance: I drink really good coffee now!
Superpower: Optimism. I'm not naive, I just have hope things can be better, and we get to be a part of it.
Proudest moment: Seeing my team rise to the challenge this past March. Seeing them flex and go out of our comfort zones. We've come too far to only come this far.
Biggest risk: Shifting our business model when the stakes weren't low anymore. We had to ask ourselves if we could come back if it didn't work.
Bad habit: Talking too loudly. I have low volume awareness.
Secret talent: Splinter removal.
Fear you're trying to overcome: I wouldn't consider myself a people-pleaser, but the older I get, the less power others' opinions have over me.
Most useful emoji: The "pluck yeah," rock on hand.
Current obsession: Schitt's Creek feels like a treat. It's part of our nightly wind-down routine.
In a word, I am: Plucky.
The following two tabs change content below.

Brooke is the editor of this here blog. In a previous life, she was an editor at Good Housekeeping and O, The Oprah Magazine. Brooke has written for Glamour, Travel+Leisure, New York Magazine and more. She's into concerts, travel and her exceptionally adorable daughter and husband.

Latest posts by Brooke Glassberg (see all)