Swimsuits follow their own hierarchy of needs. First and most critically, you've got to find the right brands for you, and the right size. When you've arrived at the ideal swimsuit fit and support for your figure, and you're in a body positive mindset, that's the time to have fun with your swimsuit wardrobe. Printed swimwear is the easiest way to do just that.
"Summer is the season for colorful, fun prints you might not go for at other times of the year—you can get a little wild with your bathing suits or swimsuit coverups because we're not talking a whole lot of real estate here," says Jeni Doherty, our swimwear buyer. "The other thing I love about prints is that they aren't specific to age or body type; they're for everyone. Which ones you choose is a matter of personal taste." Anyone can pull off a uniform print on one-piece swimwear (just keep the scale of the design in proportion to your proportions—a small overall print if you're petite, for example), or something really splashy on a little bikini. Jeni loves graphic prints for their overall camouflaging, not to mention visual interest.
Jeni narrowed down our vast pool of swimwear to four of her favorite prints of the season. Conveniently, these right-now looks are also sure to be in year after year. From conservative swimsuits with understated appeal to those that are brazenly over-the-top, there's a way to find yourself among these looks, because there's always a way for you to show off your authentic self—even in a bikini.
TREND #1: ANIMAL ATTRACTION – ANIMAL PRINT SWIMWEAR LOOKS
You don't have to be a cougar to pull off chic animal print swimwear. It ranges from hyper-realistic patterns to more abstract, modern renditions. In splashy colors especially, they're less overt. Go zebra, leopard, giraffe…whatever you're wild about.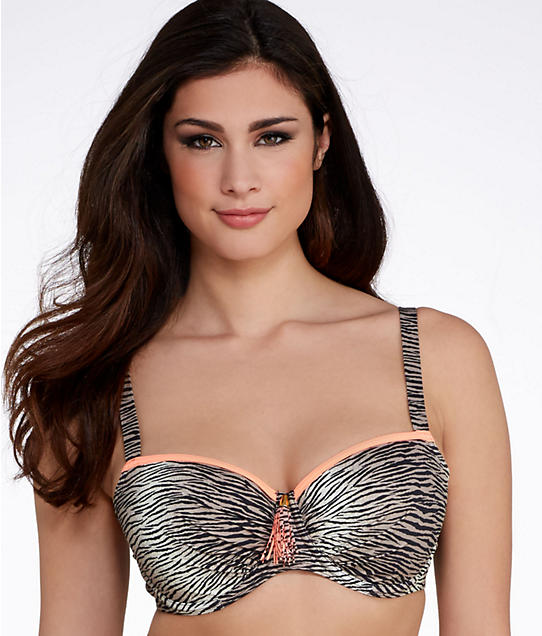 TREND #2: THE POWER OF FLOWERS – FLORAL SWIMWEAR LOOKS
"Florals are youthful and fresh, sweet and sophisticated," says Jeni, who personally selects the best of the bunch from each brand. "For a long time, people thought of floral swimwear as being for a more mature customer, but that's so not the case anymore. They're for anyone with a romantic sensibility." To wit: the Pour Moi Jungle Fever bikini at the top of this post. Note that Jeni suggests scrutinizing the placement of the print when your suit arrives to make sure you don't have, ahem, two prominently located blooms.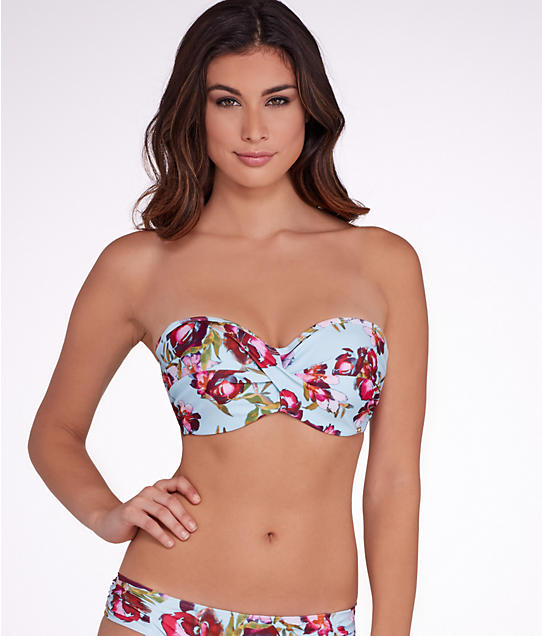 TREND #3: NAUTICAL BY NATURE
Harkening back to the pin-up girl silhouettes of WWII, patriotic touches are always in style (talk about a trend aging gracefully!). "This look is done consistently by every brand every year because it's such a surefire hit," Jeni says. For that throwback in-the-navy feel, looks for design hallmarks like: red, white, navy or royal blue; stripes; buttons, ruffles, bows, higher waists. See-worthy, for sure.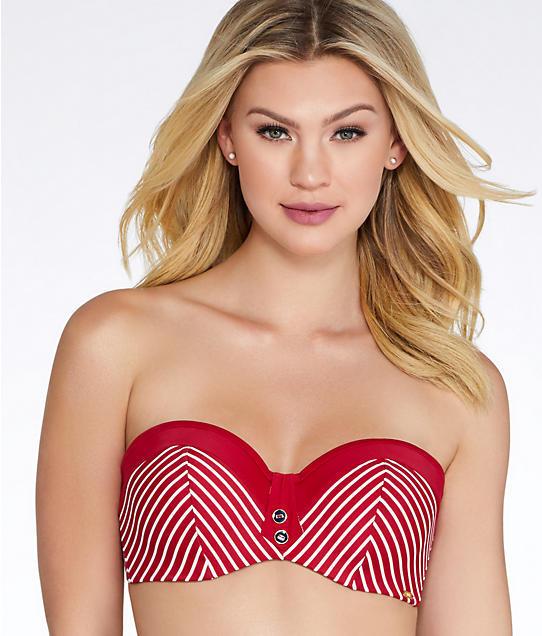 TREND #4: BOHEMIAN RHAPSODY
Thank the festival fashion trend for this one. While boho chic can mean crochet, weaving and other tactile details, this look is also extremely print-driven, Jeni notes. It's current meets vintage-inspired, au natural while incredibly sexy. Look for tie-dye, batik and ikat prints—anything that summons forth your inner hippie spirit.