Thanksgiving is the time of year to hunker down at home with our loved ones and practice gratitude (or, you know, talk politics, whichever you prefer). Here's what some of the Bare Necessities staffers are up to, and the sleepwear they'll be all cozied up in.
Stephanie Salardino, brand bra fit expert
Thanksgiving traditions: My entire family goes to our beach house on Thanksgiving Eve. Along the way, I stop for the best pumpkin pie and apple cider donuts. We finish up any last-minute food shopping and order pizza because we know tomorrow will be food heaven. Later, we have a sitter come watch the kids, and the adults go out locally—I organize a dozen or so toy drives at local bars since it's one of the most popular nights to go out. The toys are distributed to local shelters or organizations that adopt families for the holidays. It's pretty amazing. One location has brought in over 500 toys.
We have a huge Thanksgiving Day breakfast, appetizers begin around 1 PM and we serve dinner at 5. There are usually 20 or so of us, and our house is like a revolving door. My friends and their families tend to pop in at some point. Thanksgiving night, I do lots of shopping online. By Cyber Monday, I've accomplished most of my holiday list.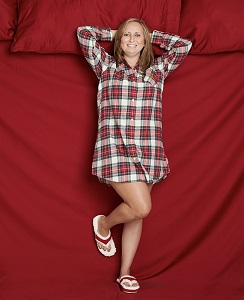 This year's plans: Thanksgiving is my mom's birthday; she's no longer with us, so my family and I will be toasting her memory and sharing stories about her. We also just got a new family member, a Miniature Goldendoodle.
Long weekend: On Friday, we decorate the house for Christmas and go to a tree-lighting. On Saturday, we deliver most of the toys collected on Thanksgiving Eve. My children tag along because it's important to teach them to give back.
Most thankful for: Lots of love and laughs with my amazing family.
Pajama time: I'd wear this plaid Lauren Ralph Lauren sleep shirt Christmas morning or a snowy day around the house with cozy Acorn slippers or my Uggs. When it's really cold, I can add leggings.

Amber Scurti, human resources manager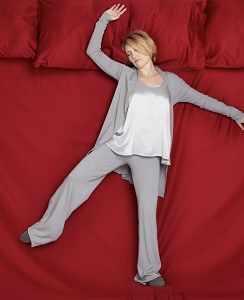 Thanksgiving traditions: We spend the holiday with my husband's family in Baltimore. My husband and I get up early on Thanksgiving morning, pack the car like the Griswolds in National Lampoon's Christmas Vacation, grab our daughter and two pugs and head south, listening to Christmas music on the radio. Our first stop is my mother-in-law's to unpack. She dotes on my daughter while my husband and I unload the car. Then we relax until dinner. There can be up to 35 family and friends. There's a turkey, a ham and all the sides, including pasta because my husband's family is Italian. Everyone brings an appetizer or side. All the children play while all the adults catch up. We sing happy birthday to my niece and daughter because their birthdays are near Thanksgiving. Then everyone indulges in dessert.
Long weekend: In years past I would shop the sales, but my daughter was born on Black Friday so the day has since been spent preparing for her birthday party. Our house is full of my daughter's grandparents, aunts, uncles and cousins. It's like a repeat of the day she was born.  Most of them stay the entire day and night. Our daughter is one lucky girl, getting to spend so much time with her family. We hang at home and eat, drink and enjoy each other's company. 
Most thankful for: At the end of each day, I'm most thankful for my daughter. After five years of trying to conceive, she's my miracle baby, and I'm grateful I get to be a mother to her.
Pajama time: The PJ Harlow outfit is elegant, and each piece is soft and luxurious. I would be comfortable wearing it with family over or to take my dogs for a walk. I love the layers. The pants roll down to keep any extra pounds you put on at Thanksgiving dinner hidden nicely; the silky camisole is so nice you could get away with wearing it out under a cardigan or blazer, and I love the cozy, easy drape of the wrap for warmth. Ugg Birche slippers are like wearing socks, only better.

Tera Gallagher, assistant buyer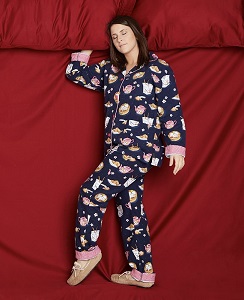 Thanksgiving traditions: I usually spend Thanksgiving at my parents' house outside Pittsburgh. My mom wakes up before the sun to start cooking, so no matter what time I wake up, it's always to the smell of delicious food. We're a big sports family; football dominates the TV. The day is very casual—we eat early with whatever family happens to be there when it's ready, and the rest of my extended family filters in and out. The big meal is usually followed by several smaller meals soon after, including my mom's famous Italian wedding soup and a half dozen varieties of pie. I live for my mom's stuffing. It's only acceptable to be consumed at Thanksgiving—the heart can handle just so much butter-soaked bread. We lounge around the living room while our Jack Russell terrier naps at our feet.
This year's plans: I got engaged this past spring, so I'll be spending Thanksgiving with my fiancé's family. I'm going to miss my family—and my mom's stuffing—a ton, but I'm excited to start some new traditions.
Long weekend: The rest of the time is usually spent catching up with friends from home that I love dearly but only get to see once or twice a year. And also eating leftovers…all of the leftovers. Since I won't be home this year, the weekend will probably be spent catching up with my DVR.
Most thankful for: This year has been extremely reflective for me. I turned 25, got engaged, started planning a wedding and began working with this great company. If I'm playing favorites, I would say I'm most thankful for my fiancé, Matt, for genuinely being the most incredible person I know. I'm wishing everyone good health, happiness and much love this holiday season.
Pajama time: Gotta love jammies with a sense of humor, like this P.J. Salvage Take Out set. And my Ugg Dakota slippers are required wearing this time of year.

Brooke Glassberg, copywriter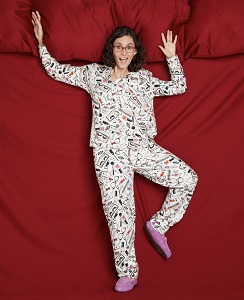 Thanksgiving traditions: Turkey Day is my favorite holiday—nonstop food, family, a healthy serving of sentimentality…what's not to love? My family typically descends upon my aunt's house because she's the only one with enough room for our big family. My uncle deep-fries the turkey, which is as incredible as it sounds. We can be counted on for Brussels sprouts and stuffing. My daughter's birthday also falls over Thanksgiving weekend, so we follow up the feast with a round of "Happy Birthday" and cupcakes.
This year's plans: My sister has a newborn, so the celebration needs to come to her.
Long weekend: The minute Thanksgiving ends, I pivot to my daughter's birthday. On Black Friday, the plan is to head to the Crayola Factory or someplace fun; on her actual birthday, we're having an ice cream party. Princess Elsa will be making a surprise appearance. She's going to Freak. Out. 
Most thankful for: My family's health. Without it, nothing else matters. 
Pajama time: For the holidays, my mother, sister and I always exchange socks and pajamas. My mom will for sure be getting these Kate Spade New York "cosmetic" PJs, and I, for one, wouldn't object to getting these Ugg Ansley slippers.

Rich Keller, VP of brand marketing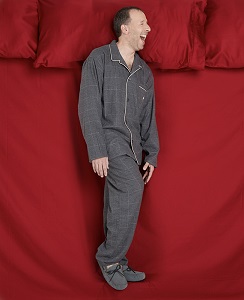 Thanksgiving traditions: Thanksgiving is my absolute favorite holiday, hands-down. It's the one day I sit back and reflect on how thankful I am for such a full life. My wife and I have hosted every year for the last 15+ years.We decorate the house with all of the kids' Thanksgiving art projects I've collected over time. I start the Tuesday before, and we're ready on Thursday to have 25 family members over. In between set-up, I lay on the couch and watch the parade with my kids.
This year's plans: We always do an activity to get into the giving spirit of the season. Last year, I created a "Thankful" tree. When guests arrived, they had to take a leaf and write what they were most thankful for. This year, on behalf of our family charity, S.C.O.R.E 4 The Cure, my son created a Tubie (like a Survivor buff) so children with cancer can keep their heads warm during chemotherapy. We will ask all of our guests to purchase a Tubie on behalf of a child, and we'll be giving them to The Valerie Fund, a local children's cancer organization.
Long weekend: The rest of the time is for recovering from our feast, cleaning up, eating all the leftovers and thinking about my annual holiday card.
Most thankful for: My wife celebrating her 5-year anniversary of being cancer-free.
Pajama time: Every Hanukkah, we exchange flannel pajamas. I'm swimming in sleepwear. This Polo Ralph Lauren shirt and pants set is perfect for reading the newspaper on one of those lazy Sunday mornings when you don't want to get dressed.

Jaime Karnilaw, e-commerce marketing coordinator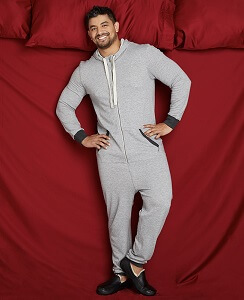 Thanksgiving traditions: Our family Thanksgiving usually ends up being an amalgamation of all the fall and winter holidays in one day, from Rosh Hashanah to Thanksgiving and Hanukkah. Often, we'll have mashups of turkey, candied sweet potatoes with noodle kugel, brisket and a couple potato latkes.
This year: I would not dare risk the wrath of my mom in an attempt to alter her meticulously unplanned Thanksgiving ceremonies.
Long weekend: Post-meal is generally browsing for unnecessary electronics while gnawing on leftovers.
Most thankful for: My family's health and progress in each of their respective fields.
Pajama time: The 2(x)ist flight suit is roomy, warm and, most importantly, non-constricting. I live in mine along with the Ugg Ascot, though apparently it's frowned upon to wear this outfit to pick up a gallon of milk.
The following two tabs change content below.

Brooke is the editor of this here blog. In a previous life, she was an editor at Good Housekeeping and O, The Oprah Magazine. Brooke has written for Glamour, Travel+Leisure, New York Magazine and more. She's into concerts, travel and her exceptionally adorable daughter and husband.

Latest posts by Brooke Glassberg (see all)