Stephanie Makrias's Having a B.R.A. (Before – Revelation – After) Fit search for a swimsuit was textbook trial and error. As with April Compertore, finding the right fit and support mattered more than troubleshooting her bra size and, as petite as Stephanie is, not everything worked as expected on her figure.
Stephanie, the copy chief at Entrepreneur magazine, had never tried a bra-sized swimsuit before. She flagged a dozen possible suits—solids, prints, bikinis, tankinis, one-pieces—for upcoming trips to the Jersey shore and to visit her father in Florida. "From experience, I know you have to try on a million to find one," she said. "This process is somewhat terrifying, but I trust I'm in great hands."
Bra Fit Expert Brittany assured her of it: "Especially with a swimsuit, our main interest is your comfort. If you're not completely comfortable, that will come across in whatever you wear. I'm here to make sure you're feeling confident along the way."
BEFORE
Over the phone with Brittany, Stephanie acknowledged her two biggest fit issues: "One boob is a little smaller than the other so there's always a gap in one cup, and I've gained a bit of weight in the past couple of years."
Nothing Brittany hadn't heard before. "Most women have these same concerns," she replied. "It's not uncommon to hover between sizes, so it's important to fit to the larger breast. Regardless of the size, every swimsuit fits differently. We're going to try on a lot until we find something that makes you feel lifted and supported. Since we're feeling good about the bra size you're measuring and wearing now, let's stick with it in swimwear."
Given Brittany's encouragement, Stephanie, who usually chooses one-pieces, was willing to take a calculated fashion risk. She showed her Bra Fit Expert the bikinis and tankinis she was entertaining: "I've never worn a tankini before, so I don't know if they would be flattering. But my waist is decent—I'll give them a shot! I hope one of the bikinis will work because I'm trying to be adventurous. We'll see…"
"It's always worth trying something you like because it can look totally different on you than it does in the picture. You might love it, you might hate it, but you won't know until you try," said Brittany. "Everyone is entitled to wear a bikini if she wants to and feels fabulous in it."
Here are all the suits Stephanie tried:
THE REVELATION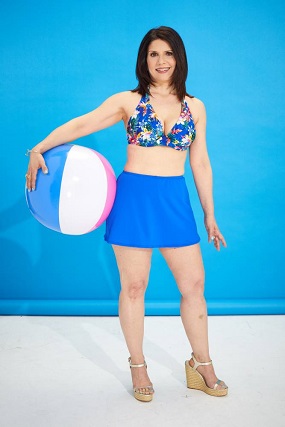 "It's a pretty pattern, and it looks like it will hold me in," Stephanie reasoned as she contemplated the Sunsets Mahalo Muse halter bikini top. "I've always done well with halters because I feel like they're more supportive."
"This suit could be really nice for you," Brittany agreed. "It has a molded double-layer cup, three hooks and a snap closure, and you can adjust the halter to your preference—if the band fits properly, a halter should never cause neck pain. And the flippy skirt balances out the bikini top so you won't feel overexposed."
Stephanie tried the top in two sizes (32DD and 32E); Brittany suggested sticking with the DD which, after inspecting photos of Stephanie wearing each over email—yep, we do that!—was tacking more securely between the cups.
The Sunsets suit showed Stephanie she could absolutely pull off a bikini. "Before bra-sized swimsuits were on my radar, I tended to spill out of my suits, and the few pounds I've gained made me less confident than I used to be, so I would put something over a bathing suit to hide out. I don't hate my body, but I'm not looking like I want to look. You get older, things shift…I could never get it quite right," Stephanie said. (We hear you on that one.) "I hoped the idea of bra sizing would solve my problem, and it did. I haven't worn a two-piece in years! Brittany's encouragement helped me go out on a limb. I just figured, why not? I could always fall back on the safety of what I know. I've never worn a skirted bottom before, either, which turned out to be great. I'm 54; I'm not trying to be 25 again."
AFTER
"I feel very comfortable"—Bra Fit Expert Brittany's goal from the get-go—"and the size is right. I feel held-in. The bikini skirt is awesome, too! It's attractive and covers up the spots that aren't my favorite," Stephanie said on the day of her photoshoot.
Stephanie's Bra Fit Expert, her confidence-building confidante, made victory inevitable: "Brittany seemed to understand my issues and was so helpful, even making suggestions. It's nice to have someone who can guide you through a process that isn't always comfortable."
Stephanie's takeaway? "Don't ever be afraid to try something that was formerly off-limits because if you find the right fit, there could be better options for you out there you didn't even know existed."
Don't forget to check out all of this season's incredible bra-sized swimwear makeovers:
The following two tabs change content below.

Brooke is the editor of this here blog. In a previous life, she was an editor at Good Housekeeping and O, The Oprah Magazine. Brooke has written for Glamour, Travel+Leisure, New York Magazine and more. She's into concerts, travel and her exceptionally adorable daughter and husband.

Latest posts by Brooke Glassberg (see all)