Finding a great fit on top has always been Leah Jiorle's biggest swim season challenge, which is why Leah, 41, a freelance medical editor/writer, was the perfect candidate for Having a B.R.A. (Before – Revelation – After) Fit. "I need an underwire, and it's really hard to find a nice selection of underwire swimsuits. I can see a whole rack of adorable triangle top bikinis in a store, and I know I can't have them—it's frustrating!" Leah said.
Bra Fit Expert Mette, who, with her 34J or K-size chest, majorly empathized with Leah during their over-the-phone consultation. "Since I first found out about it," she said, "bra-sized swimwear has been my best friend."
Leah told Mette: "When I was looking around Bare Necessities, I appreciated all the one-pieces and tankinis with bra-sized support, too, because that's another thing: I tend to wear bikinis in situations where I might prefer more coverage, but they're the only suits I can find that look good. Most one-pieces mash my boobs together, and it's not flattering. I don't want to look like an Olympic swimmer; I want something attractive, with a little coverage. There were a ton of styles I liked."
BEFORE
Leah had pre-selected a handful of tankinis and one-piece swimsuits, but her real hope was to finally find a bikini top she wouldn't be bulging out of. "To get coverage on the sides, I end up forfeiting coverage in the middle. I don't want massive amounts of fabric over my chest. Some of the larger cups, you really see them—it doesn't look delicate," she said, which is why it had been years since she'd last bought a suit: "I tend to avoid swimsuit shopping by keeping a suit for ten years. Obviously, the fit isn't as good as it could be." (Honesty is the first step!)
Mette info-gathered by asking Leah about her body type, breast shape (after having kids and breastfeeding, Leah noticed her breasts seemed further apart and more shallow up top), size and when was the last time she got measured. On her last visit to Victoria's Secret, Leah was a 32D.
"We often hear that Victoria's Secret will find a way to tell you you're a size that they sell in the store, which isn't a tremendous range," said Mette. "I was told I was a 36DD—very different than what I know I am now. In your case, though, they could be right; a 32D is within their inventory." After taking Leah's measurements and calculating her size over the phone, they decided she would either be a 32 or a 30 in the band (if she was comfortable in the tighter size), and she probably needed to go up to a DD in the cup to solve her spillage problem.
"I can get by with one awesome bathing suit. Regardless of the style, having one that fits great would be a refreshing change," said Leah. Little did she know she would come away with two….
THE REVELATION
In round one, Leah tried on the Freya Tropicool bandeau and Freya Tropicool bikini in a 30DD and liked them but found them too snug. Total non-starters: the Becca High Tea high neck wire-free bikini in a D cup (no underwire) and the Freya Sundance one-piece (too big overall). On the second pass, though, success took the shape of the Freya Tropicool bandeau and the Freya Island Girl bandeau bikini tops, both in a 32DD.
"When the suits arrived, I immediately loved both Freya options," Leah emailed Mette. "I showed my husband and sons, and they voted for the Tropicool, but I actually fell in love with the Island Girl, so I'm getting both! They're so pretty, and I'm overdue. I used to be a designer, so I can see these are well-designed, chic suits. Once I put them on, I felt much more confident." That's what bra-sized swimwear is all about.
"Now I get that swimsuits are like bras in that if you're wearing the wrong size, it's really not ideal. I just never thought of myself as being anything above a D-cup! The Freya swimsuits are fun and sexy, with a little modesty. That's why I love a bandeau: They're cute and not skimpy."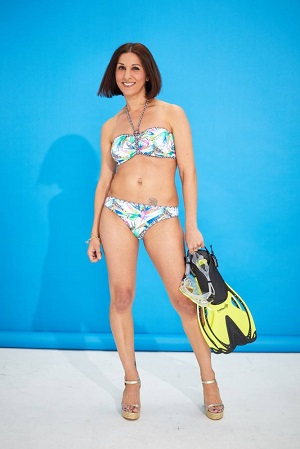 AFTER
"I thought this was going to be nerve-wracking, but it turned out to be a lot of fun, and now I'm set for the season," said Leah, who plans to take her new suits on her annual vacation to Lake George. "Mette asked the right questions and knew what she was talking about. She helped confirm there is a better size out there for me; she's how I started to see myself as a DD."
The Bra Fit Experts did it again. When Leah worked with someone who really got what she was up against and took the time to power through the hurdles with her, she was finally able to find the cute coverage she never thought she could.
"Now I'm not going to be worried about staying put when playing with my kids, bending down or getting hit by a wave. I can move around without thinking about re-racking my chest. It's just easier," said Leah. "It's worth it to find a swimsuit in your bra size. Not only does it help you feel better, you're also going to look better. If you can afford to spend on a quality piece for your wardrobe, you're going to hold onto it because it looks like it was made for you. I say go for it."
Don't forget to check out all of this season's incredible bra-sized swimwear makeovers:
The following two tabs change content below.

Brooke is the editor of this here blog. In a previous life, she was an editor at Good Housekeeping and O, The Oprah Magazine. Brooke has written for Glamour, Travel+Leisure, New York Magazine and more. She's into concerts, travel and her exceptionally adorable daughter and husband.

Latest posts by Brooke Glassberg (see all)