Having a B.R.A. (Before – Revelation – After) Fit is headed on vacation. Out of office. Having a moment in the sun.
Now through August, we're delivering bra-sized swimwear success stories. And we're kicking things off with Danielle LaBarbera, a 34-year-old life insurance agent and single mother to a 14-year-old daughter.
BEFORE
"I was always a big girl, and I shop to fit my breasts first," said Danielle. "After I had my daughter, I couldn't find the right fit in any store. Bra shops didn't carry a G or an H-cup. I had to special order and hope for the best." Ultimately, she decided to have a breast reduction ("best thing I ever did") and went down to a DD but, "over the years, they've gotten fuller again."
Danielle went to a local lingerie shop for her bras, and that's where she first discovered some of those brands were making swimsuits in bra sizes. Back then, she could only afford to buy a new suit every couple of years: "Thankfully, they're of such good quality that they would last." Now Danielle treats herself to two or three bra-sized swimsuits a year.
The fashion industry is also catching up. "Women can now be accommodated wherever they are, and that feels better in every way," says Danielle, whose main swimsuit concerns have long been finding fit and fashion in the same suit.
Which brings us to today's makeover: "I don't pay attention to the size, I just care about what fits," Danielle says. We couldn't agree more.
THE REVELATION
We paired Danielle with Bra Fit Expert Kristyn. Both women are into fitness—Danielle loves kickboxing and recently started holding self-defense workshops for women; Kristyn is a certified personal trainer.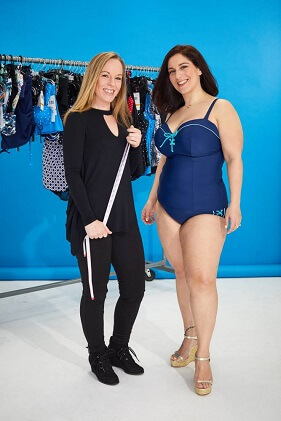 "I haven't had a bra fitting in a while," Danielle confessed to Kristyn over the phone. They took two measurements and found Danielle was a 36DD…technically.
"After taking into account her breast shape, fit issues, lifestyle and the reduction, we knew she would still need to size up in the cup," said Kristyn.
"Kristyn got the style I like right away," said Danielle. "She pointed me to some very cute new suits on the site, and she knew which brands ran small." For instance, Kristyn steered Danielle toward the Pour Moi line in keeping with the rockabilly, 1950s sensibility she prefers—but in a bigger band and two cup sizes larger than she usually takes.
"British sizes run a little funky," Kristyn explained. Since the Bra Fit Experts know the ins and outs of fit across all the different brands, by getting to know Danielle's backstory, Kristyn could treat her as an individual, not a line item on a size chart.
They landed on a few styles and sizes from a handful of brands. Danielle gravitated to Freya Pier in a 36E ("There was the slightest spillage over the top of the cup, so I knew the next size up would've worked for me," she reported when the suit arrived) and the Curvy Kate Set Sail bandini in both a 36E and a 36F. Ultimately, she was smitten with Set Sail for its pinup-girl flair. After trying it on and emailing over a quick snapshot, Danielle and Kristyn decided she still needed a bigger cup. Undeterred, Danielle told her Bra Fit Expert, "I'm ready to dive into round two!"
Here's the incredible thing: Danielle wound up in a 38FF, which goes to show that trying a fairly wide range of options is as nonnegotiable with swimwear as it is with bras. Once Danielle put on the 38FF, it was clear she had found the holy grail of fit and fashion.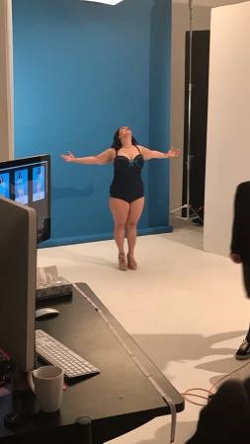 AFTER
Danielle isn't the type to put up with "good enough." Not in a swimsuit, and not in life. "My ultimate goal is to empower women," she said, which she does through the Damsel in Defense workshops, not to mention living by example—Danielle left a controlling husband to raise her daughter on her own. "A lot of people don't love themselves enough to get out," she said. "I want to show them how."
Danielle teaches her daughter the same "I Am" positive affirmations she's done since building herself back up post-divorce. "I love who my daughter is and who she is becoming. I want to make sure I'm raising a strong girl and instilling good values and confidence in her. The best way I know to do that is by being honest—kids see the ups and downs we go through. All I do for myself, I do for her. Know that you're enough. As long as you did your best, as long as you did what you thought was the right thing…that's all you can do."
So—understatement alert!—being a swimsuit model for a day didn't faze Danielle in the slightest. "I make everything fun. There's no need to be anxious about this world. Relax and enjoy it. You're more fulfilled and productive that way. I see it every day at work, setting families up for the unexpected: Life's situations make you strong, they make you who you are. You just have to have faith and be grateful because somebody always has it worse," said Danielle.
Her best advice, when it comes to swimsuits or anything else, for that matter: "Educate yourself. I tried on a lot of swimsuits so I could see my options and how they differed from one another. Don't settle. You can't spend $25 at Target and expect to get results. You need to invest in yourself."
Her one-on-one with Kristyn both broadened her options and helped her focus on the best bets for her body; having Bare Necessities do the work of a personal stylist—converting sizes; pointing out suitable brands, sister sizes and design details; free shipping and returns—while Danielle was comfortable at home saved her time and aggravation and, above all, guaranteed victory. "When you have a swimsuit that fits properly," said Danielle, "you feel amazing, and there's nothing better than that."
Don't forget to check out all of this season's incredible bra-sized swimwear makeovers:
The following two tabs change content below.

Brooke is the editor of this here blog. In a previous life, she was an editor at Good Housekeeping and O, The Oprah Magazine. Brooke has written for Glamour, Travel+Leisure, New York Magazine and more. She's into concerts, travel and her exceptionally adorable daughter and husband.

Latest posts by Brooke Glassberg (see all)