When we're talking bras, basic doesn't have to mean boring. There's absolutely nothing humdrum about the everyday collections from fashion forward brands like Prima Donna, Simone Perele and Empreinte; they do key pieces far more stylishly than the nude T-shirt bras we've come to know so well.
"When you think about European design, you automatically think fancy, the best of the best," says Bare Necessities premium buyer Heather Viskovic. "They do even 'basic' things really beautifully. In the US, Bare Necessities is where you're going to find these brands and these sizes. We're able to bring you something you're not going to get at your nearest department store that will make you feel special."
Read on to find out her top 5 most beautifully basic bras.
Prima Donna Madison Side Support Bra
"This is the ultimate basic," says Heather of Madison's soft gingham material and the wide stretch Leavers lace at the top of the cups that helps provide a perfect fit, even for slightly different size breasts, in one gorgeous bra. Lined but not padded, with reinforced side support that brings you front and center, Madison has very deep cups that can accommodate even the fullest, heaviest breasts, up to a 46 band and an I-cup. A Prima Donna bra is generally created from over 50 different pieces, making them both labor-intensive to produce and wildly effective at doing what they do. Choose neutrals, choose brights, but whatever you do, choose Madison—you'll be glad you did.
Prima Donna Every Woman Bra
An update on the popular and long-loved Seamless Satin Bra, Every Woman delivers the same great fit, but in four different flattering shades of skin and with pretty design details on the straps and underband. From the seamless and soft nonstretch microfiber (love the faint hint of shimmer), you get a natural shape, the support a full chest needs and modern styling—a practically unheard-of trifecta. And the convertibility afforded by the J-hook puts the whole thing over the top. Every Woman ought to be able to experience such a smooth, sleek and stylish stunner.
Empreinte Cassiopee Seamless Full Cup Bra
Take one look at it, and you'll see why Cassiopee is an otherworldly star: She's as dazzling as technological innovations come. Empreinte's top style globally is created out of a nonstretch seamless lace—think about how rare that is for a second—which is only possible using the most advanced heat-molds so you can fit right into the nice, deep cups. "It's an extremely difficult process to do…almost unheard-of," says Heather. The gorgeous, low-profile embroidery of the lace offers a bit of opacity and a hint of skin at the same time. But it only looks super delicate; this bra can carry the weight of up to a G-cup.
Marie Jo Avero Convertible T-Shirt Bra
Among average sizes, Marie Jo bras are practically iconic, with their stand-out polka dot or, in this case, daisy strap appliqués. "This basic is all about the straps—don't be afraid to show them off this spring!" Heather says. "When you do, everyone knows it's a chic Marie Jo bra." This particular T-shirt bra comes equipped with memorable details like the soft tonal gingham fabric, the touch of lace at the center gore and the convertibility of the straps that takes it from an over-the-shoulder to a halter to a cross-back. "Forget about boring nude once in a while! This is a T-shirt bra with style to spare," says Heather.
Simone Perele Andora Demi T-Shirt Bra
"You just don't find a T-shirt bra that goes up to a G-cup that's this dressed-up," according to Heather. The demi-cup sweetheart neckline and wide-set, detailed straps are well suited to someone with more of a straight or broad-shouldered figure. This is no traditional contour padded bra; the cups are made from a light, breathable spacer fabric with boldly oversized Guipure lace along the band. The best-selling style from this French brand, this T-shirt bra has already been around for years, so feel free to fall in love with it without worrying about it not sticking around next season. And if you love the styling, you're going to be able to find it in other shapes, too: In the Andora collection, there's also a convertible plunge bra and a minimizer to consider, plus panties.
In other words, these 5 key basics are anything but.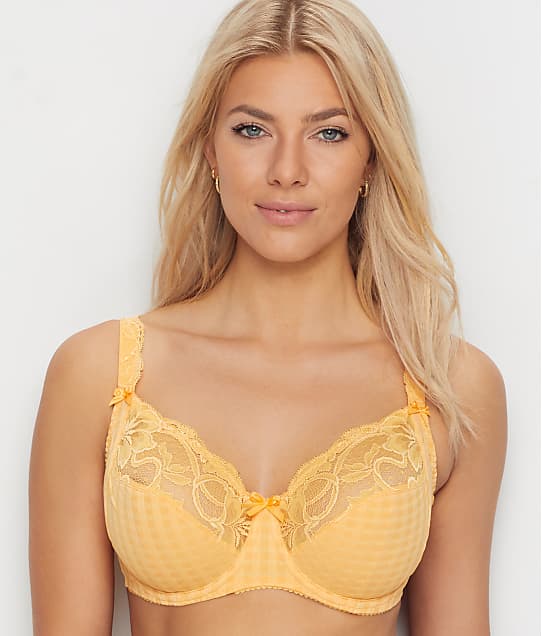 From left: Prima Donna Madison Side Support Bra, Prima Donna Every Woman Bra, Empreinte Cassiopee Seamless Full Cup Bra, Marie Jo Avero Convertible T-Shirt Bra, Simone Perele Andora Demi T-Shirt Bra
The following two tabs change content below.

Brooke is the editor of this here blog. In a previous life, she was an editor at Good Housekeeping and O, The Oprah Magazine. Brooke has written for Glamour, Travel+Leisure, New York Magazine and more. She's into concerts, travel and her exceptionally adorable daughter and husband.

Latest posts by Brooke Glassberg (see all)