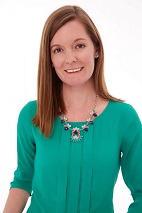 Women who are curvy and need some support in the form of a bra-sized swimsuit are in luck. First of all, c'mon: those enviable curves!
And, just as important, Bare Necessities specializes in the widest assortment of solutions-centered swimwear on the web (band sizes 30-40 and cup sizes D-K). In other words, we can for sure help you find the best swimsuits for curvy figures. Consider us your DD+ destination.
Now let's return to our swimwear expert Jeni Doherty, who has the following shopping tips to find the best bathing suits for curvy-figured women:
FINDING THE PERFECT FITTING SWIMSUITS FOR CURVY BODIES
"When looking at bra-sized swimsuits, the best thing you can do is to get fitted," says Jeni. "That's where success starts." Our certified Bra Fit Experts™ (877-728-9272, x4) can walk you through the process.
And beginning with the top is also the smartest approach since that's typically the hardest area to get right, Jeni says. "Once you find a top that works well for you, you can mix and match bottoms to find a great set."
"I can't underscore this enough," she adds: "Don't be afraid to try on multiple sizes, and never be discouraged by the size printed on the tag. In one brand, you might be a 10 and in another brand, you can be a 12. As long as it fits properly, no one will ever know, and it doesn't matter in the slightest," Jeni says.
PICKING THE BEST CURVY BIKINI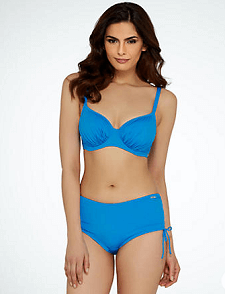 "There are plenty of bikini options, it just comes down to your personal preference," says Jeni. "Fuller-busted women can do traditional straps, a halter that ties snugly around the neck and, yes, even strapless."
For women whose quest for a bikini revolves almost entirely around accommodating her chest, tank-strap styles offer the greatest range. One of her favorites is this ruched, understated Fantasie Versailles.
For a trendier look with built-in adjustability, a halter is the great equalizer—you see them on women of every frame. To wit: the gorgeous Pour Moi Azure Halter Swim Tip, in a deeply gorgeous shade of azure.
A bandeau is another chic choice with timeless good looks and, thanks to the underwire construction, a surprising amount of support. Jeni always points to the nautical Panache Britt Stripe Bandeau Swim Top.
TRY A TANKINI FOR YOUR CURVES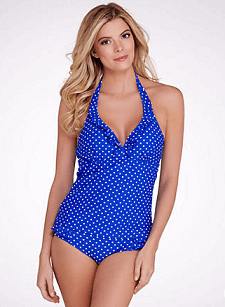 Tankinis are modern alternatives to a one-piece. You get to mix and match: "Most women aren't the same size on top and bottom, so it's smart to be able to choose different sizes and cuts," Jeni says.
Also, a tankini is ideal for women who prefer or need more coverage than a bikini offers, like the mom running after her child on the beach or someone shielding her skin from excessive sun.
As with a bikini, tankinis come in so many silhouettes that make perfect bathing suits for curvy women: over-the-shoulder (consider the Fantasie Wakaya Twist Tankini Top), halter (like this sweetly spotted Pour Moi Hot Spots), bandeau, asymmetrical.
To draw attention to your upper body and away from hips, thighs or tush, Jeni suggests a printed top with a solid bottom.
RECONSIDER THE ONE-PIECE FOR CURVY SWIMWEAR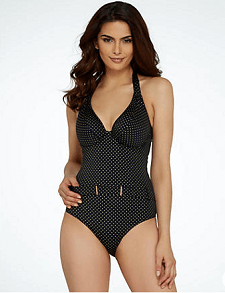 "These are not your mother's bathing suits. There's definitely been a resurgence lately in their popularity," says Jeni, who points out there are all kinds of interesting one-piece designs and silhouettes that are great swimsuits for curvy bodies, like the bright blouson style of the Magicsuit Scarlet DD Swimsuit.
Something with colorblocking or ruching—like the long, lean lines created by the jewel-toned solid Magicsuit Yvonne One-Piece Swimsuit—is a great way to gloss over any spots you'd just as soon obscure.
And a one-piece can be downright sexy, as this belted Freya Gold Dot Halter with a keyhole cutout in back proves.
The following two tabs change content below.

Brooke is the editor of this here blog. In a previous life, she was an editor at Good Housekeeping and O, The Oprah Magazine. Brooke has written for Glamour, Travel+Leisure, New York Magazine and more. She's into concerts, travel and her exceptionally adorable daughter and husband.

Latest posts by Brooke Glassberg (see all)