A swimsuit is probably the most revealing thing you're ever going to wear in public, so there's every reason in the world to expect that those few yards of fabric should be working overtime to cut you a secure, stylish figure.
That's why we pledge our eternal allegiance to the best slimming swimwear out there—Miraclesuit and Magicsuit. And there may be no bigger fan than Bare Necessities resident swimwear expert Megan Puma.
Miraclesuit invented the concept with their "Look 10 pounds lighter in 10 seconds" claim to fame. Megan concurs: "They're unsurpassed at slimming swimwear, and there's a suit for every body, every age."
These two sister swim brands fit sizes 8 to 24W. Some also come in DD-cups. (In swim, notes Megan, that's most likely bigger than an equivalent DD-bra cup, so check 'em out if you're very full-busted.) These days, the lines have more in common than ever. Miraclesuit typically has lots of great prints; Magicsuit tends to come in lots of solid colors and can skew more contemporary. You'll also find some lighter jersey knits in the Magicsuit mix.
WHAT MAKES MIRACLESUIT AND MAGICSUIT THE BEST SLIMMING SWIMWEAR
1. Miratex® fabric has super-strength shaping powers.
This proprietary fabric is the secret sauce that makes these the best slimming bathing suits; it has three times as much strong-yet-stretchy Spandex as the average suit. "When you put it on, you instantly feel comfortable compression in the correct places—through the torso and tush, but not the chest," says Megan.
2. They let you look like the best version of YOU.
Between the two lines, there are so many options, you can choose a suit that's pretty much customized for your body. Choose from intricate prints that attractively detract, strategically placed embellishments, design hallmarks like ruching down the middle, underwire or not, and whatever fashion style you tend to gravitate toward. 
3. They come in different silhouettes.
Go beyond the maillot to the cuts that personally appeal most. Try a tankini (note that only the bottoms have control, not the tops) or even a swimdress.
Here are some of Megan's top 10 chic, shaping picks for this season:
STATEMENT-MAKING SHAPING SWIMUITS
Magicsuit Solid Brynn Underwire One-Piece DD-Cups
Exclusive to Bare Necessities in the poppy "vamp" color, we also really appreciate Brynn's adjustable, convertible, DD-cup, underwire coverage. The asymmetrical hem really makes all the difference, stylistically-speaking.
Magicsuit Solid Bianca One-Piece Romper
The relatively new swim romper idea is such a cool way to cover up a touch. Self-tie halter straps make this swimsuit suit you just right, so it can go everywhere you do, be it the town pool or on summer vacation. Plus it's just the most comfortable; you won't give your swimsuit a second thought all day.
Miraclesuit Rock Solid Aphrodite One-Piece
This Greek goddess-inspired, striking white suit with an attention-attracting, dramatic neckline is also strategically ruched, using that signature firm control fabric only at the tummy. Up top, built-in wire-free cups take care of the girls, too.
Miraclesuit Jena Network One-Piece
While Miraclesuit makes many bathing suits with firm-control mesh insets, we happen to especially adore this one-shoulder, wire-free style, with ruching in all the right spots. (Talk about using your illusion…!)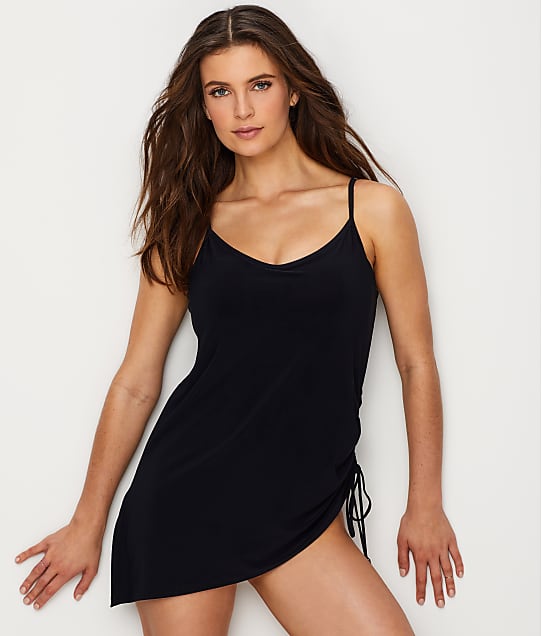 From left: Magicsuit Solid Brynn Underwire, Magicsuit Solid Bianca Romper, Miraclesuit Rock Solid Aphrodite and Miraclesuit Jena Network
CLASSIC SHAPING SWIMSUITS
Miraclesuit Must Have Mystify Underwire One-Piece DDD-Cups
A firm-control suit with flattering ruching and mesh panels flatters your torso as much as can be. Similarly, underwire DDD-cups with adjustable straps afford you the maximum support. There's just no more universally utilitarian suit than this.
Miraclesuit Plus Size Pin Point Marais Swimdress
This swimdress is also firm control, with an empire waist, fit-and-flare cut and a twisted V-neck offering a little extra coverage, all adorned with teeny sweet spots. (The Marais style comes in missy and plus sizes, too.)
Magicsuit Blaire Fringe Underwire One-Piece
Blaire isn't a regular black swimsuit, she's a cool black swimsuit. The firm-control front and double-layer cups are stylishly obscured by a saucy curtain of fringe. Bonus points for the adjustable straps, too.
Magicsuit Solid Taylor Underwire Tankini Top (also available in DD-Cups)
Go for a flattering flared fit in bold cobalt blue or unbasic black. A Magicsuit or Miraclesuit tankini top caters up your upper half without doing any firming—that comes from whichever bottoms you pair it with. May we suggest the versatile Magicsuit Solid High-Waist Bikini Bottom, romper-inspired Jersey Swim Shorts with a built-in brief or the sporty-sweet Solid Ruffled Skirted Bikini Bottom?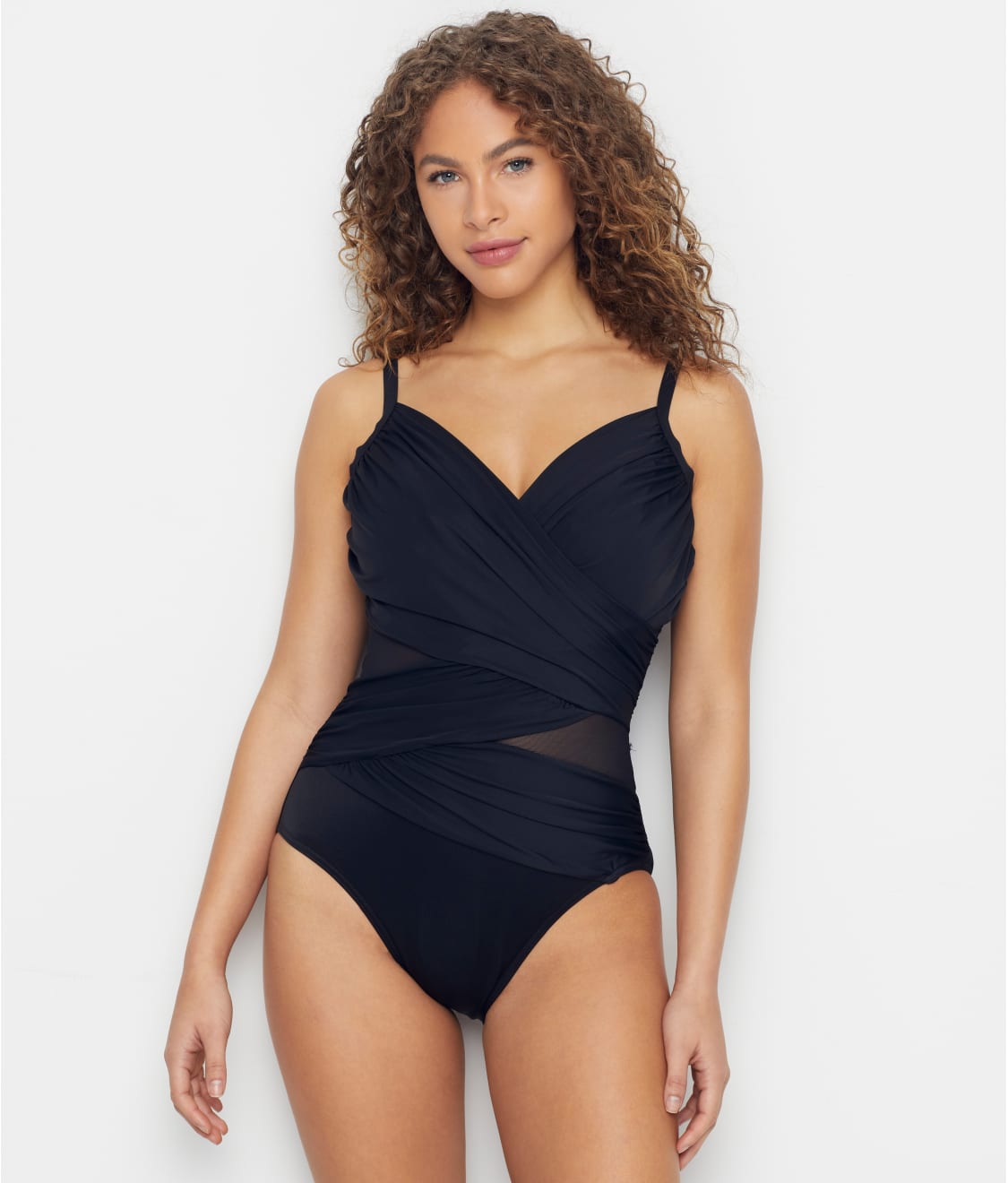 From left: Miraclesuit Must Have Mystify, Miraclesuit Plus Size Pin Point Marais, Magicsuit Blaire Fringe and Magicsuit Solid Taylor
The following two tabs change content below.

Brooke is the editor of this here blog. In a previous life, she was an editor at Good Housekeeping and O, The Oprah Magazine. Brooke has written for Glamour, Travel+Leisure, New York Magazine and more. She's into concerts, travel and her exceptionally adorable daughter and husband.

Latest posts by Brooke Glassberg (see all)