Brooke here, editor and writer for Bare Necessities and the Bare it All blog. I'm wrapping up Postcards from Paradise, our summer travel series, with some notes on New England for your next trip to the compact yet super-scenic Northeast.
Here's the mini guide I've compiled for Newport, Rhode Island (where we go every year), and Cape Cod, Massachusetts (where we finally ventured for the first time). Here's hoping this summer hasn't totally eclipsed you yet. Happy trails!
Why go to Newport and Cape Cod now?
We've driven to Newport every year for the last eight years for the incredible Newport Folk Festival. My daughter is only four, and she's been five times (six if you count in utero). This year, we decided to extend the fun with a road trip up to Cape Cod, which is only about an hour away. We stay with friends at their 18th-century farmhouse ten minutes from downtown Newport, and an airbnb in the aptly-named Centerville, MA, right at mid-Cape.
Fun things you can only do there
If you can get to the Newport Folk Festival at one point in your life, please do yourself the favor and go. Tickets sell out before the acts are even announced because the lineup is so reliably amazing. We've seen Wilco, The Decemberists, Elvis Costello, Alabama Shakes, My Morning Jacket, Roger Waters, the Head and the Heart, Drive-By Truckers and a million up-and-coming bands that you can say you saw that will make you sound really cool. This year, we discovered Pinegrove, Joseph, The Wild Reeds, Hurray for the Riff Raff, Mt. Joy, and so many more talented acts. The little community that springs up in Ft. Adams is positively soul-recharging. Some of my happiest memories are laying in the grass in the sunshine with my daughter and husband, surrounded by the stunning beauty of the harbor, enveloped by good music. Here's a bit more from PBS about what makes this small festival so special.
In Newport, you can take a tour of the gilded age mansions (The Breakers, the Vanderbilt "cottage," has to be seen to be believed), do some or all of the 3.5-mile Cliff Walk and Breton Point and tour Touro Synagogue, the oldest temple in the country—George Washington visited.
On Martha's Vineyard, you have to go on the Flying Horses Carousel, also the oldest in the country, and walk by the colorfully painted gingerbread cottages. In Provincetown, please go whale-watching. You're basically guaranteed to see natural beauty that will actually take your breath away.
Best New England beaches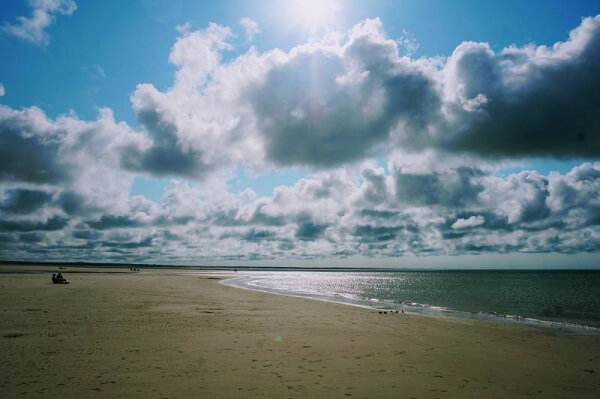 Chapin Memorial Beach in Dennis, MA.
Every one we went to was different and awesome in its own right. Easton's Beach in Newport has a carousel and snack bar: It's our yearly ritual to get twin lobster rolls and eat them on a blanket in the sand. It's also a stellar way to make seagull friends.
On the Cape, we hopped between Corporation Beach (so many hermit crabs!), Craigville Beach (all the slipper shells), Chapin Beach (miles and miles of sand at low tide), Kalmus Beach (perfect-looking scallop shells and boats passing by) and Mayflower Beach and Herring Cove in Provincetown for killer sunsets. In general, the beaches north and south of the Cape are calmer and warmer than the Atlantic Ocean-facing barrier beaches to the east.
Best breakfast
Hear me when I say that the malassadas—sugar-dusted Portuguese fried dough—and apple fritters at Ma's Donuts are non-negotiable. The Black Dog Bakery Cafe on Martha's Vineyard is an institution I defy you to try to avoid.
Best restaurants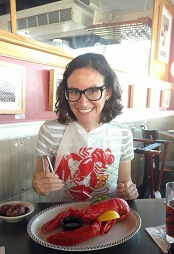 In Newport, get the lobster macaroni and cheese at Brick Alley Pub. If you're all lobstered out, a close second would be the house ramen with pork belly at Boru Noodle Bar or, for excellent burgers and craft beers, head to Mission. The ultimate unpretentious fried seafood experience has been happening over at Flo's Clam Shack since 1936.
On the Cape, it's all seafood, all the time, and all of it is phenomenal. Check out the free tour of the Cape Cod potato chip factory, and eat at Captain Frosty's, Sesuit Harbor Cafe, Centerville Pie Company (made famous by Oprah), EmBargo and the Lobster Pot. Or anywhere, really, with local steamers on the menu. Which is everywhere.
Best drink
On a hot summer day, a Del's frozen lemonade—shaved ice, sugar and lemon zest—is heaven-sent.
Best dessert
Can't choose just one, sorry!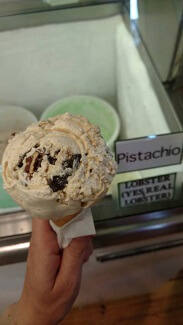 You can't throw a rock without hitting a homemade ice cream shop in this neck of the woods, but the ice cream from Lewis Brothers in Provincetown was beyond. We sampled the lobster flavor made with real crustaceans at Ben and Bill's Chocolate Emporium in Falmouth, which was better than it had any right to be. Marion's Pie Shop has a ridiculous "razzleberry" pie that we polished off on a nearby beach.
Nightlife
In Newport, everyone kind of strolls along Thames Street and Bowen's Wharf. Have dinner or a cocktail and some oysters with a sunset, sailboat view at The Landing. You can often catch an art house film at the Jane Pickens Theater and cap things off with a trip to Newport Creamery. Not exactly Ibiza levels of entertainment, but that's kind of the point—it's all just very, very chill.
Best shopping
On the Cape, the charming town of Chatham and Edgartown on Martha's Vineyard are where it's at, boutique-wise. Check out Thames Glass for handmade souvenirs from Newport. We bought a little pineapple, the local "welcome" symbol.
Must-pack essentials
I brought along bralettes for long days at the festival and this cute Tommy Bahama Shibori Splash one-piece with a matching navy Seafolly cover-up for the beach.
What to read
I Got A Song: A History of The Newport Folk Festival, by Rick Massimo. This new book, which was almost a decade in the making, is the first ever devoted to this history of the festival.
Local slang
In the Boston area, everything good is "wicked."
Insider travel tip
Don't bother taking your car on the ferry for a day-trip out to Martha's Vineyard. It's expensive and not worth the hassle, especially when the bus pass will take you everywhere you want to go—a pass costs less than $10.
The following two tabs change content below.

Brooke is the editor of this here blog. In a previous life, she was an editor at Good Housekeeping and O, The Oprah Magazine. Brooke has written for Glamour, Travel+Leisure, New York Magazine and more. She's into concerts, travel and her exceptionally adorable daughter and husband.

Latest posts by Brooke Glassberg (see all)