When it comes to wedding season, the outfit you're wearing is the easiest part! Think about it: By the time you put on your gown or party dress, all the big decisions have already been made. Suddenly, the base layers have the biggest impact on your degree of flawlessness.
So whether you're the bride and it's your big day or honeymoon, you're in the wedding party or you're on the guest list, Bare Necessities is here to help you be the best dressed you can be. Peruse The Bride Guide or let us escort you right to what you need…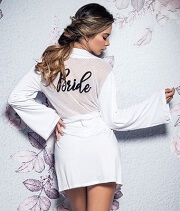 For the Bride, at Her Shower or Bachelorette Party
Our favorite gifts for these lady-centric special occasions include swanky bridal sleepwear she wouldn't think to splurge on for herself, a gorgeous robe she'll wear over and over again, a lacy garter she can use on the big day and pieces that broadcast her Bride status.
We also suggest outsourcing bridal lingerie shopping to friends because honestly that's half the fun of these things. Add in a cute, on-theme pair of socks (we're partial to Mrs. Always Right and Bride to Bee), and your gifts are ready to go.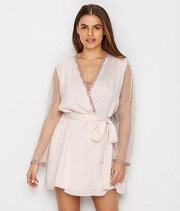 For the Bride, on Your Wedding Day
Though you've probably already found something borrowed and something new, the something blue can be the trickiest tradition to fulfill—or at least it was, anyway, until we gave you that link there.
Also a thing: short robes for getting ready with your girls that are sure to appear in the wedding day photos. Consider something classy from Flora Nikrooz (in so many colors, the whole bridal party can coordinate) or Kate Spade New York, in white or blue.
And in terms of underpinnings, there's a bra—underwire, strapless, backless, bustier, or bodysuit—to match any and every wedding gown. If you need to forego the bra altogether, there's no shortage of creative solutions, either.
For the Bridesmaids
Nothing is too good for the best women who are by your side, this day and every other day, so treat them all equally—and lavishly—to PJ Harlow loungewear in the prettiest watercolor pastels (like the blush pink satin "Jackie" camisole and matching shorts here).
Be sure to throw in thoughtful-kitschy-cute Hot Sox made for the "Bride Tribe" and the "I Do Crew."
Maids of Honor might get an extra-special robe and panty set and pair of socks.
For Wedding Guests
The Spanx Suit Your Fancy collection was designed explicitly for event season, featuring clever, one-of-a-kind shaping tactics—plunging fronts and backs, high-waist tummy-shaping thongs that leave no trace of a panty line behind—plus the refining factor you turn to Spanx for in the first place.
The new Spanx Firm Believer High-Waist Shaping Sheers are not only perfectly sheer, they also smooth right over a tummy, thighs and rear. Thanks to laster-cut technology, no VPL need apply, and they come in so many different shades that you can match your skin tone to a tee. The cumulative effect is your legs, but better. If you prefer thigh highs, the Hanes Silk Reflections Silky Sheer Thigh Highs will stay put all night thanks to silicone-lined leg bands. The sheer toe lets you pair them with open-toe shoes, and the wicking design will keep you cool and comfy all day during that outdoor summer wedding.
And if you're not a legwear lover, consider simple problem-solvers like Hue Perfectly Bare Toe Covers and Hue Open Toe Mule Liners. These minimalist accessories that go a long way toward making heels feel better. They're breathable and cushioned to absorb impact at the ball of the foot—key to dancing the night away.
For the Bride, on Your Honeymoon
Regardless of the destination, Bali to Buffalo, you're going to need three things: stepped-up sleepwear (wait to revert to worn-out sweats until after the honeymoon is over), pretty lingerie (if not now, then when?) and a great swimsuit (or three).
Happy happily ever after!
The following two tabs change content below.

Brooke is the editor of this here blog. In a previous life, she was an editor at Good Housekeeping and O, The Oprah Magazine. Brooke has written for Glamour, Travel+Leisure, New York Magazine and more. She's into concerts, travel and her exceptionally adorable daughter and husband.

Latest posts by Brooke Glassberg (see all)