While most people could tell you that October is Breast Cancer Awareness Month, breasts are also being honored right this minute: The first week of August is World Breastfeeding Week, an international event celebrated by more than 170 countries. While fundraising walks and the omnipresent pink ribbon mark the former, this month we turn our attention to encouraging and supporting breastfeeding as a way to improve infant health globally.
Believe it or not, the United States is the only industrialized country that doesn't provide workers with legally mandated paid maternity leave. In fact, only 21 percent of private employers offer paid leave. That's not good news for boosting breastfeeding rates. Some innovative companies, though, have made breastfeeding and adequate leave a priority: Netflix now gives new parents up to one paid year off. Similarly, Google reduced its new mom attrition rate by half when it lengthened maternity leave from 12 to 18 weeks.
How else can we support our breastfeeding moms and their babies?
Corporate support should include making it easier for mothers to return to work by providing enough time and a private, clean place to nurse or pump (would you eat your lunch in the restroom?). You can learn more about both policy and advocacy through the United States Breastfeeding Committee.
Personal support from friends, family and one's community also goes a long way toward improving rates of breastfeeding initiation and continuation to reach the World Health Organization's goal of exclusive breastfeeding for six months.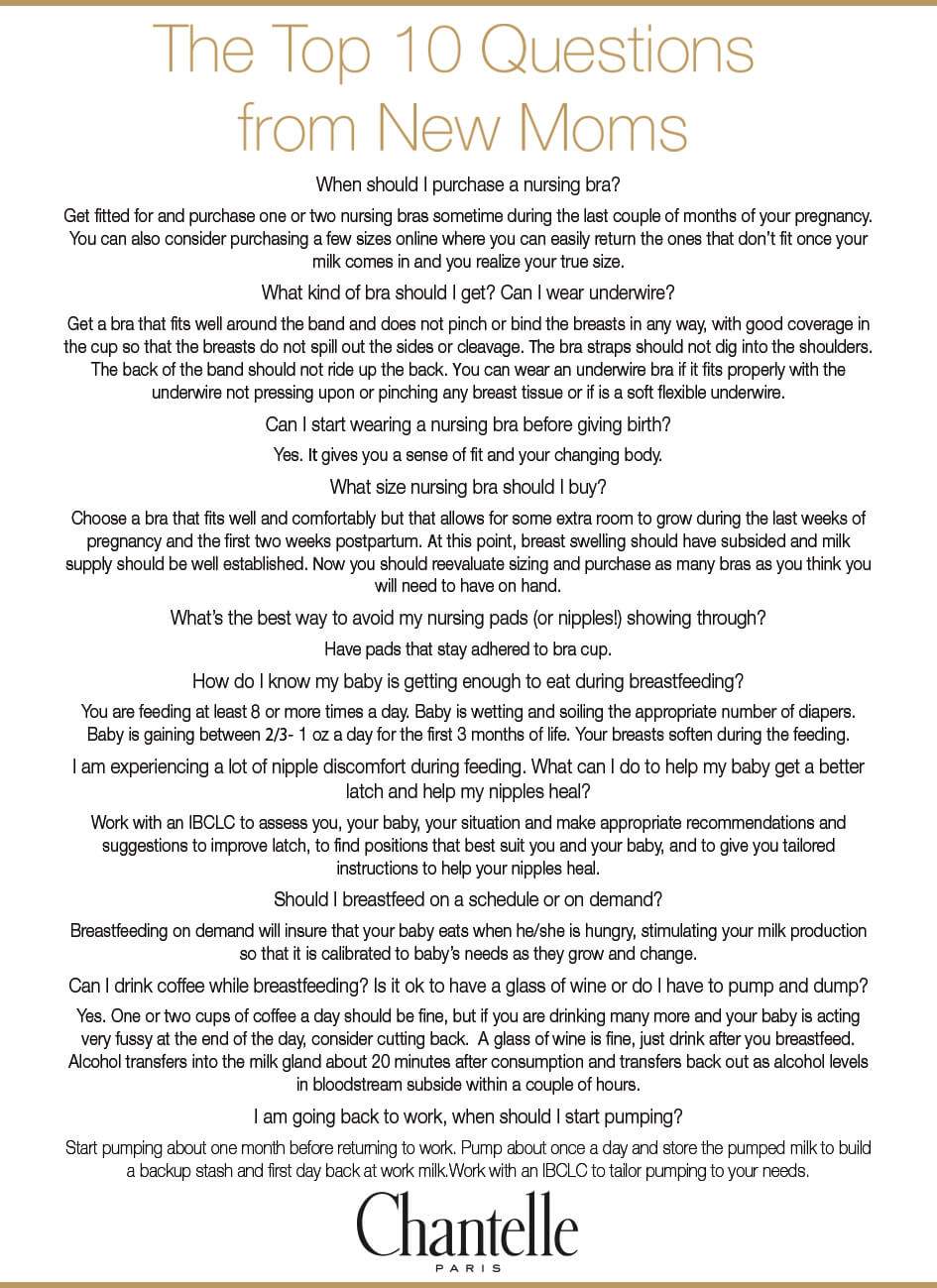 "Our culture is not a breastfeeding culture," says Carmen Baker-Clark, IBCLC (International Board Certified Lactation Consultant), who worked with Chantelle on the stateside launch of their nursing bra. "After World War II, when women entered the workforce, we started losing the passing on of knowledge that children gained from seeing breastfeeding. You can't learn it all in one class," says Carmen, who sees more women these days who want to breastfeed but, by the time they're discharged from the hospital are in pain, think they're not making enough milk (odds are, you are, she says—"breastfeeding is the perfect example of supply and demand"), supplement with formula and give up. "You need support and the help of an educated professional with good clinical and communication skills," says Carmen, who recommends ZipMilk.org, International Board of Lactation Consultant Examiners, International Lactation Consultant Association and La Leche League.
"Don't be a martyr, don't wait to get help," Carmen cautions. Her best nursing advice: Put babies on their tummies and let them help themselves. Gravity encourages a deeper latch, and leaning back is a way more comfortable position for mom than hunching over.
And of course you want a quality, well-fitting nursing bra that will provide comfort and support to make mom look and feel her best.
How to Fit a Nursing Bra
The Bra Fit Experts recommend getting fitted in the last two months of pregnancy, as close to your due date as possible. (When you're at your biggest and most exhausted? Hallelujah for online shopping.) The ideal bra wardrobe for a nursing mom should consist of at least two properly fitting bras a cup size or two bigger than usual (your band probably won't change much). With engorgement, your third day or so postpartum will be your peak size. On the flip side, nursing burns an extra 500-600 calories per day—so it's safe to say that at this point in life, major size fluctuations are to be expected.
The Best Nursing Bras
Here are some of the best nursing bras on offer at Bare Necessities:
NEW! Chantelle Merci Nursing Bra
This new-to-the-USA nursing bra looks and feels like your favorite Chantelle number, only with easy-open clips, breathable seamless cups made of flexible spacer material, a ridiculously soft lining that grips nursing pads and a flexible underwire that adjusts to the shape and size of changing breasts.
Motherhood can be a rollercoaster of emotions, schedules and body parts. This week, let's take a moment to latch onto the ways we can all uplift new mamas.
The following two tabs change content below.

Sharon Mass, MD
Dr. Mass is an Obstetrician-Gynecologist in private practice in Morristown, NJ. She has held leadership positions in the American College of Obstetricians and Gynecologists for the past 20 years. Dr. Mass is often asked to speak about issues in women's health, breastfeeding and breast imaging. She was named as a "Top Doctor" in the 2009, 2012, 2013 and 2014 issues of New Jersey Monthly magazine.

Latest posts by Sharon Mass, MD (see all)