For three days in February and March, more than 450 of the world's leading lingerie brands converge at CURVE New York, a trade show that takes over the gigantic Javits Center in New York City. Buyers and members of the press, Bare Necessities always among them, walk row after row to check out the latest from longtime favorites and discover new rising stars in the lingerie industry.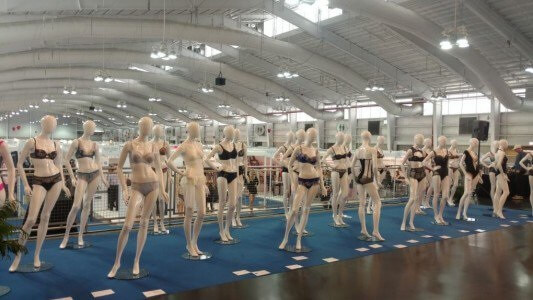 Here are the 2017 lingerie trends we spotted at CURVEXPO New York that got us super excited this season:
1. WOMEN IN CHARGE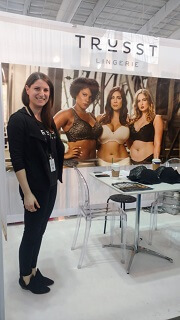 It makes sense that lingerie lines have ladyfolk at the helm. Their first-person know-how already shines through in our love for Trusst Lingerie, Hanky Panky, For Love & Lemons, SPANX, Dita Von Teese, Miss Mandalay, Curvy Couture and Knixwear. We were feeling the XX chromosomal vibes at CURVE from:
The Little Bra Company: Founder Emily Lau started her petite-centric brand out of frustration with the options available for her 34B chest—basically plain Jane training bras or ill-fitting push-ups. The beautiful brand, newly at Bare Necessities, caters to women who wear bands 28-38 and cups A-C.
Adina Reay: Created in 2013, the sexy, modern, high-end British brand was created by Sharon Lake for women with fuller cup sizes who craved details like thinner straps, sheer cups and luxe finishes. These chic styles span sizes 30DD to a 36G.
Changewear: This wire-free convertible bra, which took Michelle Judson two years to develop and launched in January, is all about personal style. Michelle patented a bra that lets you switch up the color of the cups with reversible triangle pads. You can customize the look of everything else these days—why not your bra?
CupCare: Avigail Perl founded the brand in 2012, when she was "officially fed up with her bras." These disposable, soft cotton bra liners protect your skin, absorb sweat and keep your bras looking pristine by cutting down on washings.
Uwila Warrior: The new underwear line was created by women, for women, to make colorful, luxurious, comfortable panties that appeal first and foremost to the person wearing them. No thongs here, just luxe silk or jersey hipsters and briefs.
[metaslider id="9315″]
2. SHOW YOUR TRUE COLORS
While lingerie usually trends toward so many shades of beige or black, this time around, we were struck by two noteworthy color stories:
Skin tones that match your own: Nubian Skin founder Ade Hassan started the brand in 2015 when she reached her breaking point with the lack of skin-tone choices to go with her wardrobe.
Think pink: We saw pale pink and blush options just about everywhere—obsessed with the rosy rack from PJ Harlow in the slider below—not to mention rose gold charm details we saw on Scantilly by Curvy Kate pieces and Bravado Designs nursing bras.
[metaslider id="12367″]
3. THE HIGH WAIST
Everywhere we went, we saw this comfortable, retro-influenced look crossing categories, from swimwear to panties to leggings. Rejoice!
4. INNERWEAR GOES OUT
We saw so much gorgeous loungewear you could toootally leave the house in and still feel put-together. PJ Harlow told us their customers love to wear their satin braided-strap camisoles, wrap cardigans or lounge pants mixed with standard separates to work or on the weekends; Commando leggings, bodysuits and long-sleeve tops serve on their own or as the perfect base layer to an outfit.
5. SOFTNESS REIGNS SUPREME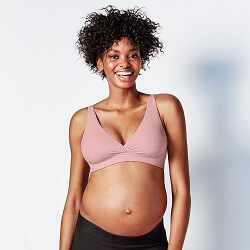 It was impossible not to get our hands on all the ridiculously soft, plush, thick, cuddly materials:
Bravado Designs: The forthcoming Petal Soft collection is a godsend for sensitive new-mom boobs. While both bras in the collection have the same stretch-and-recover properties and cooling soft-touch, the Ballet sleep bra (at right) is made for lounging while the Buttercup is a modern silhouette that's perfect for wearing all day.
Berkshire Blanket & Home Co: When a brand's tagline is "best feeling ever," you know the robes, wraps and scarves have got to be beyond comfy. In fact, the line started as a blanket company.
Uwila Warrior: Started by one of the original employees of Marc Jacobs, this new underwear line was "founded on one simple belief: Women shouldn't have to twist their bodies and lifestyles into underwear that only fits sometimes—they should have unapologetically colorful, beautiful, and comfortable underwear that fits every moment of their lives."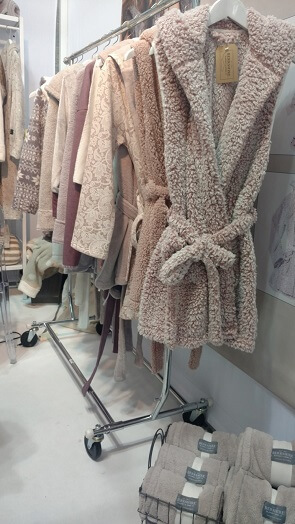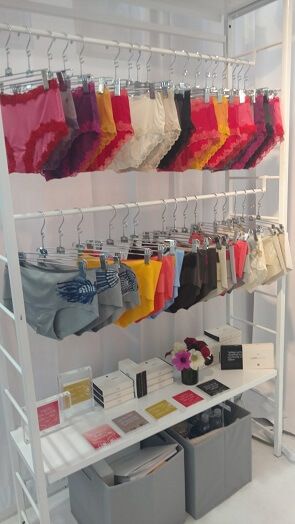 6. DESIGNS TOO FUN TO HIDE
We're obsessed with the photo-real prints of bouquets, hot-spot destinations including Las Vegas and flora and fauna like wild cats on Commando thongs. Some will quite appreciate the cheeky sayings on Uwila Warrior undies, like "kickin' butt," "party panties" and "smart ass."  We were transported by destination-inspired prints on handmade bamboo pieces by Bia Boro and Siloett, too.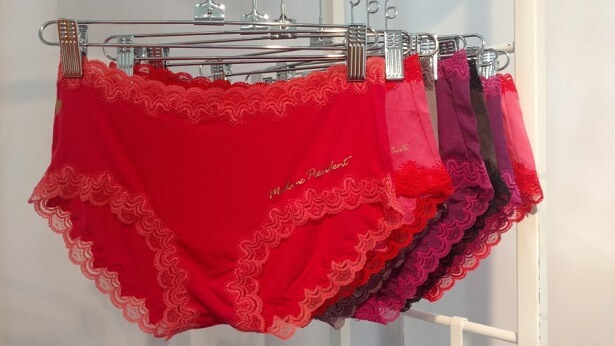 The following two tabs change content below.
Brooke is the editor of this here blog. In a previous life, she was an editor at Good Housekeeping and O, The Oprah Magazine. Brooke has written for Glamour, Travel+Leisure, New York Magazine and more. She's into concerts, travel and her exceptionally adorable daughter and husband.
Latest posts by Brooke Glassberg (see all)