Baby, it's cold outside, but there's nothing better than using those frigid temps to inspire your next vacation destination—even if it's only a fantasy (for now). We spoke to Bare Necessities swimwear buyer Megan Puma about what trends we can expect to see in 2017.
All these swimsuits hit both this season's latest trends and offer the support you expect from your favorite bra. So pack your sunblock and a few beach reads, and stash an on-trend suit for your next tropical getaway. Though the destination pairings are totally optional, we sure wouldn't mind visiting any one of them this winter.
High-neck swimsuits + Hawaii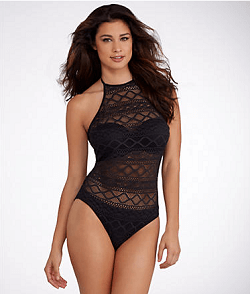 Surf's up in style! Whether you're getting a lesson, hiking or swimming underneath a gorgeous waterfall, you'll look striking and feel supported in a very versatile high-necked halter swimsuit. "The high-neck halters have been huge and will continue to be next year," says Megan. "They're a little more modest and great for the active beachgoer. It's such a functional design: The neckline will protect your décolletage from the sun without looking matronly." These suits offer adjustability, too. With a fully constructed bandeau top underneath, the best-selling Freya Sundance swimsuit is perfect if you want to try strapless: The crocheted high-necked halter toes the line between one- and two-piece. It's a bit sexy while still offering coverage.
One-piece swimsuits + the Dominican Republic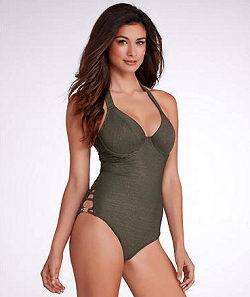 One-piece swimsuits continue to be on-trend this year. These striking new styles show off your shape—definitely not your mama's tank suit. "They're hugely popular and anything but frumpy," says Megan. "Deep V-neck fronts, low-cut backs, mesh paneling, cutouts and strappy detailing all add interest, highlighting your favorite assets as it gives you the support you need." If you're looking for a recommendation, the Freya Glam Rock halter swimsuit offers sculpting and support in one hot package—it's a one-piece suit that allows you to play in the turquoise surf and still enjoy all of the delicious food and drinks the DR has to offer.
Nautical swimsuits + Costa Rica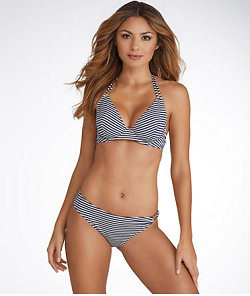 Even if your vacation itinerary consists of nothing more than sprawling out on a pristine stretch of sand with a cocktail in hand, you'll look ready to set sail when adorned in navy and red, stars and stripes. "Nautical is an ageless motif that can work for anyone based on how you style it. Go classic or fun and funky," Megan recommends. "Nautical prints tend to incorporate a lot of blue, which works amazingly well on a wide range of skin tones." Might we suggest the timeless Miss Mandalay Coast halter? Frolicking in this little number, you'll embody the local pura vida philosophy and get to explore the warm surf or lush rainforests. You may never want to leave.
Colorblock swimsuits + Miami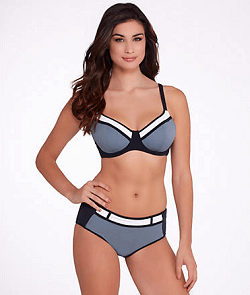 There's a reason so many songs have been written about Miami. An intersection of color, culture and cuisine, you've got to let your swimwear be as bold and bright as your surroundings. "Colorblocking is a home run—it's both flattering and fashionable," says Megan. "Whether you're pairing two solids or a print and solid, this trend can help you accentuate the parts of your figure you want to draw attention to. One striking example is our Freya Bondi Sweetheart bikini. The pops of white emphasize whereas the black visually detracts. It's fashion-forward, sporty and sexy."
Strappy details + Rio de Janeiro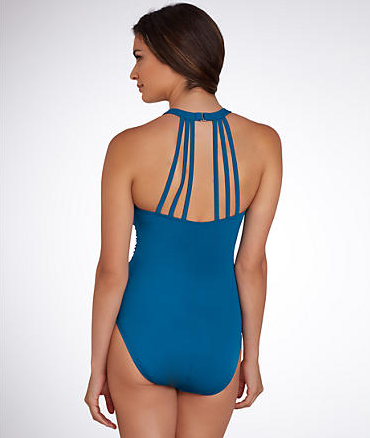 Blame it on Rio. Well, your feisty mood, at least. It's no coincidence some of the sexiest people in the world are Brazilian—the country practically oozes beauty. Showcase your own saucy side from behind with strappy swimwear along the lines of this Magicsuit Solids Danika wire-free halter. (Bonus points for two trends in one: Note the of-the-moment high-neckline.) "You'll be seeing strap detail on everything—bottoms, tops, one-pieces, tankinis. The straps can be simple and straight across or do a fun little crossover pattern," says Megan. "It's a great way to spice up your swimwear and often lets you have a simple suit in the front but lots of fun in the back." Embrace your shape, and you'll fit right in with the locals.
Happy travels, and be sure to send a postcard from paradise.
The following two tabs change content below.

Caylin Harris
Caylin is a freelance writer, editor and crafter who feels quite lucky to write about fashion, home decor, food and DIY projects for a living. She was an editor at Good Housekeeping and Parents before moving to Rhode Island, where she and her husband live with their cats Henry, Fuzz, O and Stella.

Latest posts by Caylin Harris (see all)