If you trend toward the bigger-busted and have ever stood in front of a rack of swimsuits wondering which bikini top could possibly contain you, the solution is surprisingly simple: Look for a bikini top with a true-to-bra size.
"So many women steer away from bikinis because they only see themselves in sizes small, medium, large or extra-large, and they don't know which will fit or support them best," says Bare Necessities swimwear buyer Megan Puma. "That's all the more reason to seek out bikinis with real bra-like construction, underwire and adjustable straps to give you the lift you need to feel secure."
Summer's coming, so join in as Megan rounds up the best of this season's bikinis for big busts:
Consider: An over-the-shoulder style
Why this bikini top rocks: This style is ideal if you aren't looking to go strapless or don't want a halter top that ties around your neck. "You get the same support you would from your everyday bra," Megan says. "Another plus: You can also adjust these. Converting to a crisscross in the back will give you even more support."
Megan's Picks: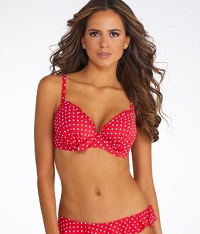 Pour Moi Hot Spots Bikini Top
"With an over-the-shoulder bikini top, you don't want it to look like a bra, so extra details like a ruffle at the top will make it stand out," says Megan, and of course, the polka-dot print is a total classic.
Up to G-cup.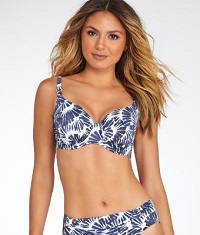 Fantasie Lanai Gather Full Cup Bikini Top
"This is a major smash hit of a print this season. It features a full cup for coverage, underwire, fully adjustable straps and power mesh inside to give even more support," Megan says.
Up to G-cup.
Consider: A halter top
Why this bikini top rocks: Guess what? You may think you can't wear a halter top, but you can—provided you find one in your size that features an underwire, Megan says. "Best of all, halters are slimming and look hot on everyone, at every age," she says. "Halters create a sleek silhouette that draws the eye up and down. The underwire is brilliant because it takes some of the pressure off your neck, and these are customizable, which means you can loosen or tighten it change the way it lifts."
Megan's Picks: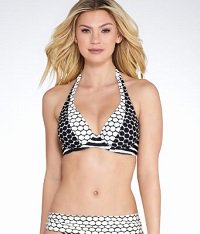 Sunsets Unforgettable Halter Bikini Top
"This bra-size halter offers great support," Megan says. "You have added adjustability with this top, as it ties around the neck and has a slide-hook closure around the back with three adjustments to tighten." The graphic black-and-white mixed prints are as eye-catching as they are flattering.
Up to H-cup.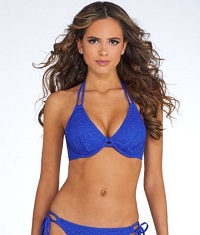 Freya Sundance Halter Bikini Top
"This halter top is one of our best sellers this season; the crochet look will never go out of style," Megan says. "This is the kind of suit that will last you season after season."
Up to FF-cup.
Consider: A bandeau
Why this bikini top rocks: Bandeaus can be surprisingly ideal for the big-busted. Opt for one and you'll be tan-line-free and fully supported all day long, says Megan. "Underwire and side-boning also help keep your top in place. This means you'll feel comfortable taking the straps off and then, when you want to take a walk down the beach, you can reattach the straps. You have the versatility to say, 'I want to go strapless right now!'"
Megan's Picks: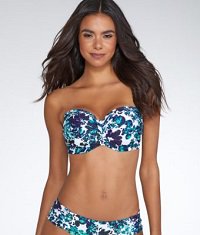 Panache Florentine Bandeau Bikini Top
"This one's a really fun floral print, and the foam-lined cups have side-boning, so the top will stay where it should," Megan says. "It also comes with two sets of straps so you can put them over the shoulder or crisscross them for additional support."
Up to G-cup.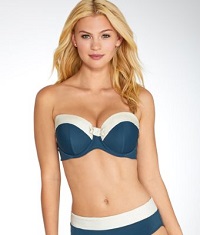 Prima Donna Tango Bandeau Bikini Top
"This is such an elegant, classic, color-block top," Megan says. "It has underwire cups, foam lining and flattering seaming in front. It also comes with two sets of straps so you can create an over-the-shoulder or crisscrossed look."
Up to G-cup. 
The following two tabs change content below.
Lambeth Hochwald
Lambeth Hochwald is a New York City-based writer and editor who reports on lifestyle topics and, especially, issues that affect the lives of women.
Latest posts by Lambeth Hochwald (see all)