Follow the Fashion Week catwalks or pick up any magazine right now, and you'll notice the lingerie-as-daywear trend. Yep, it's totally okay to leave the house baring your bra—thanks, Millennials!—if done right.
That tiny caveat is why we wanted to take a minute with Bare Necessities buyer Kelly Himes. She's sharing her best styling advice, and taking trepidation out of the equation, so you can step out in confidence.
"Silky, lacy pieces used to never see the light of day, and that's a shame. All that's changing now. These separates are making their way out, and why not? What's the point of saving your prettiest underthings for the dark?" says Kelly. "These pieces blur the line between innerwear and outerwear, doubling the use you can get out of them. Of course they're perfect in the bedroom, but don't be afraid to incorporate them in with the rest of your closet. It's a cool, modern way to think about getting dressed."
The key to not feeling overexposed: balance. Pair something frilly with deconstructed denim; a crop top with a high-waist bottom, fitted with flared.
"Find your own style within each category," suggests Kelly. "You can go fully lined if you're not a lingerie lover, or you can go sheer if you're expert-level. Try it out, mix it up, see the reaction you get and have fun. It's only fashion."
A PRETTY TEDDY
This is the intersection of comfort and cutting-edge. The surprisingly versatile teddy is basically a fancy bodysuit that goes beautifully with a more casual contrast, like ripped jeans or a denim miniskirt. Choose color here so the look reads more bold, less strictly boudoir.
"Loungewear and athleisure had a moment last year; this is kind of like a dressed-up take on loungewear," explains Kelly, who suggests wearing an outfit along these lines for daytime—say, going out on the weekend with friends.
Kelly's Picks: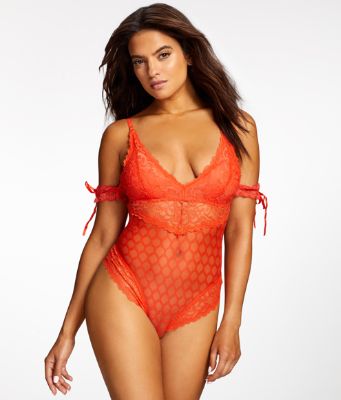 A FASHION BRALETTE
More structured and detailed than your everyday basic pullover bralette, the sexy bustier-inspired style is all kinds of talented: It can be layered under a sheer top, worn with a cardigan and paired with an of-the-moment high-waist skirt or pant.
"I would reserve this look for a night out," says Kelly, who also finds it works for a music festival in warmer weather. "Or break it out on date night."
Kelly's Picks: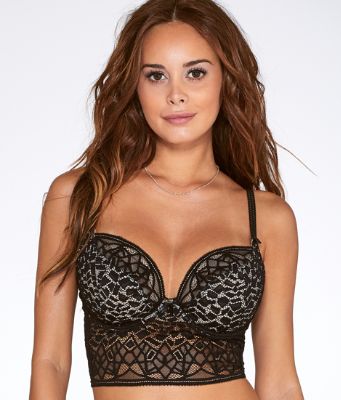 A SERIOUS STATEMENT-MAKER
Attire with attitude is sort of the opposite of the more touchable, approachable stuff. Think faux-leather, bondage-inspired straps and risqué cutouts. They're more brazen and tough than delicate and pretty.
"Put these pieces with leggings, jeans—anything basic really," says Kelly. "Just add a heel or boot to command control of any room."
Kelly's Picks: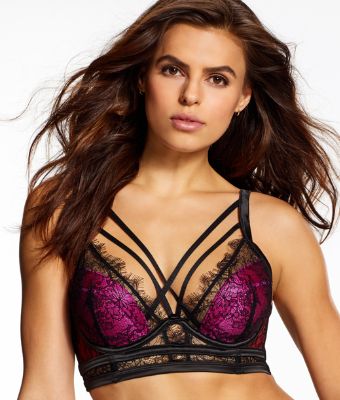 The following two tabs change content below.

Brooke is the editor of this here blog. In a previous life, she was an editor at Good Housekeeping and O, The Oprah Magazine. Brooke has written for Glamour, Travel+Leisure, New York Magazine and more. She's into concerts, travel and her exceptionally adorable daughter and husband.

Latest posts by Brooke Glassberg (see all)