In this era of democratic fashion, no one needs to settle for mom jeans or sensible shoes and, for the record, the same holds true for swimsuits for moms. Just because someone calls you "Mommy" doesn't mean you have to banish "bikini" from your vocabulary. Brooke here, editor of Bare it All, and I speak from personal experience. Let me assure you, it's possible to look like the cool mom you are, even in a swimsuit.
Whether your baby is 4 or 44, being a mother has implications for…well, everything, but not least of which is how you feel about your figure. Physically, pregnancy does a number on even the tautest tummy. I also used to have a booty but, inexplicably, it got redistributed postpartum and somehow managed to erase my waist. Your boobs after nursing? That's a whooole other blog post. And even if eventually you look 99 percent the way you did before, you'll still probably be your toughest critic by a nautical mile.
In retrospect, my pre-bébé abs were as close to a washboard as they were ever going to get. Now, I'd say my stomach looks like it's perpetually in the first trimester. (Side note: THIS is why you never ask a woman when she's due unless you know beyond a shadow of a doubt she's pregnant.) And I'm actually okay with that because a) crunches are less fun than playing with my daughter and b) this is the 21st century, and I know full well I can count on stomach-slimming bathing suits to do a bit of the heavy lifting on my behalf, squashing everything back to where it once belonged. Money can't buy you love, but it can buy you one heck of a bathing suit for moms.
Becoming a parent by any means—adoption, remarriage, whatever it may be—also shifts the way you perceive yourself. A switch flips. Whether you look slammin' in a swimsuit is no longer your main objective when you head to the beach or pool, but does your kid have enough sunscreen, and a hat, and sunglasses, and water and, oh! Where did I put my wallet again and…? Well, there you have it. Major priority realignment.
Believe it or not, you aren't the first person to walk this particular gangplank. There do exist cute one piece swimsuits! There are two-piece cute swimsuits for moms! The likes of Miraclesuit and Magicsuit craft tummy slimming bathing suits that look as good as they make you feel. We know this because it's our job to find them for you. Some of our most beloved cool mom swimsuit looks, right this way…
BIKINI: Birdsong Weekend Escape Wrap Bikini Top
The confident way to wear a bikini is to start by choosing one with support. This new arrival from our exclusive brand, Birdsong, is such a hot print over such a smart package. The full-coverage, over the shoulder style underwire top provides ample security and structure, with over-the-shoulder straps that can be adjust or crossed for even more shoring up. Plus, this style comes in six different colors and prints that can be paired with your choice of bottoms that range in coverage.
TANKINI: Magicsuit Alex Underwire Tankini Top
A flowy, forgiving tankini like this offers a built-in underwire bra up front, sturdily anchored straps from behind, and vibrant, flattering colors and prints, with a great side-tie detail. Pair it with a shaping bottom for concealed support that still looks fashionably sleek. Whether you find yourself at the kiddie pool or a beachfront resort, you can confidently throw it on and go with the flow.
ONE-PIECE: Miraclesuit Rock Solid Aphrodite One-Piece
In dramatic, sophisticated black or elegant Grecian goddess white, this firm-control one-piece looks as chic as can be. That ruching across the tummy is so flattering (while it's simultaneously flattening). Just add shorts or a sarong and you're set for a run to the snack bar…or even out to dinner…that is, if you're at the point where you can have a hot meal sitting down again.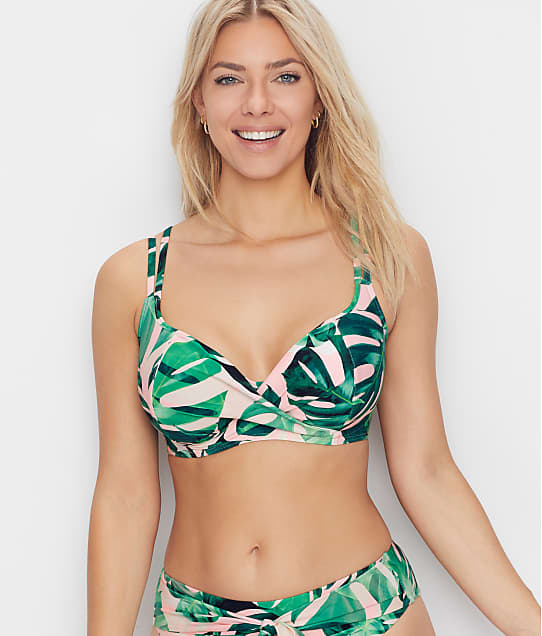 From left: Birdsong Weekend Escape Wrap Bikini Top, Magicsuit Alex Underwire Tankini Top, and Miraclesuit Rock Solid Aphrodite One-Piece
The following two tabs change content below.

Brooke is the editor of this here blog. In a previous life, she was an editor at Good Housekeeping and O, The Oprah Magazine. Brooke has written for Glamour, Travel+Leisure, New York Magazine and more. She's into concerts, travel and her exceptionally adorable daughter and husband.

Latest posts by Brooke Glassberg (see all)