Sunny days are here again, and so are the latest swimsuits. While bikinis and tankinis will always have their place, at the start of the season we're always partial to one-pieces that not only have some flair but also make our bodies look their best so we can feel confident getting out there.
The latest wave of one-pieces comes in fresh silhouettes and a broad range of coverage levels for way more options than your average maillot: "You can pull off a skimpy one-piece that's super unique and cool-looking or a higher-coverage swim romper and look equally cute in either one," says Bare Necessities swimwear buyer Megan Puma. Support and shaping are more common than ever, too.
One and done? Don't mind if we do.
SWEET SWIM
If you're already a fan of one-piece bathing suits, each of these will add new interest to your collection. If you're not, these adorable options will have you reconsidering. From flirty ruffled skirts to a two-in-one reversible tropical print, a Greek goddess-inspired shaping ruched suit to a plus-size one piece with a dramatic sleeve, these bring all the excitement of a new outfit to the beach or pool.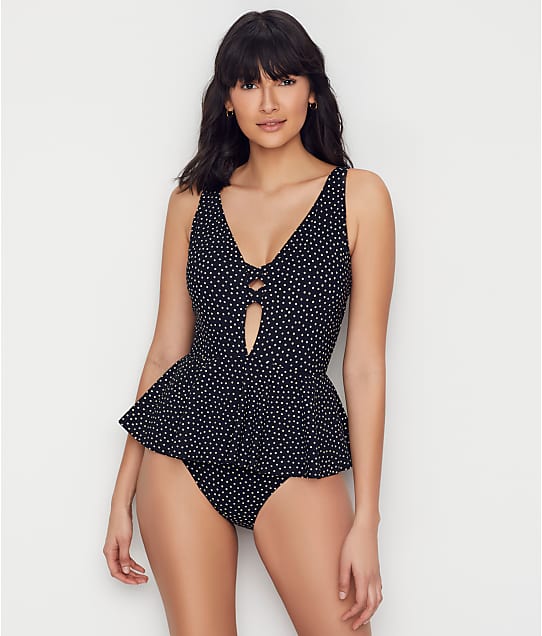 From left: Skinny Dippers Tic Tac Toe, Skinny Dippers Fiji Ninja Reversible, Miraclesuit Rock Solid Aphrodite and Raisins Curve Marrakesh Stingray
SEXY SUITS
Who says a one-piece has to be prim and proper? For the functionality of a suit that isn't going anywhere with the appeal of a little exposed skin, try monokinis and cutouts. They show off a little something-something, but not everything. Choose the style that plays up your favorite feature to direct all attention where you want it, be it a cleavage-enhancing plunge, an hourglass waistline, or a higher cut to underscore those endless legs.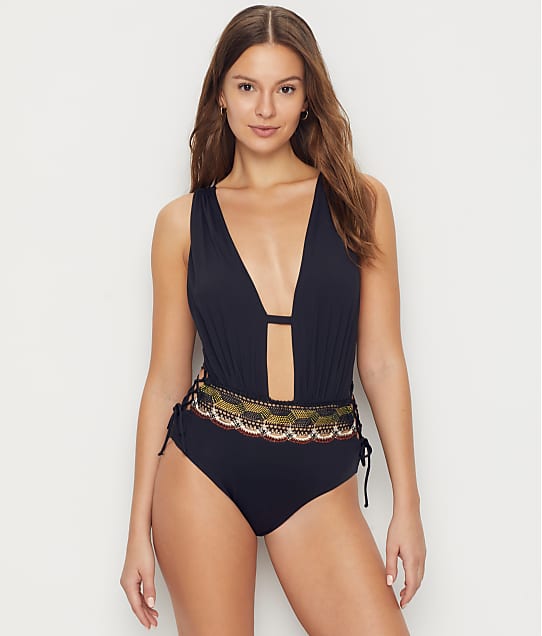 From left: Becca East Wind Plunge, Freya Roar Instinct Underwire, Freya Urban Plunge and Magicsuit Deep Dive Chantelle Underwire
ONE-SHOULDER ONE-PIECES
The same style that works to great effect in eveningwear also works really well in swim for some reason—no one ever says they can't stand their collarbones and shoulders, right? In trendy prints and rich, classic solids, this type of swimsuit brings the eye to the upper body and imparts an all-dressed-up vibe at the same time.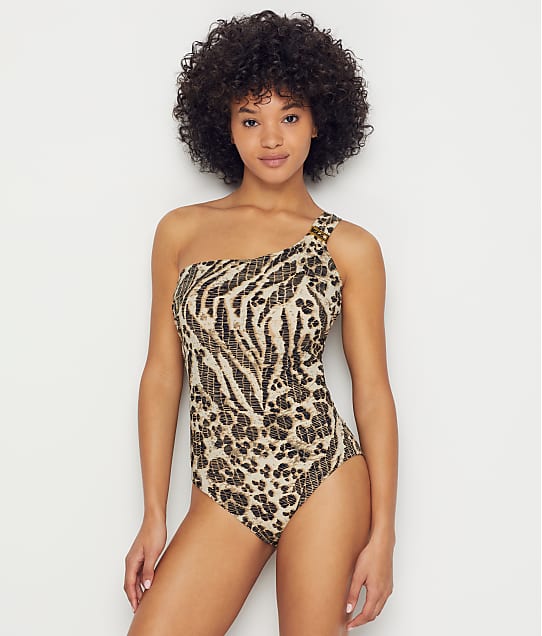 From left: Amoressa Sierra Leone Gemini, Becca Color Play One Shoulder, Magicsuit Jet Setter Amal and Miraclesuit Jena Network
SWIM ROMPERS
"I'm seeing more and more people doing these, and I get it," Megan says. "They're such a practical must have at a pool party, a water park, a sauna—occasions like that where you want coverage and don't want to have to worry about your suit." This shorts-and-a-tank-inspired style is so new that it manages to be both cutting edge and understated at the same time—typically a pretty tough tightrope to walk.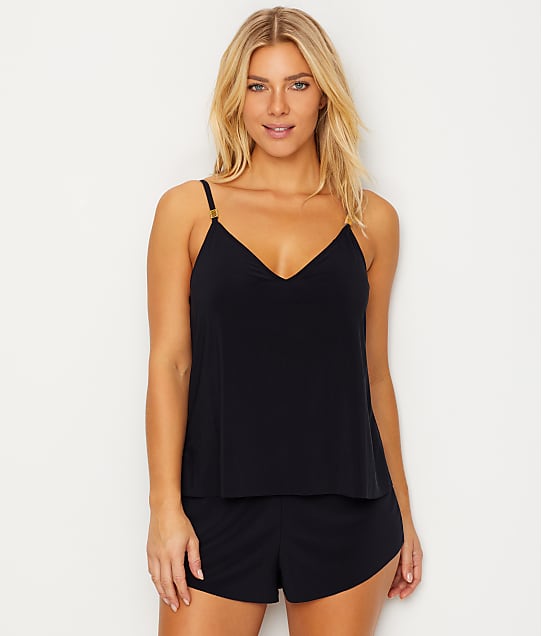 From left: Magicsuit Solid Mila, Magicsuit Theresa Plunge, Magicsuit Solid Bianca and Trimshaper Solids Romy
CONVERTIBLE SWIMWEAR
And then there's this innovative category: As flattering as they are functional, these convertible styles are basically like having a swimsuit with a built-in coverup. Depending on how you tie or ruche them, you can wear a convertible swimsuit a bunch of different ways: to look like a swimdress, a tankini, a sarong or a traditional one-piece. One less thing to throw in the beach bag.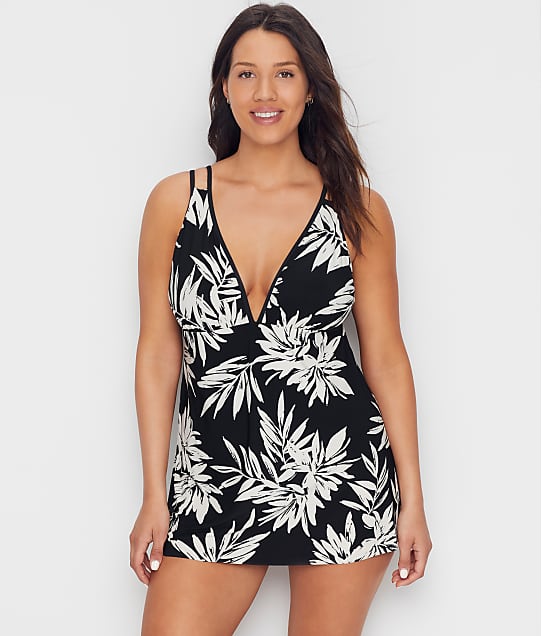 From left: Trimshaper Photo Op Tracey, Magicsuit Blue Jean Parker Underwire and Magicsuit Solid Celine Wire-Free
The following two tabs change content below.

Brooke is the editor of this here blog. In a previous life, she was an editor at Good Housekeeping and O, The Oprah Magazine. Brooke has written for Glamour, Travel+Leisure, New York Magazine and more. She's into concerts, travel and her exceptionally adorable daughter and husband.

Latest posts by Brooke Glassberg (see all)