Let us be the first to wish you a happy Galentine's Day! We're saving the chocolates, roses and lingerie for V-Day next week; now, we raise a platonic toast to all the women in our lives we most admire.
WHAT IS GALENTINE'S DAY?
Galentine's Day was officially recognized by Leslie Knope, the fictional heroine of the sitcom Parks and Recreation, who declared it "…only the best day of the year! Every February 13th, my lady friends and I leave our husbands and our boyfriends at home and we just kick it, breakfast-style. Ladies celebrating ladies. It's like Lilith Fair, minus the angst, plus frittatas. February 14th is about romance but February 13th, Galentine's Day, is about celebrating lady friends. It's wonderful, and it should be a national holiday." As is true of just about every one of Leslie's passionately poignant utterances, we couldn't agree more.
And it seems we're not alone—per U.S. News, we spend an average of $146.84 on Valentine's Day-related gifts. But you don't need to break the bank to show your lady loved ones you're thinking of them. Here's the pretty proof:
A GALENTINE'S DAY GIFT IDEA FOR MOM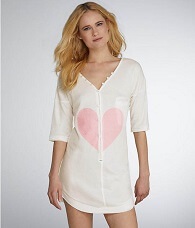 Some truths in life are universal. The sun rises in the east; you can't hurry love; moms really appreciate a good pair of pajamas.
The Honeydew Intimates Snow Day Knit Sleep Shirt is soft and warm like a beloved thermal tee should be, comfy as all get-out and easy like Sunday morning, when she'll be wearing it around the house. Such a foolproof way to earn brownie points with the woman who'd legit do anything for you.
A GALENTINE'S DAY GIFT IDEA FOR YOUR SISTER
Bec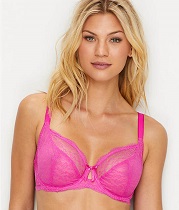 ause she covered for you when you needed her most. Because she always texts you back. Because you still owe her for borrowing her favorite handbag and never returning it. Let's be honest: Apart from yourself, your sister is probably the only person you could accurately buy a bra for. Since she's so close to your heart, treat her to something lovely, lacy and maybe a little racy, like this Freya Fancies Plunge Bra. (And if you don't want to double down on her size, you can always go with the Freya Fancies bralette or a cheeky pair of Hanky Panky Love Noted emoji panties.)
A GALENTINE'S DAY GIFT IDEA FOR YOUR DAUGHTER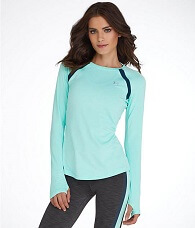 Encourage her to be her best self by helping to reinforce her New Year's resolution of ramping up her fitness routine. Cute new workout clothes—like the Under Armour UA ColdGear long-sleeve tee and matching leggings—have the added benefit of making her think of you cheering her on as she takes to the pavement or gym.
A GALENTINE'S DAY GIFT IDEA FOR YOUR BEST FRIEND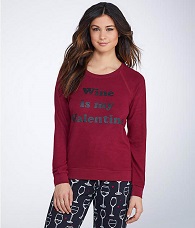 No matter her relationship status, for your bestie—the keeper of your juiciest secrets—the search for a Galentine's Day gift begins and ends with the PJ Salvage Wine is My Valentine Knit Sleep Top and matching fleece-lined lounge pants, bedecked with hearts and wine glasses. Bottle of merlot and two glasses: optional.
The following two tabs change content below.

Brooke is the editor of this here blog. In a previous life, she was an editor at Good Housekeeping and O, The Oprah Magazine. Brooke has written for Glamour, Travel+Leisure, New York Magazine and more. She's into concerts, travel and her exceptionally adorable daughter and husband.

Latest posts by Brooke Glassberg (see all)