Summer is half over, half gloriously ahead—we're still all about endlessly lounging on the deck and weekend trips to the closest beach. That doesn't mean your bathing suit shopping days are done. In fact, right now is an ideal time to score some serious bargains to round out your wardrobe of swimsuits.
We asked Bare Necessities swimwear buyer Megan Puma to curate her favorite under-$100 swimwear options in three must-have categories. Read on as our in-house expert helps you find the best bathing suit buys.
Bargain Bikinis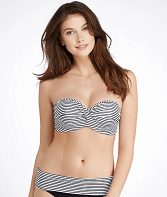 Consider: A Panache bikini for mix-and-matchability
Megan says: "Panache is a great brand if you're looking for a supportive bikini for a great value," Megan says. "You can mix and match the Anya collection thanks to its wide variety of solids, stripes and polka-dotted options."
Megan's Picks: Anya Stripe Bandeau Bikini Top, $64, and Anya Stripe Fold-Over Bikini Bottom, $36
Consider: Freya Swimwear for a wide selection of prints and solids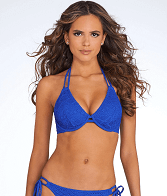 Megan says: "Freya offers swimsuits that can be coordinated together so you can come up with many swimwear options under $100," she says. "In this pick, the halter silhouette is super flattering and supporting with underwire mesh-lined cups and the hipster bikini pant is a great value and offers just the right amount of coverage."
Megan's Picks: Sundance Halter Bikini Top, $60, and Sundance Bikini Bottom, $38
Total Steal Tankinis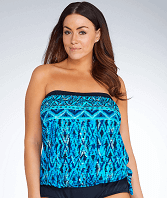 Consider: Maxine Swimsuits for plus-size coverage and versatility
Megan says: "This fun Aztec-inspired bandini gives you the coverage you want with a way to avoid tanlines, too," she says. "Also, if you're looking for additional support, this top comes with attachable over-the-shoulder straps and the cups are foam-lined to help give added shape."
Megan's Picks: Tattoo Wire-Free Tankini Top, $63, and Solid Bikini Brief, $30
Consider: Pour Moi Swimwear for great quality at a great price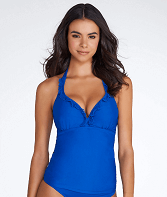 Megan says: "The Mesh It Up group is one of Pour Moi's most affordable offerings," Megan says. "The tankini has mesh-lined underwire cups and inner slings for shape and a hidden hook and eye closure for additional support. Another great thing: You can pair the top with any of the coordinating pants to keep the suit below $100."
Megan's Picks: Mesh It Up Halter Tankini Top, $58, and Mesh It Up Bikini Bottom, $27
On-Budget One-Piece Swimsuits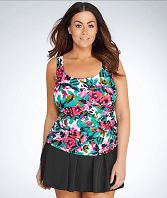 Consider: Plus Size Maxine Swimwear for a suit with more coverage
Megan says: "This wire-free swimdress looks like a tankini and a skirted bottom but compared to buying the tankini and skirt as separates you save about $20," she says.
Megan's Pick: English Garden Wire-Free Skirted One-Piece Swimsuit, $80
Consider: Panache Swimwear for support and slenderizing

Megan says: "This is a great bra-sized one-piece with underwire," she says. "In addition, it offers exceptional support and has side-ruching details which slim and flatter!"
Megan's Pick: Anya One-Piece Swimsuit, $99
Click to shop all swimwear under $100.
The following two tabs change content below.

Lambeth Hochwald
Lambeth Hochwald is a New York City-based writer and editor who reports on lifestyle topics and, especially, issues that affect the lives of women.

Latest posts by Lambeth Hochwald (see all)