We're all in on the holiday traditions right now, including (but not limited to) Christmas stockings and the goodies that gets stuffed into them. Those kinds of tiny, thoughtful tokens go a long way, because not everything has to be a lavish grand gesture, right? Sometimes, the little things mean the most.
It's extra nice to extend that sentiment to the people who help keep your life on track: a coworker, the kids' teachers, the babysitter, the dog walker, the front-desk staff that always gets you in for an appointment. So spare them another gift card, and give presents that will get some use.
This week, hot on the heels of National Sock Day, Bare Necessities hosiery buyer Kelly Morales is here to point out her favorite holiday "stockings."
HOLIDAY SPIRIT SOCKS
Much like pajamas, it's the season for festive footwear.
"Fun socks have the power to make every day a little happier," said Kelly. Her gotta-haves for the holidays include PJ Salvage Cozy Winter Socks because they're one size as well as universally adorable. "I love the touch of fleece, the classic reindeer motif and the no-slip sole," said Kelly. From the leader in cheeky socks come these Hot Sox Christmas Tree Crew Socks with snowflake grips on the sole. You'll want to wear them as often as possible counting down to Christmas. And since socks are pretty much a required present for one of Hanukkah's eight nights, consider Hot Sox Oy Vey Slipper Socks, with dreidels dancing underfoot.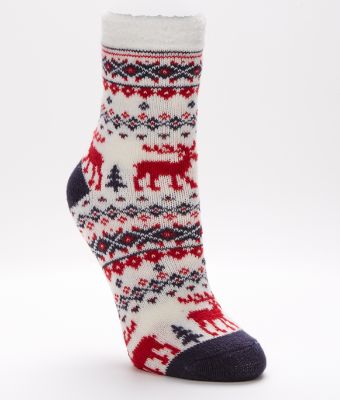 FOR THE PET PAL
Kelly suggests stuffing stockings with witty nods to their four-legged friends for a grand-slam of a gift.
Cat lovers and/or your Secret Santa recipient will double over laughing when they unwrap the unapologetically ridiculous Stance Santipaws Invisible Socks. The only thing better than the Persian-as-Santa design is the fact that these are seamless, no-show socks with serious arch support. They may find excuses to wear them year-round. For a classic cable-knit slipper, you've got the HUE Cozy Critter Slipper Socks, which festoon feet with fox, cats, dogs and mice, each with a fluffy cotton-ball tail. And P.J. Salvage's French Bull Dog Socks are so ridiculously plush, it won't matter if you're allergic to pets; you're going to want them regardless.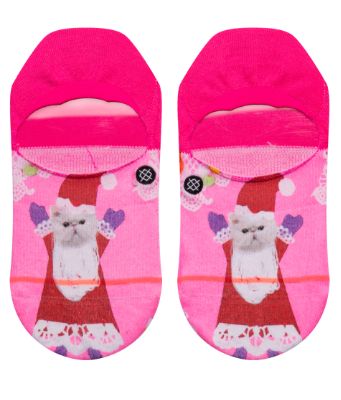 FOR THE LUXE-LOVER
There are socks, and there are socks.
Stay cozy in a chilly house with a roaring fire and a luxe pair of UGG Pom Pom Fleece Lined Crew Socks that are as much about fashion as they are function—tweens on up would love a pair. Or stock up on HUE Chenille Crew Socks and dole them out, Santa-style, to the ladies in your life. You can't beat their price, feel or good looks with a stick, and you don't even have to know their shoe size.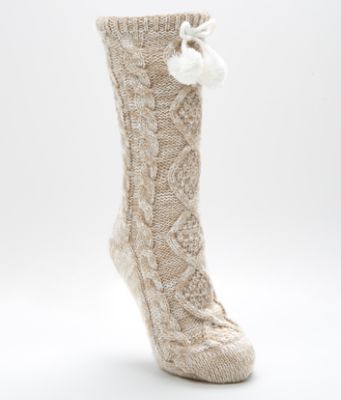 SPECIAL GIFT SETS
Q: What's better than a pair of socks for the holidays? A: Many pairs of socks for the holidays.
Since we've all got our knee-high boots in heavy rotation, the tall, artsy Stance Cozy Boot Socks Gift Set would be welcome wherever gifts are accepted. That goes double for these delightful HUE gift packs, the 12 Days of Christmas Socks 12-Pack and the fa-la-la-la Festive Cozy Socks 2-Pack.
From left: Stance Cozy Boot Socks Gift Set, HUE 12 Days of Christmas Socks and HUE Festive Cozy Socks 2-Pack
TIGHTS & LEGGINGS
Of course, socks can only take you so far. Now and then, a stepped-up look calls for tights and leggings.
That's when one, if wise, turns to DKNY. The new Skin Sense collection puts a fleece lining behind every silky pair of high-end tights, thigh highs and leggings. No more dreading getting all dressed up in the depths of winter.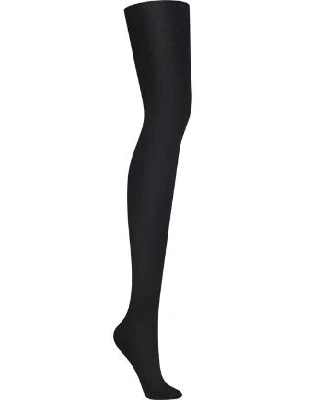 The following two tabs change content below.

Brooke is the editor of this here blog. In a previous life, she was an editor at Good Housekeeping and O, The Oprah Magazine. Brooke has written for Glamour, Travel+Leisure, New York Magazine and more. She's into concerts, travel and her exceptionally adorable daughter and husband.

Latest posts by Brooke Glassberg (see all)