Believe it or not, swim season is once again upon us. Of course, for many of us, shopping for swimwear has been a beyond stressful experience in the past. Fret no longer. Our resident swim expert, buyer Megan Puma, is here to help.
We caught up with Megan to find out what's new in the world of swimsuits and, most importantly, how you can look and feel your best in a bathing suit. She's sharing her top five secrets for a successful swim season.
1. Make sure your swimwear is up to par…even if you're not going anywhere.
"It's so important to keep updating your swimwear as you would any other part of your wardrobe," Megan says. "Swimwear constantly gets worn down, even when it's sitting in your drawer: Chlorine, sunscreen, body oils and saltwater get into the fibers of your suit and, over time, start to break down the fibers. If you've ever taken your favorite suit out from last season and it seems faded or more stretched out than you remember, that's why. In the same way we should replace our bras every six months, we should be replacing our swimwear every couple of seasons."
"Another reason: our bodies are always changing. This past year especially, many of us have gone through some changes. Whether you've been extra focused on your fitness routine or adding pandemic pounds, it's possible that your suit from seasons past won't fit exactly right. Swimwear is the most intimate kind of clothing. You're in public, in front of so many people at the beach or pool, and you need to feel confident to look fabulous. Your perfect suit is out there, and you should not feel like you have to make a drastic life change in order to feel at ease on the beach. So treat yourself! I hope we all get to spend a little extra time this summer by a pool or with our toes in the sand. We've all been going through so much this past year, and there's a greater need than ever for rest, relaxation and recharging. One thing I've learned is that every day is a special occasion, so we should think of a vacation or a staycation as something to celebrate."
2. Bra-sized swim makes all the difference.
"Just as you would expect your bra to support you, feel comfortable all day and flatter your figure, your swimsuit should do the same. But so many women don't realize that they shop swim by their bra size," says Megan. "There's no reason to settle for a subpar suit that doesn't make you feel and look absolutely incredible."
"Stepping away from the S/M/L game is going to give you a customized fit that will visually enhance your whole shape. If you find yourself sizing up in a top for some extra coverage and it's still not fitting the way you want, it's time to try bra-sized swimwear," Megan advises. "When you shop swim through that filter, you're going to find options with and without the underwire, in a range of silhouettes, with all different coverage options. Your new top or one-piece is going to give you lift, enhance your curves and take the strain off your neck and shoulders."
With more choices than ever out there, all that possibility can fast get to feeling overwhelming. That's where our Bra Fit Experts come in. Speak to our experts over the phone (877-728-9272, x4) or chat with them at barenecessities.com. They can help you figure out your size and point you to the best brands and suits for it.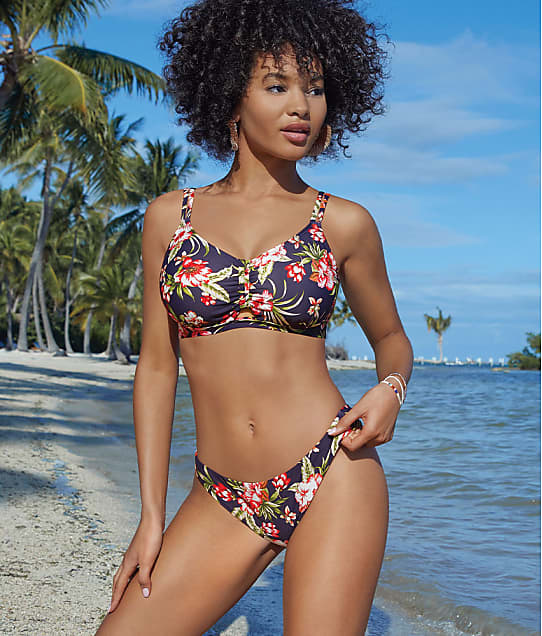 3. That's why you've got to check out Birdsong Swim, our exclusive new line.
"Even though Birdsong Swim launched last year right at the start of the pandemic, the response to it was amazing," says Megan of our expertly designed contemporary label that makes the top trends not only available but wearable for full-busted and plus-size women.
"For our second season, we're expanding the assortment to include updated silhouettes like a wire-free triangle top that's actually supportive, a new tankini inspired by our top selling Tie-Front Bralette and a fabulous one-piece. Even with the fresh cuts and prints, the heart of Birdsong remains the same: fashionable, high-quality, supportive, reasonably priced swimwear."
4. Shaping swim has never looked hotter.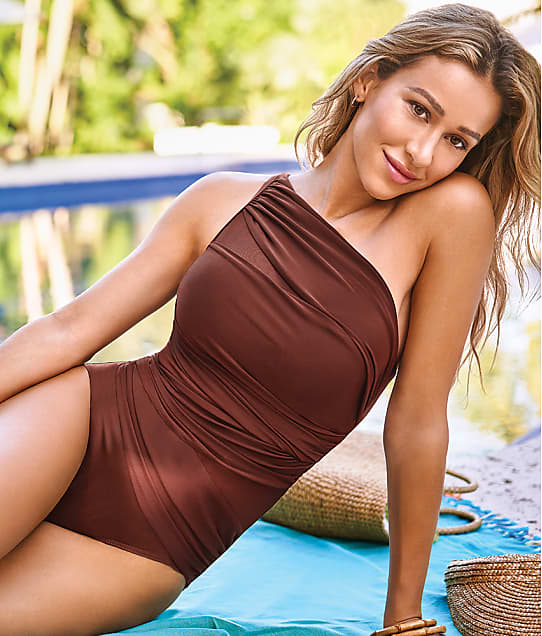 These days, no one need be the wiser that your swimsuit has smoothing powers built right in: "Every year, the assortment of slimming swimwear gets more and more impressive," says Megan. "Not to steal Miraclesuit's tagline, but who wouldn't want to look 10 pounds lighter in 10 seconds? Shaping swim is really for everyone now. You can find a really vast assortment of firm-control shaping swimwear from Miraclesuit and Magicsuit in any silhouette you could want. Many of them now also offer the added benefit of an underwire so you get the maximum chest support; a lot of these brands have been expanding their DD and DDD offerings, too. Along with their signature bottoms that deliver the shaping, Miraclesuit also recently debuted a bra-sized line of separates. So if you want a suit that helps you out while hitting the season's top trends. you can find it."
5. Swimwear is a state of mind.
"Swimwear is even more intimate than your bra and underwear because people actually see it! So without a doubt, comfort and confidence are of the utmost importance here," Megan says. "We have got to stop focusing on the number printed on the tag! Instead, let's focus on wearing whatever size suits our body the best. You're not one size across the board. While I was working in swim stores, there were times I would rip the tags off the suits so the customers would try on the size I knew would work best for them. You can't look good in something you don't feel confident wearing. We all get so hung up on the number, but what makes you feel your best matters way more. "
MORE ABOUT MEGAN
Favorite swim: My personal preferences are driven by print and color, which is one of the reasons Birdsong has become my brand of choice. I also love one-pieces and cover ups from Becca, and Freya's wire-free triangle silhouette is another one of my go-tos.
Top advice: Swimwear gets looser in the water, so make sure your bottoms and top fit a little snugly to start. Also, less coverage can be better! Covering up too much can sometimes inadvertently accentuate areas you're trying to camouflage.
Best beach: I'm not one for big resorts; I like to be able to walk around and explore. Key West has become our favorite vacation destination by far. We cannot wait to get back there.
Local spot: Manasquan.
Dream vacay: Greece, for sure. Napa is also high on my list.
Also into: Cooking! I love the focus it takes. It's an escape from the stress of everyday life.
New addition: Archie is our 3-month-old pup we rescued last month. We are completely enamored.
The following two tabs change content below.
Brooke is the editor of this here blog. In a previous life, she was an editor at Good Housekeeping and O, The Oprah Magazine. Brooke has written for Glamour, Travel+Leisure, New York Magazine and more. She's into concerts, travel and her exceptionally adorable daughter and husband.
Latest posts by Brooke Glassberg (see all)