If age ain't nothing but a number, why does it feel like bathing suit shopping gets harder the older we get? Here's the secret to life and how to dress for the beach: Nothing is possible without a little (or, in some cases, a lot of) support.
The very same suits—one-piece swimwear or more modest swimsuits, even a bikini or swim dress—can work on any body, at any age. The key is in the fit. If it feels good to put on, you feel good wearing it. Right? Right. So flex that wisdom and focus on the important stuff. When dressing for the beach, work with what you have, because both a soft midsection and absolutely fabulous abs all have a place on this summer's bathing suit best-dressed list. With the help of a few friends, we produced the proof.
JENI, 33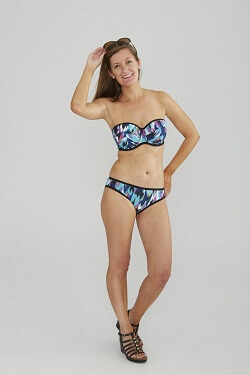 "I'm all about versatility in a swimsuit," Jeni says. "When I'm spending money on a good one, I want it to come with options." She should know how to dress for the beach: Jeni is the swimwear buyer here at Bare Necessities. "Depending on what I'm doing, I appreciate that this Cleo by Panache Avril bandeau can be worn with or without straps or converted into a halter."
But for a well-endowed young woman like Jeni, it's not always easy to find a two-piece that feels as great as it looks: Most bikinis hit the sexy notes but fall short with thin fabric, flimsy strings and teeny-tiny triangles.
"The top is bra-sized, which takes all the drama out of swimsuit shopping," she says of the bandeau that has 3-part, foam-lined, molded underwire cups. "I haven't been able to wear a strapless bikini in a long time, but this fit is legit. I know that I can cannonball into the pool and the girls aren't going anywhere." She also quite likes the slimming, sporty cut of the bottoms.
As for prints, it's clearly go bold or stay home for Jeni, who is also partial to Miss Mandalay's Chica halter (see main image, above).
DONNA, 46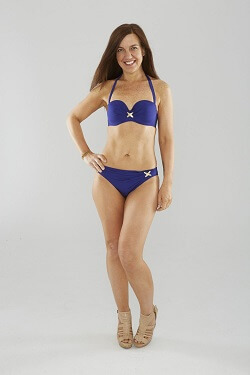 For Donna, our executive assistant and occasional model, mixing it up is a must when dressing for a day at the beach. She's just as comfy in a strapless tankini top with some tummy coverage as she is sporting a sultry balconette-style bikini.
"The cobalt bikini is high on the glam factor and suits every skin tone. And the bra-sized underwire cups lift her up," says Brittney Marciniak, our in-house stylist, of Chantelle's Gazelle bandeau.
Donna agrees: While she adores the saturated color and strategically placed gold accents, it's the security of a good fit that seals the deal on this bikini.
"I could wear this for a full day of activities, from laying out and swimming to running around," says Donna. "The top especially fits my chest like it was tailor-made for me, and that almost never happens."
Pro tip: When picking a suit, look for one that's more than meets the eye. The Anne Cole Signature Crochet Twist tankini (above) has removable halter straps that easily transform the swim top into a strapless summer blouse. Check out our post on how to rock cute swimsuit outfits for even more do-it-all swimsuits.
HILLARY, 60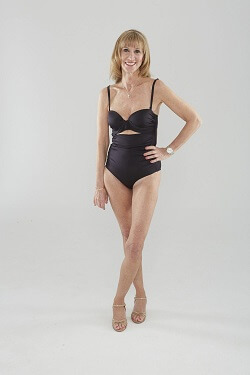 Just try telling Hillary she ought to be wearing a bathing suit made for an older woman, and she'll give you side-eye like you've never seen before. While this registered nurse (and grandma, if you can believe it) is covered up in scrubs all day, she likes to let loose and kick back in a lounge chair while soaking up the sun at her Florida beach house.
Make no mistake, Hillary could rock a bikini right along with a 20-something—and she often does, which we fully support. But the peek-a-boo one-pieces seen here are so fresh and sexy, we couldn't resist putting her in them.
Teetering between a one-piece or two-piece? Like Hillary, try a cutout look. The happy medium design of the A.Ché Tallulah swimsuit "makes me feel confident. It's alluring but I'm covered where I want to be," Hillary says. "Black for me is always a do, day or night. It's my go-to color." This Profile by Gottex one-piece is another seriously flattering cutout stunner.
Sidenote: If you prefer a little extra coverage, at any age, don't feel like you need to be a swimsuit superhero. Beach cover-ups are always chic, full stop.
Don't underestimate the power of embellishments, either. "Hardware and other little details are great for drawing the eye where you want it to go. Take the grommets on the Amoressa Holey Moley suit (above)—they add edge without risking overexposure," says Brittney. "Just be sure to choose a suit with shaping or structure, preferably with underwire cups, to keep your chest locked and loaded."
Sage advice for the ages…all of them.
The following two tabs change content below.
Raakhee Mirchandani
Raakhee Mirchandani is a writer, editor and hairspray enthusiast. She's also a proud Jersey girl, celebrity ghostwriter, speechwriter and mom to a fierce toddler who beat cancer before she could walk. This past summer, Raakhee launched a digital storytelling workshop for pediatric cancer patients and their siblings at Sunrise Day Camp. She's also a
Tomorrows Children's Fund
board member.
Latest posts by Raakhee Mirchandani (see all)