Here's a summer remix hotter than Rihanna and Drake: swimsuit outfits! Hit refresh on your warm weather wardrobe by making your swimwear work a double shift. With the right styling swaps, your favorite bikini tops, hipster bikini briefs, pin-up swimwear and even cover-ups can easily make the transition from resort to real life, increasing your wardrobe options and giving you way more bang for the buck. So go ahead and work it—we've got all the tips and tricks you need to try this easy, unexpected summer update on your pool party or beach outfits.
1. Casual swimsuit outfits for running errands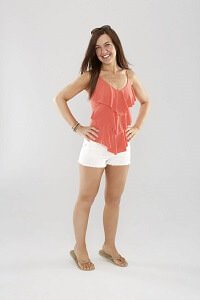 For a lot of ladies, tankinis are easier than bikinis. You get all the flexibility of a two-piece without actually having your bikini body on display, plus you can mix and match the tops and bottoms. A ruffled top in a bright color like this one from Magicsuit works just like a camisole and pairs effortlessly with shorts and sandals, like these Havianas. Add a cardigan or denim jacket for a little extra coverage, or jeans or capris instead of shorts if that's more your style. "Coral looks great on all skin tones," says Bare Necessities stylist Brittney Marciniak. "Plus the ruffled tiers are great for covering any midsection situation." Adds our intrepid model, Bare Necessities executive assistant Donna Lewis, "The tankini top is so easygoing. I'm covered as if I'm wearing a tee."
2. Memorial Day Weekend BBQ or pool party outfits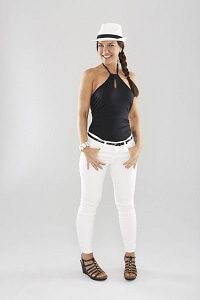 Kick off the summer in a classic combo that's as easy on the eyes as it is to put together. The foundation: your favorite one-piece swimsuit. We like the eternal chicness of black and white—and this Freya halter has a dressed-up feel—though this look will work with any printed or solid suit. (Remember: Nothing looks better on you than confidence, so wear what you like.) White jeans add some fresh seasonal polish; swapping the flip-flops you wore poolside for a pair of wedges adds to the party vibe (Donna's in these from Sofft). "The suit acts like a tank top, plus it has a built-in bra. That one piece has everything I need—support and style," Donna says. "And you can't go wrong with a fedora over your hair in the heat," adds Brittney.
3. Outdoor summer concert on the beach outfits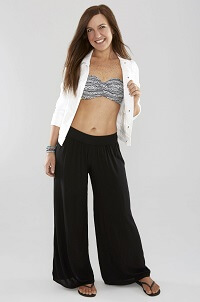 These Hard Tail lightweight bottoms are guaranteed to become this summer's MVP: Most Valuable Pants! Soft and foldable, just roll them up and keep them in your bag to throw over a bikini for impromptu cocktails or a concert on the beach. For a little added coverage, layer a jacket or vest over the Cleo by Panache bikini top. "I like that I don't have to take my swimsuit off to go from playing volleyball on the beach to watching my favorite band," says Donna. "I'm covered, but it's still sassy. The bikini top is as structured as a bra, so it's secure and supportive." And it's easy to take a midnight dip again—no changing necessary.
4. Happy hour with girlfriends bathing suit outfits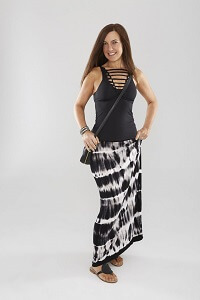 The twists and turns of this tankini top by Becca are versatile enough to take you from the water to the watering hole. Sophisticated and sultry, the cutouts make this perpetually flattering black bathing beauty ideal for girl's night out—beach to bar, as it were. Wear it with a flowy skirt to keep the look casual yet cool. And leave your hipster bikini bottoms on underneath…no one will be the wiser. "This top shows just the right amount of cleavage," says Brittney. "And the maxiskirt is easy, comfy but still dressy, and it goes with flats or wedges."
5. Date night swimsuit outfits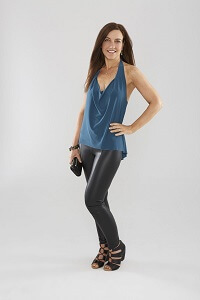 Bring sexy back—no, really, the view from behind is divine—in this Magicsuit tankini. The stretchy microfiber is comfy and slimming, and the built-in underwire cups offer full support, which means there's no reason to change into a bra and tank before hitting the town. "This loose, flowing top covers the tummy but still shows off a little shoulder and back," said Brittney. "And the green color is such a rich, unexpected jewel tone that shines at night." To balance the proportions, pair the voluminous top with Lyssé's sleek, high-waisted leggings. The added bonus? Medium tummy control provides a nice amount of mid-section smoothing. Finish off the look with Corso Como's gorgeous chunky heeled lace-up bootie sandal, complete with a heavenly memory foam footbed. Comfort never looked this hot.
The following two tabs change content below.

Raakhee Mirchandani
Raakhee Mirchandani is a writer, editor and hairspray enthusiast. She's also a proud Jersey girl, celebrity ghostwriter, speechwriter and mom to a fierce toddler who beat cancer before she could walk. This past summer, Raakhee launched a digital storytelling workshop for pediatric cancer patients and their siblings at Sunrise Day Camp. She's also a
Tomorrows Children's Fund
board member.

Latest posts by Raakhee Mirchandani (see all)