Summer is synonymous with concerts, which lift the spirit like little else. Hot on the heels of Coachella last month, we're looking ahead to Governors Ball (June 3-5 in NYC), Bonnaroo (June 9-12 in Manchester, TN), Firefly (June 16-19 in Dover, DE), Newport Folk Festival (July 22-24 in Newport, RI), Lollapalooza (July 28-31 in Chicago) and Outside Lands (August 5-7 in San Francisco), among others.
Thanks to all these shows, festival lingerie is a thing that's happening. Hand in hand with the bohemian-influenced clothes, the underpinnings are unlined, lacy and diaphanous, with a vintage quality. They're unstructured and easy to wear (particularly for smaller busts, but there's a way for all sizes to get in on the festival bralette trend, too). Read on for our staffers' picks of the best bands and the best bralettes.
BROOKE GLASSBERG, COPYWRITER
ON FESTIVAL LINGERIE
How the trend uplifts women: Feeling free mentally and physically is a good thing that's taken too long coming back into vogue. Starting right up against our skin, we can feel comfy and look cute at the same time—what a novel idea! Post-feminism at its finest.
Why it's such a big thing now: We're tired of artifice and want to be our authentic selves, which holds particularly true in summer.
What it's got to do with lingerie: Traditionally, women with small chests [ahem, raises hand] have been told they need to boost 'em way up to be desirable. The tyranny of the padded push-up bra is finally behind us; natural is something to be celebrated.
How to get festival-ready: Channel your inner Stevie Nicks and go with the flow. Cotton is your friend. Above all, don't try too hard. Honestly, no one's paying attention to the finer points of your outfit unless you're working overtime to get snapped by festival paparazzi and, if that's the case, you're probably there for the wrong reason.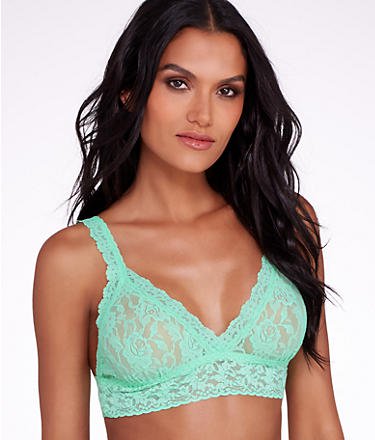 Cutest way to play it: I'll be wearing my Hanky Panky Signature Lace Bralette under a V-neck tee with denim cutoffs. If you glimpse a little lace, hey, it's cool, but I can still confidently carry a cooler and a toddler over hill and dale.
MORE ABOUT BROOKE
Summer's hottest ticket: Newport Folk Festival, hands down. We go every year. This will be my daughter's fourth time, and she's only three! It's in a defunct fort on a cove in the Atlantic Ocean, so it holds just 10,000 people, making it one of the most intimate festivals in the country. Tickets sell out before the lineup is even announced because everyone trusts it's going to be awesome. It's hallowed ground—this is where Bob Dylan plugged in, where the moon landing preempted James Taylor's set in 1969 (he came back to finish it last year). Newport is always a cross-section of genres and ages: Hozier and Roger Waters of Pink Floyd both played the main stage last year. You see artists wandering around checking out other musicians' sets. It's such a special atmosphere. I always leave inspired.
Act you can't wait to see: The caliber of talent is immense, and spread over three stages. My husband makes a spreadsheet to prioritize bands as they're announced. This year, high marks are going to Nathaniel Rateliff & the Night Sweats, Flight of the Conchords, The Oh Hellos and Lady Lamb, and I know I'll love Father John Misty, Ray LaMontagne, The Violent Femmes, Edward Sharpe and the Magnetic Zeros, Glen Hansard and Brett Dennen. The list goes on.
Best concert you've ever been to: For my 30th birthday, my husband had singer-songwriter Anthony da Costa play a private set for our closest friends in our living room.
First-ever concert: New Kids on the Block. I'll never forget my Dad sitting there with Kleenex wadded up in his ears to drown out the shrieking.
Festival you wish you'd been at: Woodstock, though I don't think I would have coped very well with the mud.
Festival essentials: A fashion-forward pair of Birkenstocks for when the gates open and everyone makes a mad dash for a spot by the stage (affectionately known among folkies as The Birkenstock 500).
Best part about the live music experience: It makes time stand still a little. When I'm singing along with a song that resonates with my husband by my side, my daughter in my arms and my feet in the grass, I'm about as happy as I get.

MEGAN PUMA, ASSISTANT BUYER
ON FESTIVAL LINGERIE
How the trend uplifts women: For years, women struggled to hide their bra straps. If you couldn't, you either had to pass on buying that top or wear ill-fitting undergarments. Now we don't need to choose between fashion and function. I love that what you wear under your outfit is as important as what you're wearing. By treating undergarments as an accessory, you have more ways to put your stamp on your look. It's liberating.
Why it's such a big thing now: Music and style have always gone together. As more festivals started happening, more attention was focused on how the concertgoers were dressing, making "festival fashion" its own category in the fashion world.
What it's got to do with lingerie: This broke down that wall between pretty, lacy lingerie for special occasions and everyday basics no one would see. Women wanted—and got—special pieces that could be incorporated into their everyday wardrobes.
How to get festival-ready: Wear styles that look good but can be worn in any weather, all day and night. You have to wear pieces you can dance in, but also feel comfortable in the midday sun. It takes consideration.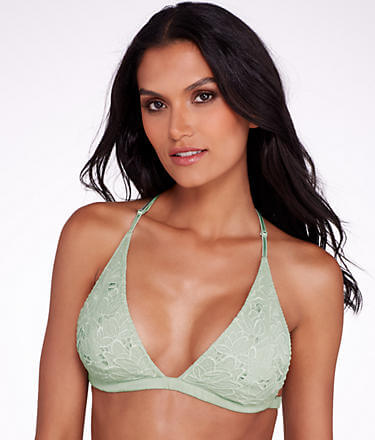 Cutest way to play it: The key is to use your creativity to express yourself and take a few risks. I love pairing lingerie with flowy clothing. I think high-waisted shorts are awesome with a bralette. If you're more conservative, an open-back tank or breezy dress is perfect for letting your undergarments peek out rather than become the focal point of the outfit.
MORE ABOUT MEGAN
Summer's hottest ticket: I'm stoked to see Alabama Shakes and Gary Clark Jr. at the XPoNential Music Festival.
Best concert you've ever been to: Gentlemen of the Road 2015 in Seaside Heights, NJ. Mumford & Sons, The Flaming Lips and Jenny Lewis were amazing. The beach and music are my perfect combo.
First-ever concert: Britney Spears.
Festival you wish you'd been at: Of course, Woodstock. It was the originator of the modern festival and, with everything going on in the world at that time, I couldn't imagine what it would have been like to be a part of that event. The lesson was this: Music is so incredible because it doesn't matter who you are, what you look like or where you're from—everyone can enjoy it.
Festival essentials: Sunscreen and a refillable water bottle. Nothing's worse than getting fried on the first day of a festival weekend. A blanket or towel is key, too, for downtime between sets.
Best part about the live music experience: The feeling you get when you're part of a crowd is hard to put into words. When you're standing shoulder to shoulder with strangers waiting for your favorite performer to come on, and that first song starts, the energy at that second is magical. Whatever else is going on in your life disappears. It's my form of meditation.

JENI DOHERTY, BUYER
ON FESTIVAL LINGERIE
How the trend uplifts women: It's fun to treat lingerie as ready-to-wear—more options!
Why it's such a big thing now: As the saying goes, what's old is new again.
What it's got to do with lingerie: Designers get to have some fun, too, creating bras with crochet, strappy detail and other interesting trea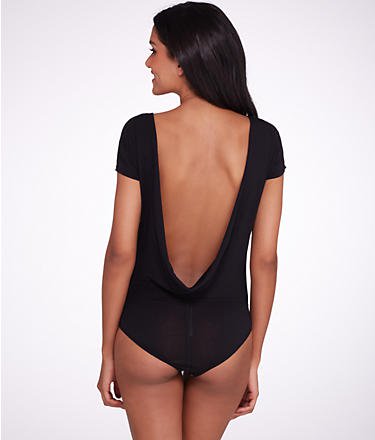 tments, knowing that a lot of these pieces will be worn on their own.
How to get festival-ready: It's great to be "on-trend" and all, but always do it at your own comfort level. Make a statement in your way.

Cutest way to play it: I'd pair a strappy bra under this backless Free People bodysuit.
MORE ABOUT JENI
Summer's hottest ticket: A radio station-sponsored concert in NJ in June featuring Florence + The Machine, Silversun Pickups and many more great bands.
Act you can't wait to see: The Lumineers. I saw them a few years ago, and they were amazing live. They just came out with a new album I can't get enough of.
Best concert you've ever been to: Warped Tour back in the day.
First-ever concert: I was 13. My friend and I were obsessed with Alanis Morissette. At that time, Radiohead opened for her. I laugh thinking about which one is still relevant.
Festival you wish you'd been at: Warped Tour, 1995. I would've loved to have seen Sublime while Bradley Nowell was still the lead singer.
Festival essentials: Sunglasses so I'm not squinting the entire time.
Best part about the live music experience: I'm lucky to live in an area where it's easy to get to some big cities and see amazing concerts. I love getting the chance to see one of my favorite bands and possibly discovering some new ones.

STEPHANIE SALARDINO, BRAND BRA FIT EXPERT
ON FESTIVAL LINGERIE
How the trend uplifts women: Because girls and women are encouraged to be themselves. In my opinion, it's really all about being yourself and letting go.
What it's got to do with lingerie: All those boho details like crochet, lace, fringe and embroidery translate perfectly to festival lingerie. It's so exciting because we're able to show how pretty our underpinnings are as opposed to covering up.
How to get festival-ready: It's definitely about looking cool, sure, but you also have to be comfortable so you can do a whole lot of walking and dancing.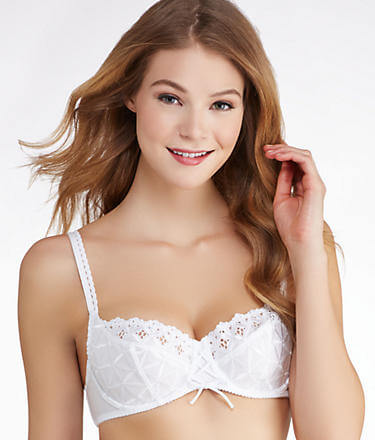 Cutest way to play it: Bralettes aren't supportive enough for me, so I would go for an eyelet or lace bra showing under a tank or sleeveless wrap-style top.
MORE ABOUT STEPHANIE
Summer's hottest ticket: Dave Matthews Band for me, Justin Bieber for my kiddies.
Act you can't wait to see: Mumford & Sons.
Best concert you've ever been to: I have so many different favorites—Melissa Etheridge, Barry Manilow, Rusted Root, Train and Bruce Springsteen. One Direction was fun because it was my son's first concert, but if I haaaad to pick, I'd say Cypress Hill and God Street Wine together. Such an odd pairing, but so much fun!
First-ever concert: Lionel Richie with my parents. I was 6 and could recite every word to "Fiesta Forever."
Festival you wish you'd been at: Lilith Fair, for sure.
Festival essentials: A stylish yet comfy dress or romper, denim jacket, flip-flops and Ray-Ban aviators.
Best part about the live music experience: There's just something refreshingly life-affirming about being outdoors with loud music playing. It's invigorating.

CAITLIN BAYER, MERCHANDISE PLANNER
ON FESTIVAL LINGERIE
How the trend uplifts women: It gives us the freedom to be creative and have more fun with fashion. Bralettes are proof of that.
What it's got to do with lingerie: The best way to make me want to wear a bra is to make it fun—no one wants to have to wear a big old ugly bra. Even better for it to be socially acceptable to show it off.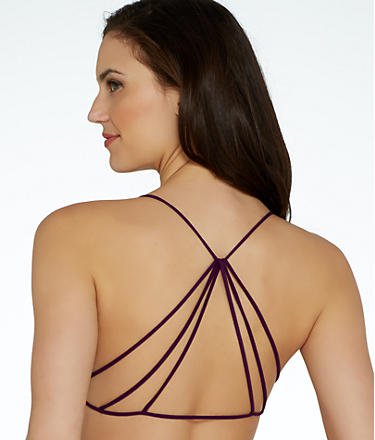 Cutest way to play it: Layers! I like a barely-there bralette peeking through a sheer tank or underneath a low back. Don't forget cool jewelry to pull it all together.
MORE ABOUT CAITLIN
Best concert ever: Bonnaroo several years ago—no need to count how many! It was the best experience, and I swore never to go again and just let it be a once-in-a-lifetime thing. That doesn't mean I don't still live with a festival spirit…wearing bralettes all summer makes me feel like I could be back there anytime.
Festival essentials: A big, light scarf. So chic, and when it's wrapped around your neck, you can bring it right up to your face, saving your lungs from all that festival dirt and dust.


MICHELLE KENNEDY, BUYER
ON FESTIVAL LINGERIE
How the trend uplifts women: It's fun that women of all ages are embracing the style and doing interesting things layering bralettes. It shouldn't be a secret you're wearing a bra, so why not do it in a new way?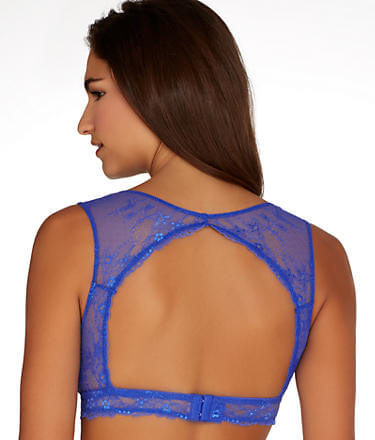 Cutest way to play it: I'm a big fan of wearing these pieces with a low-back dress or a tank. They're also a great solution to a sheer top or dress. My current favorites are this minimalist Cosabella Minoa Naughty Bralette, this cobalt Fashion Forms Triangle Peek-a-Boo Back Bralette with a really fresh back silhouette and the classic Triumph Amourette Bralette, now in bralette form.
MORE ABOUT MICHELLE
Summer's hottest ticket: I'm going to Governors Ball in June, which I'm very excited for.
Festival essential: Fanny packs get a bad rap, but I swear by them. They keep your wallet and phone close while freeing you up to do your thing.
Best concert you've ever been to: I was front row at Robyn at Webster Hall a few summers ago. The air conditioner was broken and it was so hot, but my best friend and I danced the night away.
The following two tabs change content below.
Brooke is the editor of this here blog. In a previous life, she was an editor at Good Housekeeping and O, The Oprah Magazine. Brooke has written for Glamour, Travel+Leisure, New York Magazine and more. She's into concerts, travel and her exceptionally adorable daughter and husband.
Latest posts by Brooke Glassberg (see all)