Lauren Russo, 36, is a mom of two, a teacher, a certified personal trainer who runs a baby boot camp class and, with her husband, a partner in a health and wellness business.
"I love being an advocate for others to feel their best," Lauren said.
With the help of Bare Necessities Bra Fit Expert Kristyn, it was time to turn the tables. Lauren wasn't getting the support she deserved from 32D T-shirt bras and sports bras from Victoria's Secret and Target—mass retailers cater to the general population rather than specialize in designs for busty, petite women like her.
"I never even had a bra fitting until after my first son was born. I walked into Victoria's Secret, and that was that. But those don't cut it anymore," said Lauren. "Aside from needing better-fitting bras, I hope I gain some knowledge what's available out there, and some confidence."
Given her day-to-day, she was hoping to find a superior sports bra ("I tend to wear them to teach, then linger in them") and a good everyday bra with some lift. So that's exactly what Kristyn found her.
BEFORE
Over the phone, Lauren listed her bra problems for Kristyn: her band was riding up, the straps tended to fall and the cups were gaping. "I'm sure there's room for improvement here," she said. Agreed.
Lauren's shape also came into play in her expert fitting. She's fuller at the bottom and shallow up top, resulting in a teardrop shape. "I feel good about my body and honor it for nourishing two kids, but the reality is that my chest ain't what it used to be," she said.
For all these reasons, Kristyn steered Lauren to her ideal category: seamed bras. "I'm not sure if I know what that means," Lauren admitted. Sewn cups, rather than the molded ones, rely on the seams for stronger shaping and support, with a lift that follows natural curves instead of creating them.
The first step in the fitting turned out to be the trickiest. Lauren had a tough time measuring herself, and the first size they came up with was a 28DDD—that seemed preeeetty small. Compounded by the fact that Lauren habitually wore her bras on the tightest set of hooks and let them out over time (nota bene: go the other way!), everything Kristyn sent her in the first round of try-ons felt way too tight.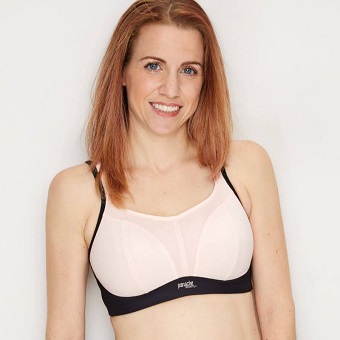 THE REVELATION
Lauren re-measured with Kristyn's help, and they arrived at a 30 band. On paper, Lauren was still a D cup but, looking at pictures she emailed over, Kristyn could tell she needed more capacity. Lauren tried on a mixed bag of brands and styles, most of which were just…okay.
Then she put on the Panache Clara. And the Panache Envy. And the Panache Medium Impact Wire-Free Sport Bra. And the Panache Petra. Bra after bra by the brand fit her body not just fine but fabulously. Lauren knew now what she had been missing.
"Clara is so pretty, and such a perfect complement to her shape. The seams give her such great lift," Kristyn said. The Panache Jasmine offered Lauren the same balconette structure in more patterns.
Envy's stretch lace trim conformed to the shape of Lauren's chest, with no gaping at all. It tacked to her breastbone like the textbook definition, making for the perfect support.
"I never would have picked this bra for myself, but I love it," said Lauren of Petra's foam-lined cups and demi-cup shape.
And while our best selling Panache Ultimate High Impact Underwire Sports Bra turned out to be too much bra for Lauren, the no-wire version fit her frame just right.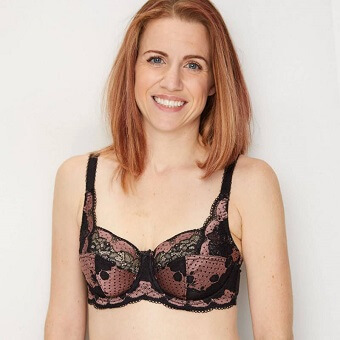 AFTER
"I learned that I'm clueless about the bra universe. I had never even heard of this brand before," Lauren said of Panache, her new favorite. (In US bra designs, Lauren would wear a 30DDD. In Panache, a UK bra brand, the equivalent size is 30E.)
"Everyone need to be measured," she added. "The days of picking up bras off the rack are over. I wouldn't have known any of this! To have someone tell me what's going to fit me right is priceless."
"Lauren is incredibly consistent in this brand, which is a rare blessing for women who are too busy to have to compare one style at a time," said Kristyn. "Now Lauren knows she can pull on any 30E Panache or Cleo by Panache balcony bra, and it's most likely going to work for her."
LAUREN'S BEST BRAS
Panache Clara
Panache Envy Balconette
Panache Petra Balconette
Panache Jasmine Balconette
Panache Medium Impact Wire-Free Sport Bra
To get acquainted with your own perfect brand, call a Bra Fit Expert at 877-728-9272 x4 or chat with one at barenecessities.com.
The following two tabs change content below.

Brooke is the editor of this here blog. In a previous life, she was an editor at Good Housekeeping and O, The Oprah Magazine. Brooke has written for Glamour, Travel+Leisure, New York Magazine and more. She's into concerts, travel and her exceptionally adorable daughter and husband.

Latest posts by Brooke Glassberg (see all)