As a health magazine fashion editor, Gabrielle Porcaro eats, sleeps and breathes workout wear. So what took her so long to get comfortable in a sports bra? Find out in this month's "Life with the Girls."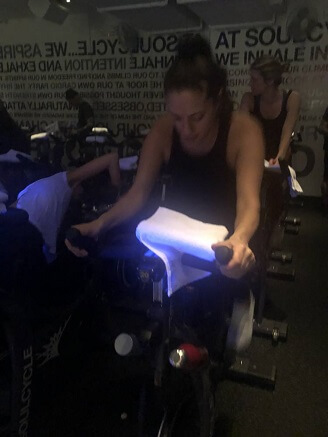 The New York City boutique spin-class scene can be intimidating. Working out in minimal clothing is enough to make anyone feel insecure, but beautiful people with killer bods, dressed in the latest and greatest fitness gear, looking fresh no matter the hour? It's an uphill climb.
So when I first started getting really into indoor cycling, the whole designer workout thing threw me for a loop I didn't see coming: I was suddenly self-conscious about what I was wearing.
Let me back up. I had been a fashion editor for nine years at that point. Around then, I began working at Women's Health, when activewear really started to evolve and athleisure took over the runways. It was literally my job to help women look stylish and offer advice on what to shop for, especially when it came to workout wear. I do a generally good job of getting dressed if I do say so myself and, on most occasions, style isn't something I stress over. So to be surrounded by well-appointed fitness fans and feel like I didn't fit in gave me serious pause.
I knew what was preventing me from looking and feeling stellar at spin: my sports bra.
It would get my leggings in a twist to see so many women who could wear cute little nothing bras, with gossamer-thin straps somehow sturdy enough to keep them comfortably spinning into oblivion. In my world, thin straps don't exist. As someone with 34DDs, my breasts are something I always have to consider, no matter what I'm suiting up for.
This is not a take-down of my bra size; I'm happy with and proud of it. It's that, at my size, support can't be found in just any bra I like. That goes double for sports bras.
Back then, all the sports bras that supported me were extra stiff, bulky and massive. They reminded me of bulletproof vests or suits of armor. They were hard to hide under the flimsy, fashion-forward tops all the cool girls were wearing. Athletic companies weren't equipped to cater to larger busts, and I couldn't get away with wearing an over-the-head L or XL compression-style bra, though heaven knows I tried.
Apart from thick cups that bulked up my body, wide straps were the bane of my existence. Because I didn't dare walk into a class with those straps exposed, I couldn't just throw on a tank and get to it. I made it my personal quest—fortunately, one I was allowed to take on during business hours—to figure out both the best sports bras to support me and the right tops that would make me more confident walking into my next SoulCycle or FlyWheel session.
Now, my favorite sports bra styles are the ones that have less padding and are lower-cut, like ones from Natori. As long as the bra doesn't make my breasts look and feel like a shelf installed just south of my chin, I'm all for showing some cleavage.
When I put on a sports bra that goes up over my boobs, like my Panache Ultimate High Impact Underwire Sports Bra, I figured out that a muscle tank pairs perfectly; the higher cut conceals the fullness of the bra. I also love the kind of activewear shirts with big armholes for when I feel like showing some side skin.
T-back or racerback sports bras still aren't my first choice (ever tried wriggling out of a sweaty one?) but, with them, I can wear a looser, boxier tank. So long as the silhouettes are same, I'm fine with my bra peeking out a little.
It might be silly to overthink these kinds of things, and of course, there are days when I just don't care and break my own rules. What it really comes down to is that wearing something stylish helps me feel strong and self-assured while grinding out the final mile. The last thing I want is to be distracted when I'm putting in the time to do something for myself.
The following two tabs change content below.

Gabrielle Porcaro
Gabrielle is a New York City-based freelance fashion editor, writer and stylist with almost 15 years of editorial experience at magazines like
Women's Health
,
Cosmopolitan
,
Good Housekeeping
and
Ladies' Home Journal
. She loves to help women with fashion dilemmas, and the only topics she likes discussing more than activewear are the Oscars and
Game of Throne
s. Learn more at
gabporcaro.com

Latest posts by Gabrielle Porcaro (see all)