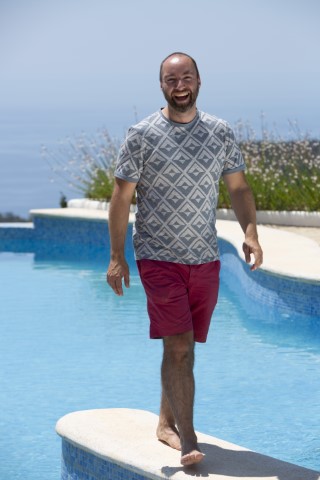 Michael Thomson is the mind behind Pour Moi, the genius fashion-forward bra-sized swimwear label.
Trained as an accountant, Michael started his career at Marks & Spencer, the leading U.K.-department store, as a merchandiser in the lingerie department. When he noticed a serious lack of well-priced, pretty lingerie and swimwear, Michael launched Pour Moi in 2005.
The brand has been called "the best kept secret" in the business, and Michael is big part of the reason why. "Because I don't wear bras myself, I've always been able to think more clearly about what women want," he says. "It's helped me challenge preconceptions."
Like, say, how to make swimwear that's as flattering as it is functional without costing an arm and a limb. Style signatures like bold colors and strong prints, in 30D to 42I, always acknowledge the season's trends without being bound by them. Michael sees Pour Moi's mandate as to come up with new ideas without looking at what other brands are doing. "Does it look fabulous? Does it fit? Is it something you would love to own?" These are the questions he and his team pose of every piece.
"You should feel fabulous in it as soon as you put it on; if you don't, we're not doing our job," he says of suits designed with hidden underwires, supportive straps and as much convertibility as possible. "Age is not a category," Michael says. "Pour Moi is all-encompassing—it's for me, for you, for everyone."
Q: Tell us a bit about yourself.
A: I have spent all my working life doing lingerie and swimwear. I always had a desire to set up my own company, and I realized the dream just before my 10th anniversary. It's already been 15 years, and I get excited every day just to be part of this journey.  
Q: How did Pour Moi get to where it is now? What are you juggling on any given day?
A: It's so much fun achieving success every day at Pour Moi. There's nothing better than seeing our products looking amazing on people on vacation! My responsibility is to challenge everyone on the team to come up with new and exciting development that fulfills the Pour Moi ethos to fit and flatter.
Running a brand has definitely taught me the art of juggling. I can be in a very serious logistics and IT meeting one minute, then move on to planning our exciting photoshoots in locations like Ibiza.
Q: What sets Pour Moi apart?
A: It's all about combining superb fit and fashion. We believe that everyone should have up-to-date shapes and prints, no matter what size they are. Most of our collection contains underwires, and once you have experienced cup sized swimwear, you won't want to go back. Not only this, but we try to make sure our prices are as accessible as possible because you can never have too many bikinis!
Q: Who is Pour Moi designed for?
A: We are an inclusive brand, and so we try to suit everyone's swimwear needs. This includes over 250 new pieces in the collection every season in the widest possible size range. No matter what shape you love to wear, you can always choose from a myriad of colors and prints layered in with textures and shine.
Q: What do women want out of their swimwear?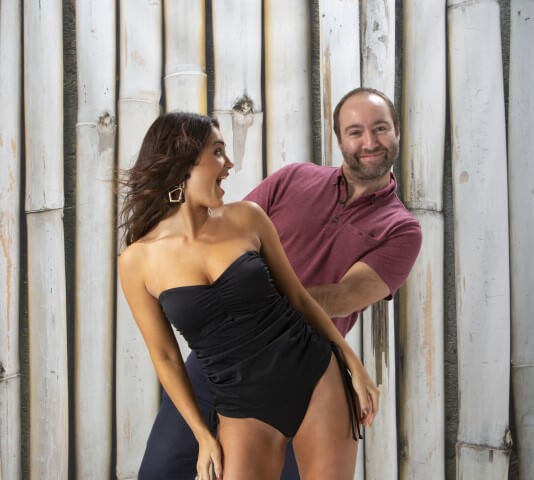 A: I think that around the world, everyone wants the same thing—to feel confident and relaxed in their swimwear. We find that you can achieve this by picking the correct shape for your body type and by having peace of mind in knowing your swimwear will perform. There are variations between countries on patterns and styles, so in America they love a tankini and a geometric print, whereas in the U.K. it is more about the bodysuit and sometimes a more off-the-wall print. Universally, people love underwires for support and control bottoms for their bikinis. One of our favorite designs is the super high-waist control brief in our Mini Maxi collection, we call it the reverse tankini!
Q: What are your priorities when designing? 
A: We start with getting a feeling for the looks of the season, what trends are coming through both in fashion and in social. At this point, we reject some stories as not being right for the Pour Moi customer, generally because we do not think they're flattering enough. We then start to look at how we can adapt the looks to cater to as many of our customers as possible, ensuring all the technical aspects are taken care of to provide the best support and fit.
Q: How do you know you've created a great style? How do you balance evergreen styles with new designs?
A: We've been doing this for over 15 years now, so we have a lot of experience spotting the winners, although occasionally we get surprised on some styles. It's important for us to keep shapes the same, updating them with prints and fabrics. We find that once customers have found their preferred shapes from our 80 or so styles, they stay very loyal to them.
Q: Where do you find inspiration?
A: In a word, everywhere! We make sure that we keep our eyes open and see everything for what it can inspire, be it the classic inspiration of the catwalks to unexpected sources of inspiration like paintings, photos, homewares and everyday life. Our favorite thing to do is sit on a beach and people-watch; it really is the best way to understand the needs of all our customers.
Q: What's ahead that's new and exciting for Pour Moi?
A: We are so excited to launch our biggest ever collection for the new decade! Our beachwear has also just launched, the perfect way to achieve that beach-to-bar look.
Q: What advice do you wish you could give women looking for their perfect swim fit?
A: Don't accept anything less than fabulous. There is no reason your swimwear shouldn't fit and flatter, so spend time finding that perfect shape for you.
The following two tabs change content below.

Brooke is the editor of this here blog. In a previous life, she was an editor at Good Housekeeping and O, The Oprah Magazine. Brooke has written for Glamour, Travel+Leisure, New York Magazine and more. She's into concerts, travel and her exceptionally adorable daughter and husband.

Latest posts by Brooke Glassberg (see all)