In the first chapter of her career, Paula Flory worked as a counselor for nonprofits serving underprivileged youth. Then, in 2011, in her early 40s and in the best shape of her life, she felt a lump in her armpit.
After focusing on beating Stage III breast cancer, Paula found her next chapter: serving women in the same circumstances she had so recently been in herself. That's why she started Move Over Breast Cancer, a tricked-out van near our New Jersey headquarters that will bring you all the nice-to-have services you could want when undergoing treatment…for free.
"As everyone who has ever been diagnosed with cancer can tell you," said Paula, "it's as if you've been hit by a high-speed train when you hear the news. It created chaos in me and in my life. Even with the tremendous support of family, friends and my and community, I felt as though I was crawling through sludge making these huge decisions about treatment and surgeries."
Each day was more difficult than the next, said Paula, but there was also a moment early on in the diagnosis process that "there seemed to be a tiny tunnel through which I could see a light of hope. I strongly felt when looking through this pinhole that I would find an opportunity within this problem."
This Breast Cancer Awareness Month, hear Paula's fresh perspective on breast cancer and find out why our Power Figure calls it "a gift."
Q: In what ways has breast cancer changed your life?
A: Having breast cancer changed everything and nothing at the same time. The love and support of my family and friends never wavered, but the experience changed the entire trajectory of my life. I now realize that all of the pain and the trauma, all the moments filled with fear, disappointment and confusion, were building me up to help other women who were affected by breast cancer.  My background in counseling was now coupled with a reality in which I was able to truly empathize with what others were experiencing when they were diagnosed and treated.
I learned that problems were only such when you chose to look at the negative and not to allow yourself to just be still and trust that, at some point, you'll come to understand the "why." For me, breast cancer was a gift. I cannot imagine my life without having had cancer. Sure, I have scars, but I've redefined my beauty: I no longer focus on what others see when they look at me, but on how I make them feel. I couldn't ask for more in life than to have the chance to bring hope to another woman facing cancer.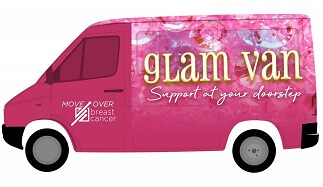 Q: Tell us about your new venture, Move Over Breast Cancer.
A: I am the founder and executive director of Move Over Breast Cancer, a nonprofit still in its infancy. Over the course of my eight-year career in breast cancer support programming and leadership, I've worked with more than 2,000 women and learned what women need in order to thrive during and after cancer. Move Over is a mobile program which will be housed in a customized, walk-in van that brings essential support safely to a woman's doorstep with professionalism, compassion and humor. Aboard our Glam Van, she will receive an individualized plan of care based on her needs. Head- shaving, wig fitting, mastectomy bra fitting and breast prostheses are all free of charge. We will offer counseling, education and so much more.
Move Over Breast Cancer was designed to address barriers like transportation and childcare to receiving these essential, complimentary support programs that have been proven to alleviate many of the psychosocial and physical side effects of diagnosis and treatments. Even during Covid-19, Move Over Breast Cancer is able to safely shed light on a dark journey.
Q: What are your proudest accomplishments?
A: I was named Breast Cancer Leader of the Year in 2019 by Breast Cancer Wellness magazine. I've also travelled the world educating women and helping medical professionals understand what the breast cancer experience means and what it's really like. I was invited to Rwanda and India to educate women about prevention and to help hospitals build breast cancer support programs. Each day that I work with women with cancer is a privilege and a part of my own continued healing.
Q: What challenges do you face? How do you stay positive when working with cancer every day of your life?
A: Branching off on my own and starting Move Over Breast Cancer has been a leap of faith in my own abilities. Lately, the most challenging part of my work has been showing people that Move Over isn't just a passion project, but that what we offer are essential support services that have been proven to improve patient outcomes.  Many see me as a survivor who wants to give back, and I am, but this is so much more. Move Over isn't about me; it's about the need for women to have hopeful and positive experiences within the fight of their lives.
Another challenge is that women continue to die of this disease. I know that some of the amazing warriors I have the privilege of working with will not make it. That's the reality, and it's really tough.
My positive outlook comes from the incredible women I meet all the time. Although many are very sick, we are able to help them see that they can live a full life. It's awesome to see these women begin to grab onto life again, to take walks with us outdoors, to laugh when we shave her hair into a mohawk, to see friendships form between survivors. These are beautiful gifts.
"It's awesome to see these women begin to grab onto life again"
Q: What advice do you give women dealing with breast cancer? How about for their loved ones who want to be supportive?
A: Be patient. Allow others to help you. Take time to be still each day. Allow yourself to grieve the loss of your breasts, hair and the life you knew, but also notice when you're making new discoveries.
For friends and loved ones, be there to listen. Don't offer advice or tell stories about other people with cancer. Send a nice card, have a meal delivered, ask her what she needs. You can also be there for others in her family who may be feeling lost and overwhelmed.
Q: Being so close to this subject, what do you see that gives you hope for better days ahead?
A: When I read and speak with researchers, I'm hopeful. I am told we are on the cusp of very promising treatments for metastatic breast cancer. I also know that more women are learning that mammography is the key to early detection. The technology and research are moving so quickly. Even from the time I was diagnosed in 2011, there are so many more effective treatments.  I believe we will find a cure but until then, women need to know that Move Over Breast Cancer and other organizations are out there to help them navigate the challenges.
Our Bra Fit Experts are trained to assist at every step along the journey through breast cancer. You can reach someone at 877-728-9272 (select option 4) or chat at barenecessities.com.
Read more posts on Breast Cancer Awareness here.
The following two tabs change content below.

Brooke is the editor of this here blog. In a previous life, she was an editor at Good Housekeeping and O, The Oprah Magazine. Brooke has written for Glamour, Travel+Leisure, New York Magazine and more. She's into concerts, travel and her exceptionally adorable daughter and husband.

Latest posts by Brooke Glassberg (see all)