Sexy is in the eye of the beholder, so when it comes to swim season, there's more than one way to make a splash. As with so many things in life, it all comes down to attitude and personal style. Sexy can be as subtle as it is bold and brazen: "Sexy swimwear can sound intimidating, but it really doesn't have to be at all," says Bare Necessities swimwear buyer Megan Puma. "For example, if you opt for a one-piece with sheer mesh panels, you're fully covered, yet the overall look still reads sexy."
Consider this summer your personal platform to show as much—or as little—skin as you like. "The most important thing is your comfort level," says Megan. "If you feel hot, you look hot. It's as simple as that." Here are her picks, arranged from smoldering to blazing hot.
Sexy Swim Style: Low-Cut
Plunging necklines can be seen everywhere from the beach to the street this season. "It's a very flattering trend whether or not you're busty," Megan says.
Megan's Picks: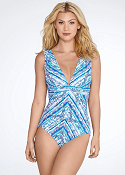 Coco Reef Beaded Cobra Emerald Cut Wireless One-Piece
"A deep V-neckline goes a long way to elongating your entire body, and this pretty suit has the bonus of dual-layer fabric to smooth your midriff and lift your rear at the same time," she says.
Sizes: 32 B/C-40 B/C
Magicsuit Solids Yves Wireless Halter One-Piece


"This chic suit is ideal if you're looking for firmer control," says Megan. "This style combines sexiness and shaping in a really classic, go-anywhere kind of way. Two-tone color blocking is another visually slenderizing feature."
Sizes: 8-16
Sexy Swim Style: Strappy
A suit with straps offers a suggestive peek at what lies beneath without going overboard, says Megan. "Strappy details are very on-trend right now," she adds.
Megan's Picks:


Miss Mandalay Icon Halter Bikini Top
"This is a great way to give a hint of sexy without, in fact, showing a whole lot of skin or compromising on support," Megan says. "The unlined cups of this halter contain an underwire, making it perfect for someone who wants lift without the bulk of padding."
Sizes: bands 30-36; cups D-GG
Profile by Gottex On the Beach Wireless One-Piece


"This more conservative option hits two trends in one: high-neck and sexy," Megan says. "The strappy side detailing plays up your curves without giving them away, and you can really swim in this suit!"
Sizes: 6-16
Sexy Swim Style: Mesh & Sheer
Strategic mesh or sheer insets add sex appeal because they give the illusion of the suit being barely there, Megan says. "This feature uses the power of illusion to add fun and interest to your swimwear wardrobe," she says.
Megan's Picks:


Becca Sicily High Neck Wire-Free One-Piece
"This suit is showstopper," Megan says. "In addition to being an incredibly sexy yet actually very practical one-piece, it also has a high neckline and high-cut leg, which check off some more on-trend, figure-flattering boxes."
Sizes: S-L
Pour Moi Glamazon Halter Bikini Top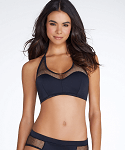 "Pour Moi hits another home run with this top," Megan says. "The fishnet detailing adds sporty sexiness without being too revealing at all. This is a very supportive top with an underwire, foam-lined cups and side boning." Tone the look down by pairing it with a bikini brief, or turn it up a notch with a high-leg, mesh-sided bottom.
Sizes: bands 32-38; cups B-G
Sexy Swim Style: Lacing Detail
Suits with crisscross laces impart a feminine sex appeal. "The lacing gives the impression that you're covered up while suggesting what's underneath," Megan says. "It's also a bit boho and gives a fun, youthful accent to tops, bottoms or one-pieces."
Megan's Picks:


Becca Southern Belle Plunge One-Piece
"This suit is a combination of sweet and sexy, with the romantic floral print and lace-up detailing down the plunging front," Megan says. "It's a fabulous suit if you want to feel comfortable and covered, but still make a notice-me statement."
Sizes: S-L
Pour Moi LBB Lace-Up Bikini Top


"With underwire cups and adjustable, convertible straps, this little black bikini top is sexy and supportive," Megan says. "You can tone down the corsetry look by pairing it with a solid black bottom or spice it up by wearing it with one of the two coordinating lace-up bottom options."
Sizes: bands 32-38; cups C-G
The following two tabs change content below.

Lambeth Hochwald
Lambeth Hochwald is a New York City-based writer and editor who reports on lifestyle topics and, especially, issues that affect the lives of women.

Latest posts by Lambeth Hochwald (see all)