Though Sunsets has been in swimwear since 1984, the brand's star is still on the rise.
Sunsets started in the land of swim style, otherwise known as Southern California, back​ when everyone was still buying bikinis in sets; ​shopping for tops and bottoms in two different sizes was literally ​impossible​. Their point of difference: selling swim separates, an unheard-of innovation in the industry at the time. These days, Sunsets is known as a sophisticated lifestyle brand, beloved for both its bra-sized separates and figure-flattering designs. It's a family business, too: Founder Janette Van Doren brought on her son-in-law Greg Stager, who took on ownership after a couple of years. Now 35 years later, Sunsets still charts the industry's course to strategic style.
This season, Bare Necessities has also partnered with Sunsets to create exclusive prints and silhouettes that can only be found at BareNecessities.com.
"Our customer always wants more tankinis, and Sunsets has been one of our go-to brands for years, so it was only natural that we work with them to put together the best tankinis in their best prints, in addition to us creating a few of our own!" says swimwear buyer Megan Puma. The London Calling, Black Dot, Imperial Dot and Moroccan Dreams collections are standouts from Sunsets you'll find only at Bare Necessities.
We interviewed Greg as well as designer Julie Franco to find out what makes Sunsets so singular.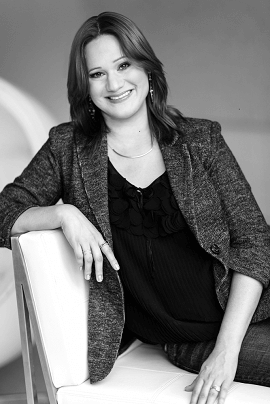 Q: Tell readers about the brand's mission.
Greg: Sunsets is unique in that our focus is on empowering a woman to feel confident and secure in her swimsuit regardless of age, size or shape. So many women don't even realize that's achievable until they try on a Sunsets suit. By offering a diverse selection of styles, we make it possible to always find the perfect fit for her unique body type.
Q: Who is Sunsets for?
Julie: The Sunsets woman is ageless. She may be a college-bound graduate, an established career-woman, a mom raising a family or a woman in her golden years gearing up to explore the world. No matter what stage of life she's in, she's always modern and sophisticated. She knows what she likes and is confident in the styles that are proven to complement her body. She isn't interested in chasing the latest fads; she prefers a suit that's classic and refined.
"We build full support features into the base of our suits and add our design aesthetic as the finishing touch"
Q:
How do you keep evolving the brand?
Greg:
Sunsets continues to be an innovator and a leader in swim by designing our suits from the inside out. In the swimwear market, the customer has more choices now than ever. By addressing her most basic needs first, we're able to reach her on a level where most other swimwear lines completely miss the mark: We build full support features into the base of our suits and add our design aesthetic as the finishing touch. We're constantly evolving with our customers' needs. By never stagnating, we stay ahead of the curve to meet her expectations.
Q: What are your design priorities? Where do you find inspiration?
Julie: Alluring prints and a rich color palette inspired by exotic destinations are the key elements that make up Sunsets' signature style. When designing a new collection, my first priority is always color. The palette must be right for the season, or we won't grab her attention—when a woman is shopping for a suit, the first thing she sees is color, and she gravitates towards it. Once I nail down the palette, developing the print becomes my focus. With each collection, my goal is to invoke the feeling of a dream vacation or extravagant getaway.
"When designing a new collection, my first priority is always color"
Q:
What do women want from a swimsuit? How do you achieve style
and
support?
Julie:
A woman is no longer satisfied with buying a suit that doesn't fit completely perfectly. Each woman is unique and has her own needs, so she wants customization and options in a suit that's perfect for her in every way. Sunsets addresses this by offering an abundance of choices in silhouettes and designs. All of our suits have adjustable straps, whether it's a soft tie or a ring-and-slider, so she can customize them to her body. Many of our styles offer removable cups—if modesty is a concern, she can leave the cups in; if she prefers less bulk, she can remove them. This year, we developed a strap-converting clip that can be added to the straps of any suit to turn it into a cross-back.
Much of our support is hidden in the base of the garment. Inside a lot of our suits, you'll find underwires, molded cups, bra hook-and-eye closures, power mesh and side stays. Ample bust support and fit give her confidence that she will look great, and confidence is the most stylish thing of all.
Q: What's new and exciting for 2019?
Julie: This year's collection will have her traveling the world with print influences from South American tapestries, Italian tile work, Japanese gardens, British textiles and Hawaiian landscapes. Fresh takes on oversized tropical prints, refined paisleys and graphic geometrics in warm citrus shades, dreamy blue hues and primary pops of color complete the collection.
We have a lot of exciting new silhouettes this year, as well. The Taylor bikini top is a sleek, sporty design with hidden molded cups and underwire for support. The Marina Tankini has flattering radial seams, adjustable bust coverage and a shelf bra with underwire and removable cups. The iconic Forever Tankini has a feminine twist of fabric at the bust and soft, adjustable shirring along the midriff. The Sporty Swim Skirt is ideal for women who want coverage with functionality because it features hidden attached inner shorts, a side zipper pocket and a wide waistband. And like always, this year's new styles are modern, sophisticated and stylish.
The following two tabs change content below.

Brooke is the editor of this here blog. In a previous life, she was an editor at Good Housekeeping and O, The Oprah Magazine. Brooke has written for Glamour, Travel+Leisure, New York Magazine and more. She's into concerts, travel and her exceptionally adorable daughter and husband.

Latest posts by Brooke Glassberg (see all)