You are cordially invited to…Event Season!
Now that spring has descended, everyone's calendars swell with celebrations: weddings, proms, showers, graduations, bachelorette parties, birthday soirees, twilight cocktails, backyard cookouts—you get the gist.
And when it's time to get fancy, it follows that your intimate apparel needs special consideration. (You cannot wear granny panties with a gown. It just doesn't work.) That's why we invited Heather Garcia, Bare Necessities merchandise manager, top left, and her outgoing team of merchants to help get us flawlessly dressed with the top lingerie essentials for this season's social circuit.
1. If you're wearing something off-the-shoulder or strapless
The lingerie essential you need: an awesome strapless bra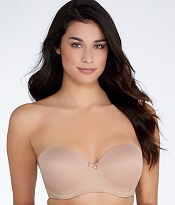 Per The Wall Street Journal fashion expert Teri Agins last month, not to mention numerous fashion bloggers, giving the cold shoulder is demure yet alluring, fresh yet classic. And its cousin, the straight-up strapless look, is perennially chic, simple and summery.
Both demand a comfy strapless bra. "You want to invest in a great one that fits well so you're not tugging it up all night long—that's no fun," Heather says. For full chests, she recommends the Va Bien Ultra-Lift Strapless Bra for its boning within the cups, which keeps you uplifted, and our most popular strapless of all time, the Wacoal Red Carpet Strapless Bra. The Natori Truly Smooth Strapless Bra is a winner for average sizes; its long-line design makes it especially comfortable, says Heather.
2. If you're wearing a low back or plunging neckline
The lingerie essential you need: Fashion Forms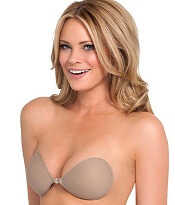 The Clark Kent of black-tie attire, Fashion Forms is a line of super-specific solutions to wear under the trickiest clothing styles. When you're pulling off something dramatic or perhaps a bit risqué, "rule number one is you have to feel confident," says Heather. "These make it look like you're not wearing a bra but still give you shape and coverage, and they really do keep you up and supported." In other words, no, Band-Aids just don't cut it.
3. If you're wearing something clingy
The lingerie essential you need: strategic shapewear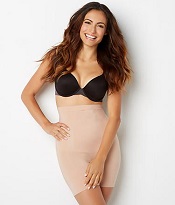 Depending on the cut of your dress, you'll want to match it with shapewear that does whatever you need it to do. With a maxidress or gown, the goal is to look like a tall drink of water, so look for overall shaping from something like the Spanx OnCore Firm Control High Waist Shaper. It locks and loads everything from just south of the chest to the thigh and tush region. A shorter dress accommodates less shapewear, like the Spanx Suit Your Fancy Booty Booster Mid-Thigh Shaper, which gives legs and tush an incredible rear view.
4. If you're wearing sheer fabrics
The lingerie essential you need: lightweight layers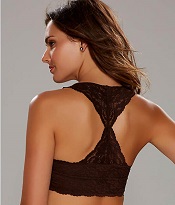 Chiffon or gauzy tops and dresses are an easy-breezy party choice with which the right undergarments are key.
Look for a camisole, bodysuit or slip that resembles your complexion for smooth, airy, seamless, cling-free coverage. You can even go with a bralette in a pretty, pale color if you don't mind revealing a lacy little peek.
5. If you're wearing a deep vee, wrap or bateau neckline
The lingerie essential you need: fashion tape or Fashion Forms Strap Solutions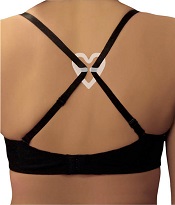 To make sure straps won't surface (best case scenario) or prevent an all-out wardrobe malfunction (worst case), these tools are trade secrets. "Every stylist has these in her kit. They let you wear the bra you love without overexposing it," says Heather. Dual-sided tape keeps everything discreetly in place without another thought; Fashion Forms Strap Solutions cinch together bra straps into a racerback.
6. Finally, for every outfit
The lingerie essential you need: the right panties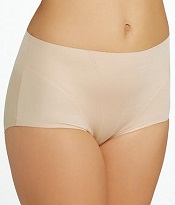 "For a special occasion, I would never really recommend a thong," says Heather, who suggests the just-as-invisible yet comfier Spanx Undie-tectable Lace Hipster: "It vanishes under thin fabrics, and its bonded waistband sits completely flat, eliminating panty lines. You genuinely won't see this under a tight dress, and it's so pretty and comfy, too."
Party on.
The following two tabs change content below.
Brooke is the editor of this here blog. In a previous life, she was an editor at Good Housekeeping and O, The Oprah Magazine. Brooke has written for Glamour, Travel+Leisure, New York Magazine and more. She's into concerts, travel and her exceptionally adorable daughter and husband.
Latest posts by Brooke Glassberg (see all)