When it comes to bra shopping, we're all Torrie Rathjen at some point.
We are weight fluctuations and trial and error and not knowing for sure if what we think is a good fit actually is a good fit. We are confused by US, UK and EU sizing. We are busy, lacking the leisure time to devote to coddling our chests.
Torrie, 38, The MAX Challenge marketing director, had to try on 30 bras and almost 20 bra-sized swimsuits before she found The Ones.
In the past five years, her body has been through it all: Torrie had twins and recently lost 40 pounds (she went down in dress size from a 14 to an 8) by ramping up her workout routine. Nothing fit her anymore, least of all her bras, and she really didn't know where to start.
Bra Fit Expert Melissa, who's lost a lot of weight herself, helped Torrie know for sure when they'd finally gotten it right.
BEFORE
"I have no idea what my size should be. All I know is that my bras are too loose," said Torrie, who was hoping to find bras to enhance the new figure she's rightfully proud of, yet are casual enough to withstand days spent working at a gym and chasing two small kids. "My main concern with bras is finding something that fits me everywhere. It has to be flattering and comfortable, so I can move around without worrying about falling out. I also like the least amount of bra possible," she said in her first Bra Fit Expert consult.
Most of Torrie's old bras were Victoria's Secret 38DDs: "I've tried some 36DDs since losing weight, but my breasts always seem wider than the cups. To get the cups to fit, the band gets way too big, and the extra material doesn't give me any lift."
After measuring her and looking at some pics Torrie sent over, Melissa made her size determination, which was wildly different than where Torrie was coming from: "Her ideal size for the most part is a 32H in US size terms, which is a 32FF in UK. A lot of the best bras for her full bust and narrower torso will be UK bras. Victoria's Secret doesn't even carry the cup size Torrie needs, which is really the equivalent of a quintuple D, on her relatively small 32 band."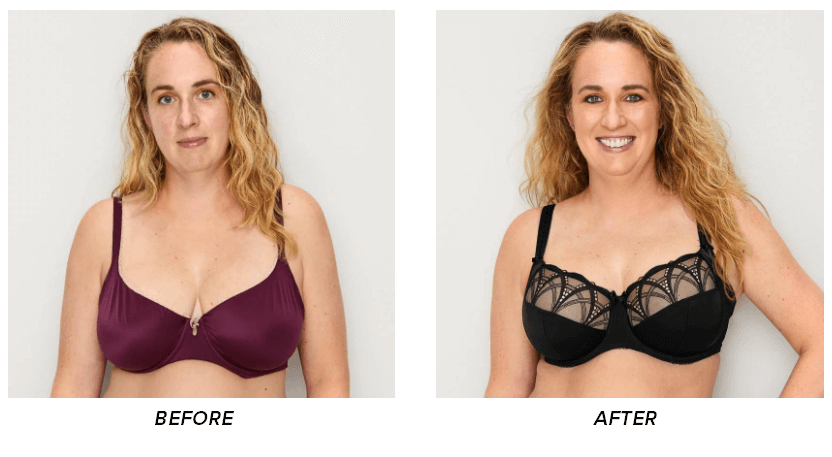 Just like Torrie, "Most women aren't exactly sure what to look for in a good-fitting bra," said Melissa. "On one hand, that's great because we Bra Fit Experts can educate and explain. It can be challenging, though, because if they don't know what it's supposed to fit like, how can they be sure if it fits right when they get it home? That's where we were with Torrie. She definitely knew what didn't fit, but what did was a little harder to pinpoint."
Melissa sent Torrie three- and four-part seamed bras for lift and definition, and T-shirt bras to answer her call for comfort. At home, Torrie scooped and swooped herself into the cups, then had her daughter snap cell phone shots before texting them to Melissa for approval.
While many of the bras were technically fitting, Melissa could see that underarm spillage—while not a deal-breaker since her breasts were filling the cups correctly—was giving Torrie pause. Knowing firsthand that feeling confident is half the bra-fit battle, Melissa wasn't ready to call it a day until she found Torrie bra styles that fit all around and made her feel like a new woman.
THE REVELATION
And that, dear friends, is how side-support bras won the day.
Fantasie turned out to be Torrie's new go-to brand; to further complicate the matter, she took a different size depending on the style.
"The Fantasie Alex feels so different! It's not at all what I'm used to," said Torrie of the snug band and 4-part cups, which lifted her full, close-set chest up high, showing off her narrow waist.
"When you get into something so far off from where you started, it's going to be a whole new world," agreed Melissa. "You went down three band sizes and up three cups. If your band changes more than two sizes, you may want to pick up a transition bra to work your way down to the size you eventually belong in. Go gradually in the right direction, get used to it for a while…then keep going."
Other UK brands that did all the right things for Torrie's figure included the Pour Moi Eden Side Support Bra and the Freya Sundance Tankini Top, which Torrie matched with the higher-waisted, ruched Fantasie Versailles Deep Gathered Bikini Bottom.
"I wanted to find something that fit Torrie nice and flat in between her breasts and gave her great support and coverage, too," said Melissa. "After playing around a bit, I think we found some really great options."
AFTER
"I love this style!" Torrie said of the semi-sheer tankini top, now on deck for the town pool and amusement parks with the family this summer. "I lost the weight, but I still have a C-section mom belly. While not quite a full-on bikini, it's not frumpy, either. I love how cool the cobalt looks paired with the black bottom, too."
There's definitely more leeway in swimwear than in bra sizing, which is why she went with a 34 here instead. "With swim, we normally recommend going up in the band for one-pieces and tankinis to not be overly form-fitting. Going up one cup size for comfort or modesty is fairly common. While we do stress taking your measurements to find your best starting size, that's never the be-all-end-all," Melissa said. "Every bra-fit experience is unique. As long as you're patient and willing to try different things, like Torrie did, we'll be able to find something fabulous for you."
Torrie echoed the sentiment: "The bra experts at Bare Necessities were a great help with coming up with style suggestions and having the patience to pinpoint where I should be. Once we finally decided that the side-support bras worked best for my body, it was all smooth sailing."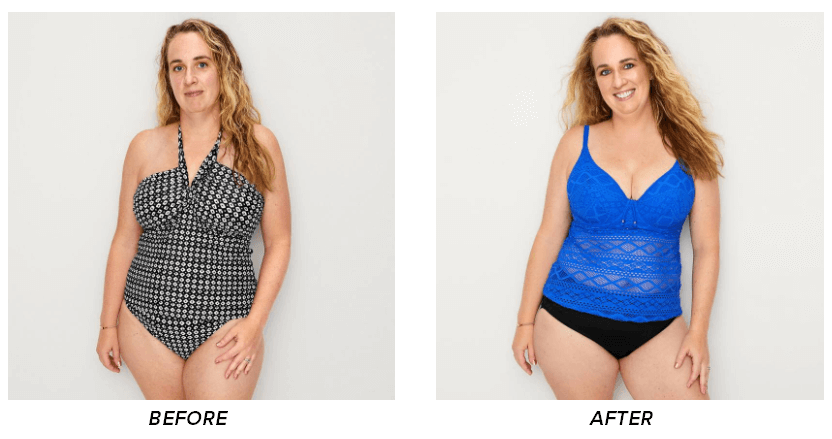 TORRIE'S BEST BRAS
Fantasie Alex Side Support Bra in 34F (UK)
Pour Moi Eden Side Support Bra in 32FF (UK)
TORRIE'S BEST SWIMSUIT
Freya Sundance Tankini Top in 34FF (UK)
Fantasie Versailles Deep Gathered Bikini Bottom
For your own bra revelation, talk to a Bra Fit Expert at 877-728-9272 x4 or chat via barenecessities.com.
The following two tabs change content below.

Brooke is the editor of this here blog. In a previous life, she was an editor at Good Housekeeping and O, The Oprah Magazine. Brooke has written for Glamour, Travel+Leisure, New York Magazine and more. She's into concerts, travel and her exceptionally adorable daughter and husband.

Latest posts by Brooke Glassberg (see all)