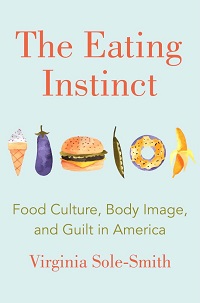 Virginia Sole-Smith wrote the just-released book The Eating Instinct: Food Culture, Body Image and Guilt in America and co-hosts the new podcast Comfort Food, about the joys and meltdowns of feeding a family. Trained as a magazine journalist, Virginia embedded with nutritionists, dietitians, critics, mothers, food obsessives and others to get at why our meals are so often served with a side order of guilt and self-loathing.
Her deep dive wasn't inspired by idle curiosity. Virginia's daughter Violet was born with a rare, dire congenital heart condition. She spent the first weeks of life spiraling into heart failure, too weak to nurse. Once the problem was discovered, Violet was subjected to countless emergency procedures, including open-heart surgery at five weeks old. Stemming from her trauma, Violet stopped eating and became dependent on a feeding tube. It took two years for her to learn to eat by mouth again.
Bare Necessities talked with Virginia about body image, hunger, the so-called "clean eating" trend, the specious connection between health, weight and nutrition, and modern diet culture. (Virginia is adamantly anti-diet.) Surprisingly, the takeaways couldn't be more uplifting.
Q: Tell us about how you became a writer.
A: I never thought about being anything else. I was one of those kids who made picture books in elementary school, wrote plays and started a newspaper in high school, majored in English and got a magazine internship in college. My first job was at Seventeen, where I was somehow misguidedly put in charge of answering readers' body and sex questions. I was 22, WTF did I know? The questions were heartbreaking but also smart, funny, angry…somewhere around there is where I became passionate about writing about how girls and women relate to our bodies and food.
Q: You've been a successful freelancer from early in your career. What's it like to be your own boss? To have now done the thing—written a book—everyone says they want to do at some point?
A: I joke that I've been freelance so long that I'm basically feral—I'm an introvert and a bit of a control freak, and those were not ideal traits for office life.
"I'm an introvert and a bit of a control freak, and those were not ideal traits for office life"
But I also love organizational systems and projects, which makes me particularly well suited to being my own boss. There is a lot of strategizing, setting deadlines, even writing an annual business plan. People think writing is this peaceful existence with your laptop and a cozy mug of tea, but there's a lot of business management, and book writing, especially non-fiction, involves a ton of planning. It's also the most satisfying thing I've ever done. I loved almost every part of the process. Okay, maybe not the 900th time I had to read the finished manuscript.
Q: In what ways did Violet's experience change your life, your work, your relationship to food…?
A: I've always been fascinated by women, food and our bodies, but this was the first time I'd ever even thought about how babies eat. She's my first child, so I had no prior knowledge of the more "typical" experience. It was devastating to lose out on nursing and bottle feeding because feeding is the most fundamental act of parenthood. I also became increasingly concerned about what feeding tube dependency and a fear of food would mean for Violet as she grew up; I've reported on eating disorders for years, so I know they're about fear, trauma and power struggles. I was terrified we would fast-track there if we didn't help her feel safe around food. But then, as I started to think about how to do that, I had to grapple with the fact that most of us, myself included, spend a ton of time not feeling safe around food.
Q: When the personal and professional converge in such a major way, how did you find the critical distance to tackle this subject?
"This was a book I had to live before I could write"
A: To be honest, I'm not sure I had any distance in the beginning. This was a book I had to live before I could write. I threw myself into researching pediatric feeding disorders because asking questions is how I process the world, and I had to understand what was happening to my daughter and how to help her. It was only once we started to make progress with Violet's feeding issues that I began to connect the dots between that experience and the larger dysfunction I see around food in our culture. It took three years to live through this and do all of the research; I wrote the manuscript in nine months. But I absolutely needed those three years to help me start to think more big-picture about the issues. Once I began to immerse myself in reporting the chapters that have nothing to do with Violet, I began to see things much more clearly.
Q: With a family, an irregular schedule, a daughter's health concerns…how do you juggle so many priorities without letting any drop? How do you de-stress without reaching for a sleeve of Girl Scout cookies, as most of us probably would?
A: Neither of our careers would be possible without excellent childcare. Luckily, we also have jobs that give us a lot of control, so we match our work hours to our childcare; I work 9 to 4 most days, which is much earlier than my workday ended before kids, and I only have to commute from my office over the garage into our house. Late afternoon and evening are family time. That said, when I was writing the book, I added on what I call the "golden hour," writing from 6 to 7 AM, before anyone was awake. Believe me, I hate setting the alarm that early, but I am so weirdly productive at that time. I had a daily goal of 1,000 words, and when I stuck with the golden hour, often I could get half of it written before the day even started.
"There's a misconception that we should never eat emotionally, but eating is emotional. Full stop"
I absolutely believe in the power of comfort food! Girl Scout cookies, brownies, ice cream, whatever brings you bliss. There's a misconception that we should never eat emotionally, but eating is emotional. Full stop. The whole reason babies eat is because they find it comforting and pleasurable; somehow as we grow up, we stop giving ourselves that permission. I think it's because we often tie the idea of eating emotionally to bingeing, but there's an enormous difference between eating to give yourself pleasure and comfort and eating to numb your feelings or overeating in a self-destructive way. I eat chocolate every day. I also read a ton, go to bed really early to make the early mornings less painful, shop online, do yoga and make art with my kid.
Q: We've all got to eat. So why is food so fraught?
A: Food is fraught because we're told every day that it needs to be fraught. That it's unhealthy, toxic, too processed or farmed wrong. And that we don't know how to eat right, so we need to find an external set of rules—diet plans, wellness gurus—to teach us. The research shows, fairly unequivocally, that none of these plans work. Dieting does not result in weight loss; it results in weight cycling and more dieting. And demonizing nutrients—first fat, then carbs, now sugar—hasn't solved the so-called obesity epidemic. It's time to stop buying into plans that make eating so complicated and start trusting ourselves. Because even if increased weight is responsible for a long list of health issues, and the research isn't cut and dried on that either, losing weight just isn't possible for most people. We need to try something else.
"It's time to stop buying into plans that make eating so complicated and start trusting ourselves"
Q: Is the solution you propose—eat what we want, stop when we're hungry and not when external cues guilt us into restriction, accept our weight 'set point' and a wider range of beauty standards—attainable?
A: I think it is. I saw what Violet overcame; I've seen what other kids with similar feeding struggles come back from. And watching those struggles has helped me reach a really different place with food than I was in five or six years ago. But it's not an easy process, and it looks different for everyone. For me, a big part has been accepting that I'm not going to be as thin as I grew up expecting myself to be; that I am pretty much always now going to look like I've had two kids, because I'm lucky enough to have a body that could do that. People often push intuitive eating as a way to achieve thinness. For me, intuitive eating isn't possible unless I think of it as a way to achieve freedom. What's really hard about this is I would love to have a set of tips or rules that I could offer: Do XYZ and be at peace with food! But the whole point of my book is that we can't find answers that way anymore.
Q: Unless I want to do the research myself, don't I have to listen to experts? How does anyone learn to find the sweet spot they can reside in somewhere between all Nutella and all broccoli? 
A: It's great to be informed about nutrition. It's also important to know that most of those "experts" are struggling with their own food stories and nutrition research is an area of science riddled with biases and gray areas. Nobody knows any of this definitively. But you—and only you!—can know how hungry or full you are right now. You can pay attention to how your body feels when you eat certain foods and not leave the table until you're satisfied. You don't need a chart or a guru to figure that out.
Q: What's the message you want to leave with readers of The Eating Instinct? What's the best advice you could give women as each of us grapples in different ways with food?

"It doesn't matter how much you exercised this morning or what you ate for breakfast. You have the right to be here"
A: Everyone's story with food is unique, but the experience of struggling with food is somewhat universal. Your anxieties are the product of a culture that has set unrealistic standards for every part of a woman's body. But it doesn't matter whether you meet any of those standards. It doesn't matter how much you exercised this morning or what you ate for breakfast. You have the right to be here. You have the right to eat. You have the right to take up as much space as you need in this world. And you don't have to apologize for any of that.
Q: What does empowerment mean to you? How about wellness? Support?
Empowerment is knowing that you can be yourself without apology. Wellness should mean feeling strong and happy in your body. Unfortunately, right now, it usually means a diet.
When Violet was in the hospital, we experienced a tidal wave of support online and in person. It was old friends from high school who sent a breakfast care package to the hospital. It was a work friend who went out of her way to show up on my doorstep with pumped breastmilk to share. It was so many small and huge ways that people showed they cared about us. I still cry every time I think about it.
THE WORLD ACCORDING TO VIRGINIA
Favorite intimates: As someone who works from home, I'm feeling these PJ Harlow satin lounge pants. Also, I'm a DD-cup and believe over-the-head sports bras were invented by a man who had never actually seen boobs. I deeply appreciate that Bare Necessities carries sports bras that go on like regular bras and are really supportive, like this Elomi Energise High Impact Underwire, which I am legit putting in my shopping bag right now.
Comfort food: Marmite on hot buttered toast.
Favorite dish to cook: I make an amazing lamb and eggplant ragu over rigatoni.
Greatest extravagance: I know a lot of people dread travel with kids and it is a lot more packing, but we love going on adventures with our girls.
Personal hero: At the moment, it's the painter Amy Sherald. She's a tremendous artist who had a heart transplant at 39 and three years later, was chosen to paint Michelle Obama's official portrait. I know she didn't ask to be a role model, but I'm so grateful to be able to share her story with my daughter.
Best TV show: Jane the Virgin.
Most influential book: Of all time? Emma by Jane Austen. And this year, it's a tie between Dietland by Sarai Walker and Fruit of the Drunken Tree by Ingrid Rojas Contreras.
If I weren't a writer, I would be: an interior designer. I buy a lot of throw pillows.
Secret to living well: GOOD LORD I HAVE NO IDEA.
The following two tabs change content below.

Brooke is the editor of this here blog. In a previous life, she was an editor at Good Housekeeping and O, The Oprah Magazine. Brooke has written for Glamour, Travel+Leisure, New York Magazine and more. She's into concerts, travel and her exceptionally adorable daughter and husband.

Latest posts by Brooke Glassberg (see all)