When it comes to finding the perfect holiday gifts for the ladies we love in life—up to and including ourselves—we'll leave no proverbial stone unturned. But where to begin? With the experts, that's where.
Our Bra Fit Experts are always the first to hear what customers are buzzing about, and they know from experience what'll fit and what's bound to be a hit. So here's our gift to you: their smart suggestions for gorgeous, crowd-pleasing holiday present ideas in every category, including their most beloved bras.
This week and next, they hope to make this happy-if-hectic season easier by saving you hours of site-surfing and personally pointing the way to a few of their favorite things to give and receive as holiday gifts. ("One for me, one for you. One for me, one for you…!") Because this time of year is just as much about uplifting others as it is about taking time to pamper yourself a bit, too.

DINA LIOR
THE BRA GIFT:
THE TOTAL PACKAGE:
Chantelle Satine Push-Up Bra, Thong and Garter Belt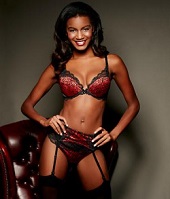 "Chantelle is always my go-to for great-fitting bras that also happen to make me feel beautiful. The quality and feel of their French lace is unparalleled. This particular set gets extra oomph from the vibrant color, animal print and plunging, cleavage-boosting neckline. Pair the matching set with some thigh highs and it's on—instant confidence and sexiness. Tell me, who doesn't want that?"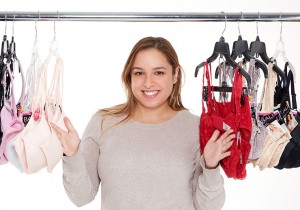 BIANCA AVALO
THE BRA GIFT:
"The Red Carpet Strapless is a customer and Customer Service favorite. It's supportive and comfortable while providing wonderful shaping. I've heard it described as 'the best bra ever!' Some women wear it as an everyday bra, that's how good this strapless is. It's perfect for all kind of dresses and blouses—seriously a wardrobe must-have."
SEE-WORTHY SWIMWEAR: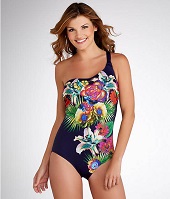 Fantasie Cayman Asymmetric Swimsuit and Cover-Up Maxi Dress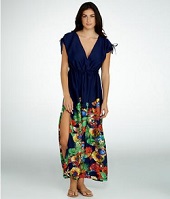 "Give someone the gift of her first supportive swimsuit. For too long, curvy women have had to deal with ill-fitting bathing suits, and that can ruin an otherwise incredible getaway! The solution is bra-sized swimwear, and a matching cover-up that's beautiful, comfortable and easy-wearing. A lot of our shoppers don't realize there is such a thing as swimwear that fits and supports just like your favorite bra. Our no-hassle returns make it easy to give it a go, pick the right fit and send back the rest."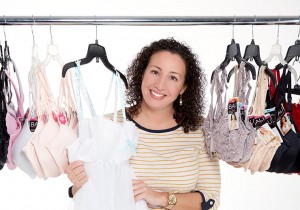 JEANETTE CAFARO
THE BRA GIFT: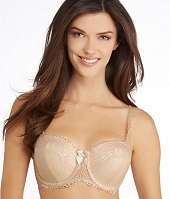 DKNY Seductive Lights Balconette Bra

"So much style for the price! The foam-lined balconette has a a sweet lace overlay. It comes in five feminine colors, but Nightshade is my personal favorite. It's supportive, pretty and, I would go so far as to say, fun to wear."
THE CHIC CHEMISE: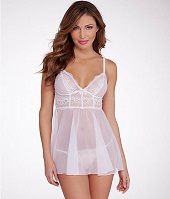 "This stunning sheer chemise is part of the same collection as the bra, and it's sure to bring out some holiday cheer. I like it because Nightshade is the most sophisticated purple ever, and the lace embroidery is incredibly elegant. Pair either or both of these pieces with the Seductive Lights Bikini or the Seductive Lights G-String to complete the set for a really, really special gift."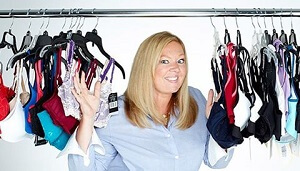 METTE IACOVOU
THE BRA GIFT:
Spanx Pillow Cup Signature T-Shirt Bra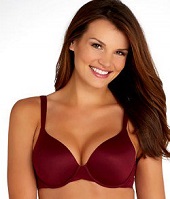 "Looking for a comfortable bra you can wear under everything? This is it.  Not only does it minimize bulge, it has no visible bra lines
thanks to the smooth U-back design. The pillow cups are engineered with 3D technology for excellent shaping. It's the perfect pick for under your holiday outfits for the smoothest look possible."
SHORTS WITH SHAPING SUPERPOWERS:
Spanx Power Series Medium Control Higher Power Short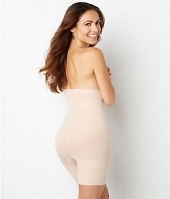 shorts

"Speaking of Spanx, the company has revamped its shapewear, and I can't rave about this piece enough—I hear the same from callers all the time. It really delivers on its promise of smoother results with less squeeze. These shorts are comfortable, they stay put, and the fabric is oh-so-soft.  If you have any women in your life who swear by shapewear, this is the latest, greatest gift to give."
The following two tabs change content below.

Brooke is the editor of this here blog. In a previous life, she was an editor at Good Housekeeping and O, The Oprah Magazine. Brooke has written for Glamour, Travel+Leisure, New York Magazine and more. She's into concerts, travel and her exceptionally adorable daughter and husband.

Latest posts by Brooke Glassberg (see all)