Welcome to the second installment of our expertly curated holiday gift guide. In this season of giving thanks, we're thinking of all the family and friends on our shopping list. So we're tapping our plugged-in Bra Fit Experts for their favorite holiday gift ideas, bras and beyond, of all time and at this very moment.
From a pair of PJs anyone would covet to over-the-top cashmere extravagance, we hope you can check a few loved ones off your list with a little help from these holiday present ideas from your friends here at Bare Necessities. Meanwhile, we're hoping you and yours had an exceedingly happy Thanksgiving!

GERI BAFFUTO
THE BRA GIFT:
"I love this bra for full-busted women because it offers lift and support while still looking sexy thanks to the semi-sheer stretch lace. Its full cut keeps you confident all day by keeping you securely contained—always appreciated!"
PERFECT PAJAMAS:
Lauren Ralph Lauren Hammond Knits Pajama Set
"I adore these PJs because they're so cozy-comfy on chilly winter nights yet still look supremely pulled-together. They're soft, breathable cotton and stretch modal, which are basically the ingredients for a great night's sleep. And they come in the best colors! I know they'd be a welcome gift for a family member or close friend."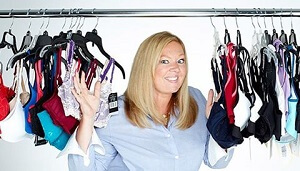 METTE IACOVOU
THE WORTHWHILE SPLURGE:
Arlotta Cashmere Rob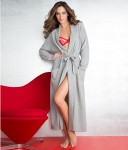 e
"The surest way to make someone feel like she's wrapped in head-to-toe luxury. Any woman would love to be treated this holiday season to this beautiful, soft, super-deluxe gift. The best part: She'll wear it all year long and think of you every single day."
THE ULTIMATE SLIPPERS: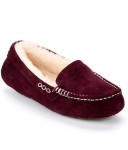 "Pair these timeless shearling-lined suede moccasins with the bathrobe for what is quite possibly the perfect holiday present. This is the way to make someone feel like a million bucks, top to bottom. Winter mornings don't get any better!"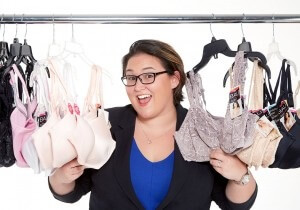 MELISSA COSTELLO
THE BRA GIFT:
Dita Von Teese Sheer Witchery Full Figure Balconette Bra
"The balconette style is flattering to my plus-size, shallow-top silhouette, and the fabric has such a luxurious feel. It's great to find a bra that doesn't sacrifice sex appeal and playfulness just because it's for a fuller figure. I usually have trouble finding a bra that accommodates both my size and my personal style preference, and this one totally exceeds my expectations on both fronts."
THE STOCKING STUFFER:
Hot Sox "A Sunday Afternoon" Crew Socks
"Aren't Hot Sox the greatest?! I especially love the works of art series that includes masterpieces like this Georges Seurat painting. There's also a Van Gogh, a Degas—even the Mona Lisa! It's such a fun way to up your personal style game, an everyday mood-booster—not to mention the ideal stocking stuffer for the art lovers in your life."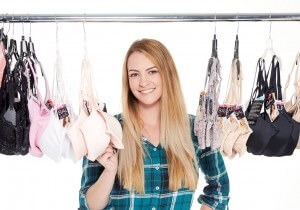 JENNIE NOTO
THE BRA GIFT:
Wacoal Visual Effects Minimizer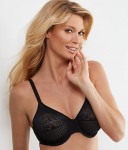 "This one is not only extremely comfortable but really pretty, too. It reduces your bust up to one inch, which is exactly what you need when you have a larger chest and want to be able to wear a classic button-down shirt without it gaping. In black, white and nude, this will be your go-to bra for the holiday season—and every day after."
THE LOVELIEST LEGGINGS:
Lyssé Medium Control Ponte Knit Leggings
"I'm obsessed with these leggings! Not only are they extremely comfortable but they suck you in and smooth you out, tummy to legs. I machine-wash them and hang them to dry, and they look as good as new every time. They're a fabulous gift, too: leggings are such a wardrobe staple, and they even come in plus size."
In case you missed it, check out Part One of our Holiday Gift Guide!
The following two tabs change content below.

Brooke is the editor of this here blog. In a previous life, she was an editor at Good Housekeeping and O, The Oprah Magazine. Brooke has written for Glamour, Travel+Leisure, New York Magazine and more. She's into concerts, travel and her exceptionally adorable daughter and husband.

Latest posts by Brooke Glassberg (see all)