We hear it from women of every age, size and body type: Sometimes, finding the right bras for your life can be hard. Our mission at Bare Necessities is to help you get it right and make it easy.
This week, we've brought together the 7 essential categories, as well as our picks for the best plus-size bras, that meet your every wardrobe need, dress you for any occasion and support your curves–all at the same time.
7 BEST BRA STYLES FOR PLUS SIZES IN 2021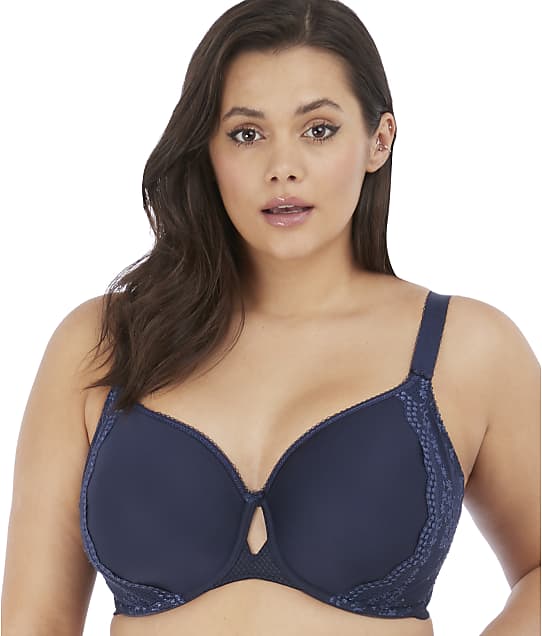 The style: A T-shirt bra
The bra to try: Elomi Charley Spacer T-Shirt Bra
The sizes: bands 34-46; cups DD-HH (UK)
Everybody needs a T-shirt bra for most of our days, but Charley blows every preconception about a boring, plain, shapeless version right out of the water. The spacer fabric is super soft and light, with an attractive keyhole cutout in the center gore–a breath of fresh air in the bigger sizes, which tend to lean toward the super-structured end of the spectrum. Delicate textures of flat lace on the cups and straps give it eye-appeal when you can see it but disappear under clothes. The cups with power mesh wings give great support and a smooth, rounded shape; the wide, completely adjustable straps are positioned so as not to slip. And we love all the color options in this one great style, too.
Writes our customer Serina of the Elomi Charley, "Awesome bra! I don't usually write reviews, but in the last 2 months, I have returned 5 bras that in one way or another did not work for me. 38 J is not an easy find. I wanted to give up when I decided I would try one more. This bra fits great! No extra boob spillover, straps stay up, support is awesome, and I don't bounce when I walk. If you're on the fence, buy it. I love love love it!"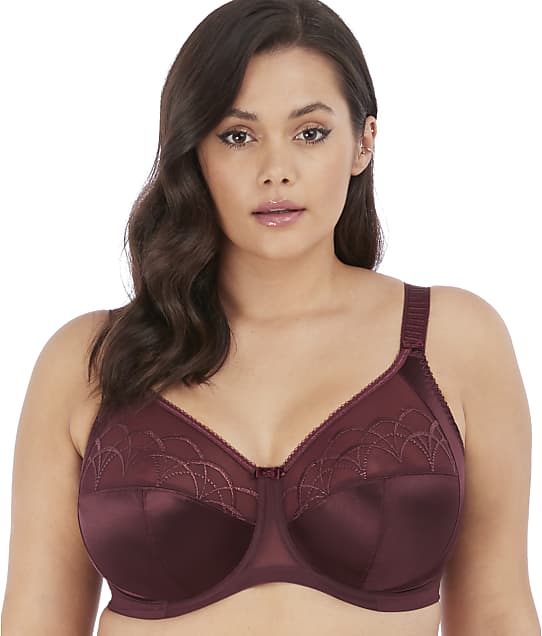 The style: A side support bra
The bra to try: Elomi Cate Side Support Bra
The sizes: bands 34-46; cups DD-K (UK)
Now that you've got your T-shirt bra figured out, it's time to consider a four-part-cup bra, which relies on side support panels and seams to lift and shape your breasts like you wouldn't even believe they could look. Except definitely believe it, because Cate has north of 500 5-star reviews who love its aesthetics—shimmering satiny fabric, chic embroidery, pleated straps—as much as its great fit and smoothing powers. The price is right for a bra of this pedigree, and the color palette is enough to make your day, every day, for two weeks.
Says Katherine H. in her write-up, "I've tried about 100 bras the last few years and have finally found the perfect one! Usually bras start out okay but, within hours, lose their shape and have no support. This style was exactly the same after a twelve-hour work shift: amazing fit and comfort for larger cup sizes. Best bra ever."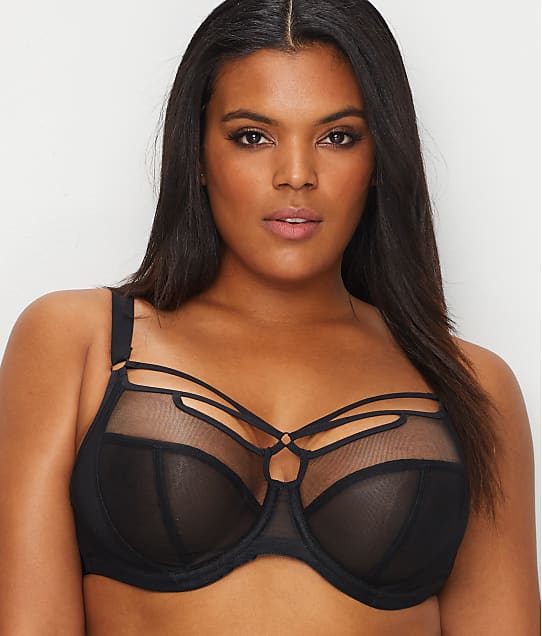 The style: A sexy bra
The bra to try: Elomi Sachi Side Support Cage Bra
The sizes: bands 34-46; cups DD-JJ (UK)
Yet again, Elomi absolutely nails it with a black bombshell that flatters in every direction while giving the illusion that you're all dressed down in a barely-there bra. Similar to the popular Matilda Side Support Plunge, Sachi uses those multi-part cups and power mesh side wings to shape your chest, but it does so in diaphanous mesh and delicate straps reminiscent of butterfly wings. Sachi is the idyllic intersection of sexy, style and support.
Tiffany, a 42H, agrees: "This bra is beautiful, and the support is AHH-mazing. I put it on and immediately came back and ordered two more. The shoulder straps don't dig, and neither does the underwire. There is NO spillage on the sides or over the edges of the cup. My girls look great, and did I say how sexy this bra is? The cage is comfortable and a classy peek-a-boo show. You will not be disappointed!"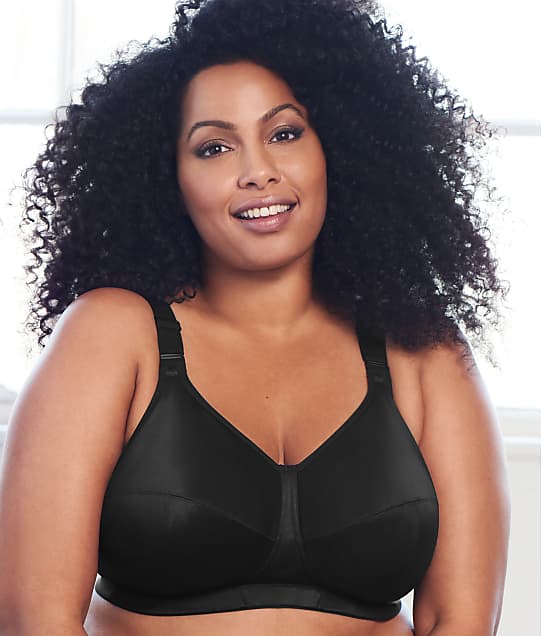 The style: Wire-free
The bra to try: Goddess Celeste Wire-Free Bra
The sizes: bands 34-50, cups H-O
Of course, not every day (these days especially) calls for a high profile; sometimes, all we want is comfort and containment. On those mornings, reach for the Celeste: This bra is unlined and un-wired, but she is also seamed and non-stretchy, with inner slings for support.
The finished look is minimalist—simple and smooth—with a discrete second-skin-like fit that won't leave you lamenting the absence of an underwire.
"These bras are pure comfort and provide excellent support for us busty gals!" said Sabrena.
"This bra feels great! I am a 42O and, after years of wearing underwire bras, I wished there was one that was wire-free. I've found it," said TaKendra.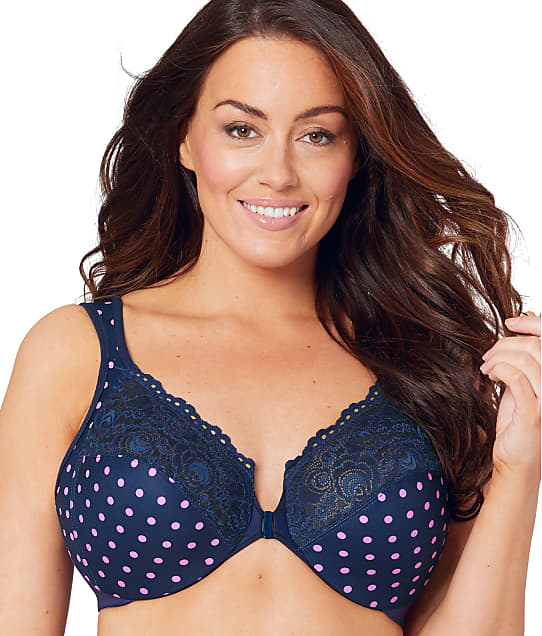 The style: A front-close bra
The bra to try: Glamorise Wonderwire Front-Close Bra
The sizes: bands 34-48, cups B-H
If you haven't made Wonderwire's acquaintance yet, you should probably be sitting down for this: You aren't not seeing things; this bra really does have almost a thousand near-perfect ratings. To see it is to love it. Let's be honest, a front-close is so nice every now and again for getting into and out of. This bra is so good with curves because it has them—the shapely silhouette conforms so nicely to the body, from the wide straps to the U-shaped back. The colors, the prints, the lace all make it an actual pleasure to put on. What you can't see, though, is what makes the wire so wonderful: It's tucked into a padded tunnel behind the padded comfort underband so you don't feel it. Like, at all, ever.
"I have always had back pain and could not find a bra that was supportive, full-coverage and still fashionable, until this bra," Maria wrote us. "I first bought it in black and white and later 3 more colors. I hardly ever leave reviews, but I feel just love it and so happy I found it!"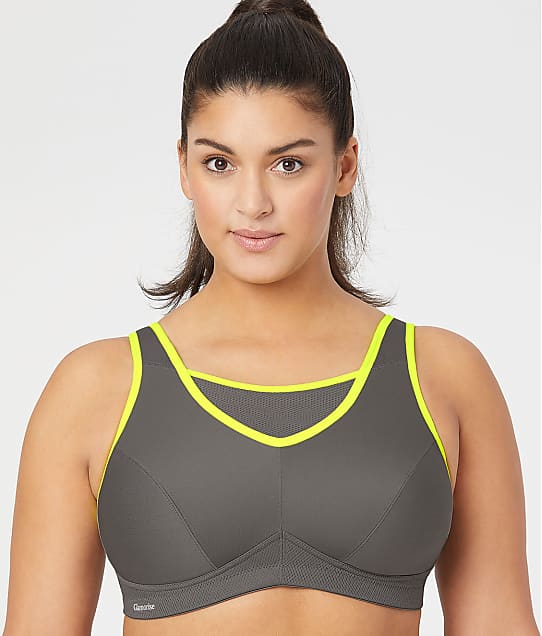 The style: A sports bra
The bra to try: Glamorise Medium Impact Wire-Free Sports Bra
The sizes: bands 34-50, cups C-J 
Continuing right on down the list of key kinds of bras is a really good sports bra, which calls for the trifecta of serious support, separation and style.
Check, check, check: Curves need look no further than this archetype, a compression and encapsulation-style design that halts bounce in its tracks and dispenses with that sticky, sweaty layer lesser bras leave behind. It's breathable, it's comfortable and it goes without saying that it's supremely functional. Oh, and it looks cool, too. 
"One of my favorites!" customer Kendra said. "I have worn one of these for years and it remains in perfect condition. I also ordered a new one in a smaller band size to accommodate for weight loss. The bra fits excellent and is attractive. I like everything covered up, so I'm very happy with the high panel front, which is one of my reasons for purchasing. This will always be my go-to work out bra, as you can't do much better for the price and quality."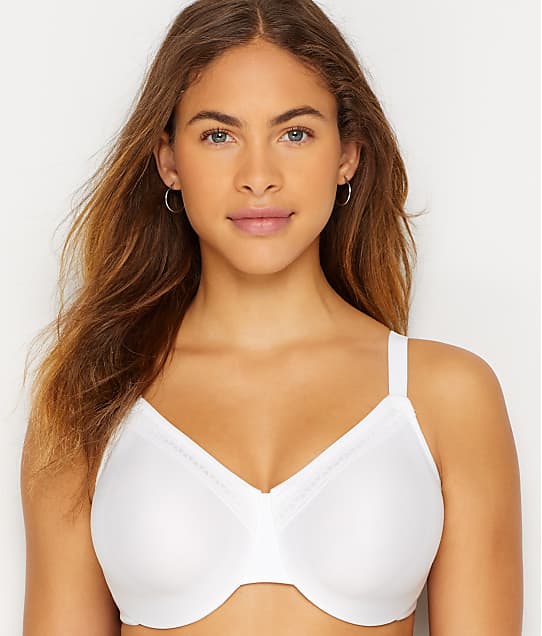 The style: Unlined
The bra to try: Wacoal Perfect Primer Bra
The sizes: bands 32-46, cups C-I 
Rounding out our all-star team would be a bra that's all you—unlined and stretchy but by no means unsupportive (have no fear, the underwire is still here!). If comfy full coverage with a barely-there feel sounds like heaven to you, try the Perfect Primer. It comes in a sophisticated palette of muted hues that have the slightest edge of lace trim, cradling you for the most naturally perfect fit.
"At last! I have been searching for the perfect bra and finally found it! I wear a size 32 or 34G and am not symmetrical, so it has been a difficult task. This bra is lovely, extremely comfortable and supportive. The fabric is so soft and the underwire doesn't dig in. Nothing bulges, and the breasts are held within the line of the body. I hope Wacoal never discontinues this one," said Cherise.
The following two tabs change content below.
Brooke is the editor of this here blog. In a previous life, she was an editor at Good Housekeeping and O, The Oprah Magazine. Brooke has written for Glamour, Travel+Leisure, New York Magazine and more. She's into concerts, travel and her exceptionally adorable daughter and husband.
Latest posts by Brooke Glassberg (see all)