On some level, everyone wants to get fit and stay healthy—maybe never more than right now.
That's why, at the top of 2021, we're ready with our list of the most incredible sports bras that will be with you every step along the way to hitting your gym goals. Whether you're an ultra marathoner, a newbie or anywhere in between, Bare Necessities has got the most supportive bras you'll ever find that fit your body and your workout.
All you have to do is meet your match….
How to Choose the Best Sports Bra for You
When shopping for a sports bra, Heather Viskovic, our premium brands buyer, suggests starting with the cuts and styles that are most comfortable for you personally: "Otherwise, you're not going to want to wear it!" A quality sports bra is a worthy investment: "They're just as technical, if not more so, than regular bras because of upgraded fabrics, additional padding and more strap configurations."
Next, consider impact level and design type. Then try it on to see how well it supports your figure. If you already wear a bra from that particular brand, you're a step ahead in terms of fit and size.
For average-sized busts, "as long as the sports bra fits properly, it will support you," says Heather. Choices like encapsulation (the breasts fit into two separate cups) versus compression (the bra binds both breasts to the chest) and underwire versus wire-free are personal preferences.
If you're a DD or above, the best and only choice is a bra-sized sports bra made for large breasts. Some encapsulate each breast, some compress the chest, and some do both at the same time. Certain styles have design features like crisscross straps, convertible straps or a J-hook for extra support. "You need a good one because the connective tissue anchoring the breasts to the body can lose its elasticity, which is what leads to sagging," says Heather. "That's why it's so important, number one, that your sports bra fits and, number two, that it contains just as well—if not better than—your regular bra. Think about it: We wear a structured bra for sitting at a desk or walking around, but not when we go for a run?! That's when it's most important to wear a bra tailored to your body!" says Heather.
Sports Bra Sizing
Sports bra sizing follows the same rules as regular bras. If you haven't been fitted within the last six months, give our Bra Fit Experts a call at 877.728.9272. They'll size you for free and can point you to the perfect sports bras for your body and lifestyle.
The Best Sports Bras for Any Workout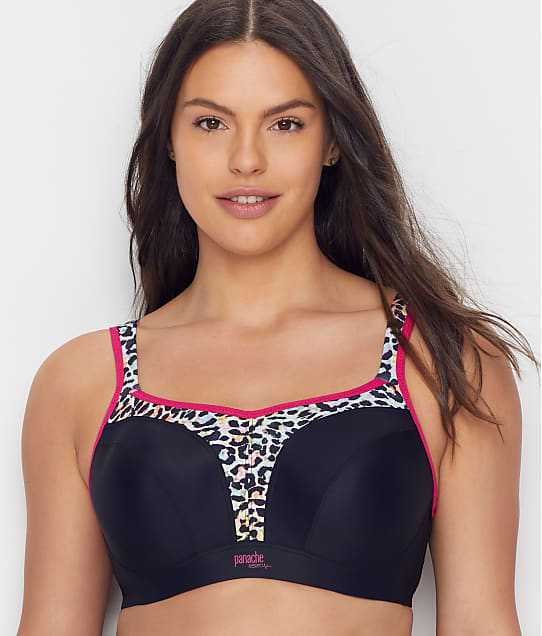 Panache Ultimate High Impact Underwire Sports Bra

Impact level: Medium-high
Design type: Encapsulation
Around here, our top-selling underwire sports bra is known exclusively by its style number. The 5021 is, simply put, the greatest high-impact DD+ bra ever made. Lab-tests have shown it stops 83 percent of bounce and, just looking at its construction versus what you're probably used to wearing, you can instantly see why. This is like the swanky sports car of performance bras: silicone-encased wires never dig or poke; flat seams reduce chafing; wide, cushy straps and a J-hook help ease the load on your shoulders; the fabric is not only breathable and stretchy but also comes in exciting colors and prints to keep your motivation up where it belongs, too. With over 1,000 near-perfect reviews, it's always where we start for full-busted women who require nothing short of flawlessness from their sports bra.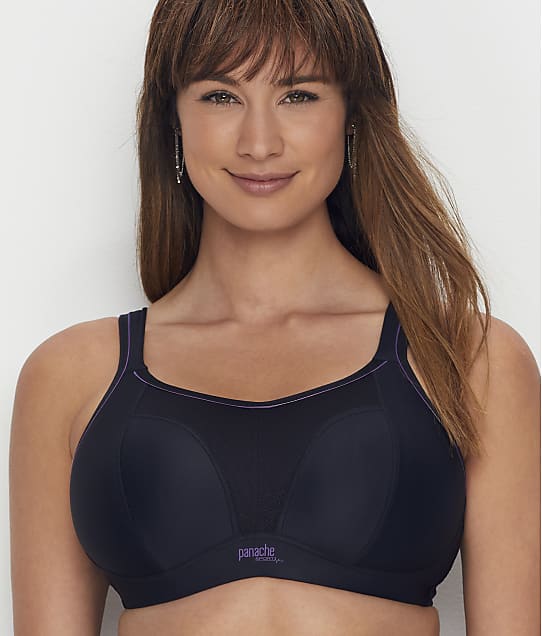 Panache Medium Control Wire-Free Sports Bra

Impact level: Medium
Design type: Encapsulation and compression
This spin-off on the 5021 is the perfect complement to your activewear wardrobe, depending on what workout you have planned that day. While it's based off its superstar big sister in the same 28-40 and B-J size range, it's also lightened up a bit for mid-impact grinds such as cycling. While the underwire is gone, the great fit, major lift, support and style are decidedly still here. Early adopters say it's very comfortable and very flattering; no uniboob need apply.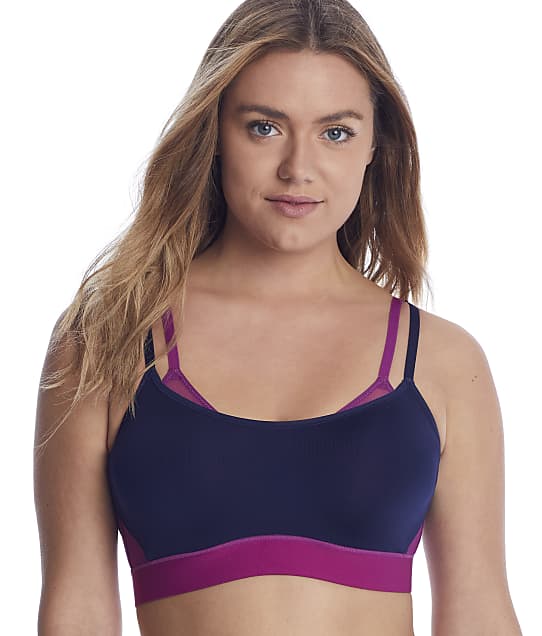 Natori Gravity High Impact Underwire Sports Bra

Impact level: Medium-high
Design type: Encapsulation and compression
A soft, stretchy outer layer conceals real underwire cups made of seamless, breathable foam, with mesh inserts all around for airflow. The elastic underband anchors it firmly in place for worry-free stretching or downward-facing-dogging. It cuts a low profile, too, with dual thin straps and a deep U-back that won't show under your shirt (unless you want them to—it's that good-looking). As cool as it is seriously athletic, this bra can take you from spin to street, no questions asked.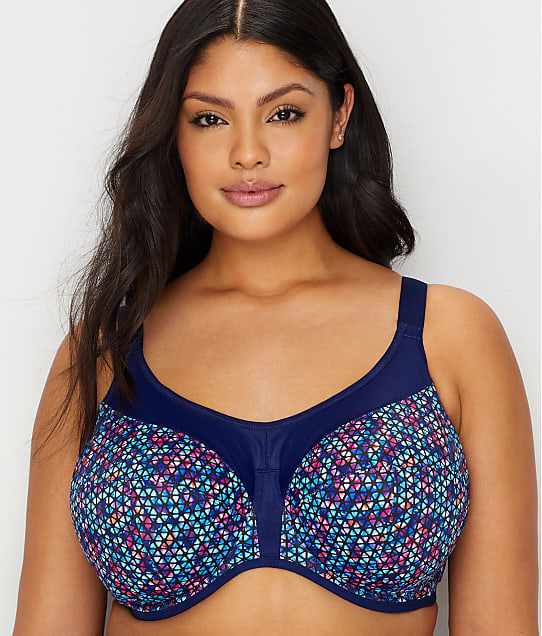 Elomi Energise High Impact Underwire Sports Bra
Impact level: High
Design type: Encapsulation
The ultimate fit for curvy figures, the seamed, intricately four-part cup design of this bra is built to separate and shape in style (solid color options can be found here). Finally say goodbye to doubling up on sports bras; it can confidently handle high-impact endeavors like running without a worry of spilling out or bouncing around. The straps are adjustable and convertible to fit the way you want them to, and the curvy construction doesn't resemble a suit of armor—how refreshing!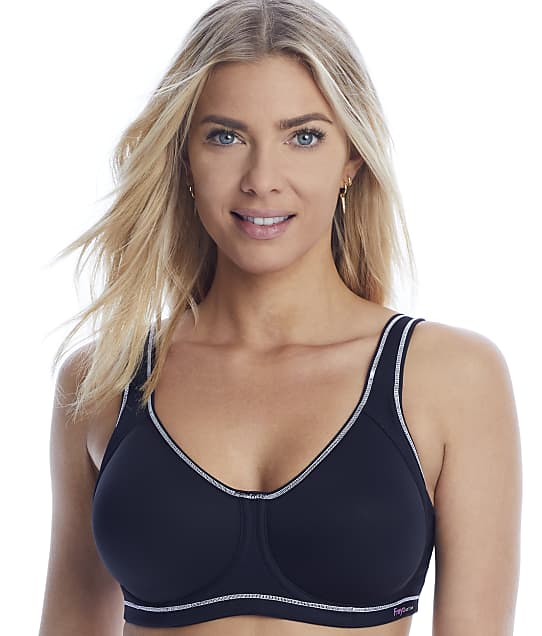 Freya Sonic High Impact Underwire Sports Bra
Impact level: High
Design type: Encapsulation
Cool comfort meets hot performance in this yes-underwire, no-seams sports bra that flatters the figure as much as it functions thanks to its shapely, wide vee neckline and airy, breathable, moisture-wicking spacer foam-lined cups. Bonus points for well-thought-out comfort straps that stretch, adjust and convert as needed, as well as the fact that larger cup sizes come considerately with more hook-and-eye closures to increase security. Reviewers point out how their breasts no longer hurt during workouts anymore.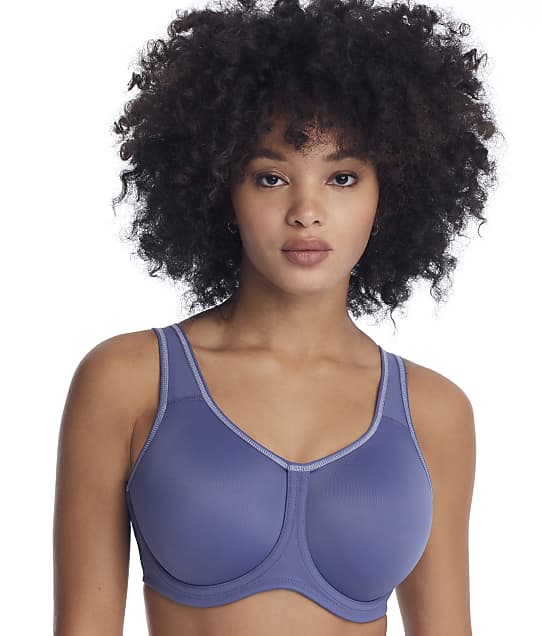 Wacoal High Impact Sports Bra
Impact level: High
Design type: Encapsulation and compression
Bigger busts can take on tough workouts in an easy-wearing bra for once. Made by the geniuses at Wacoal, this sports bra is unlined (molded, double-layer cups do the compressing), seamless and lightweight, with an underwire positioned closer to the outside of the bra than the inside for a wire-free sensation without sacrificing the added lift the underwire affords. Close-set straps keep them right where they belong. In the G- and H-cups, inner slings give an added boost. More than a few fans have confessed to making this their everyday bra.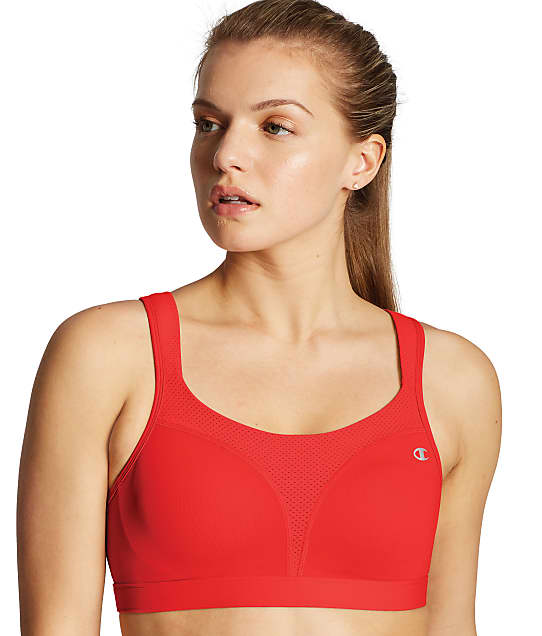 Champion High Impact Wire-Free Sports Bra

Impact level: Medium-high
Design type: Compression
Not every full-bust sports bra has to encapsulate; if you prefer the simplicity of a stretchy front, this Champion offers up the wire-free, flexible fit you're after. Thin, foam-lined cups take modesty into account without adding uninvited bulk. There's more going on in the back: the band and comfort straps are adjustable. All around, the not-too-wide underband, wicking microfiber and breathable mesh come together to keep you feeling great when you're getting your glisten on. Turns out you can get comfort and construction at a look-twice price.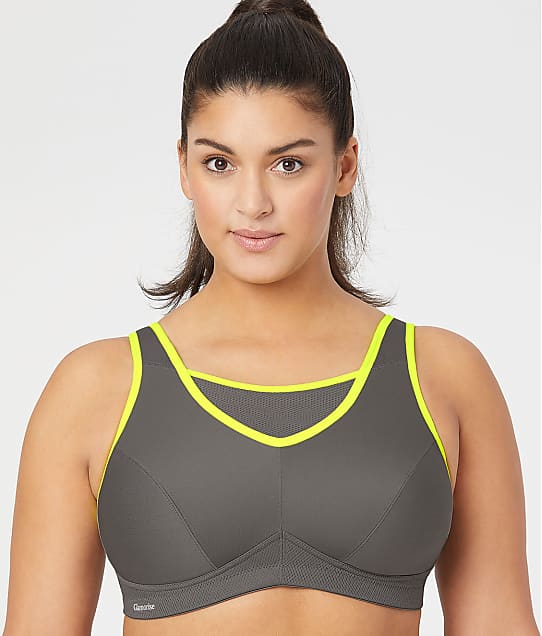 Glamorise Medium Impact Wire-Free Sports Bra
Impact level: Medium
Design type: Encapsulation and compression
Attention, attention! Run, do not walk: This is a sports bra that slays up to a size 50J, and it's well under $50. Say buh-bye to bounce with full coverage (including upper bust, which is not that common), separate seamed cups and rigid-but-still-padded-and-also-adjustable comfort straps. Larger cup sizes have long deserved this level of comfort and fashion; it's finally attainable now. "The best sports bra I have ever had," says one wearer. "I no longer have an excuse not to push myself," says another.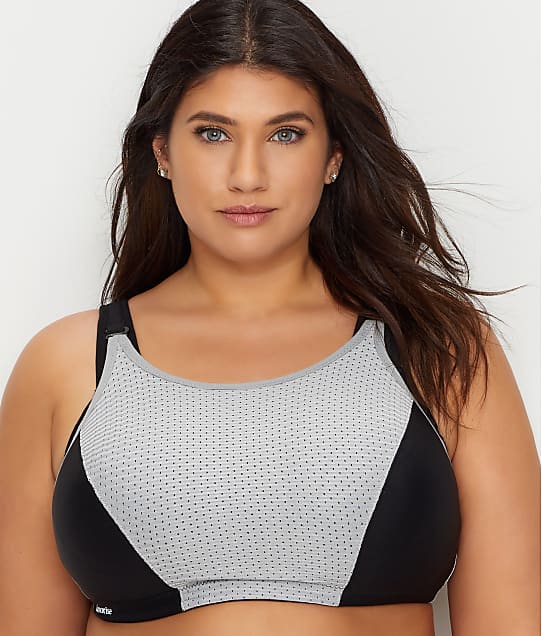 Glamorise Custom Control Wire-Free Sports Bra

Impact level: Low to high
Design type: Compression
File under "why didn't anyone think of this sooner?" Using the adjustable bounce control panel in the front, you can easily dial up or down the level of support your bust and your workout call for that day—nay, that minute—even without an underwire. Cushy, wide straps are positioned not to slip, even during a jostling run. In back, two-way stretch means this is a bra that moves with you rather than fights you. The perforated outer layer and seamless inner cup sections let skin breathe even while holding the breasts in place against your chest. They call it Magic Lift; we abbreviate it just to magic.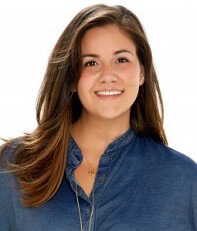 MEET HEATHER
Fitness routine: "As a mom, I squeeze in workouts whenever I can. I aim for three days on my Peloton bike, plus any type of classes in between whenever I get a chance.  I love yoga, especially on the beach, and my husband and I enjoy bike-riding during the summer, too."
Favorite sports bra: "I am living for my Natori Gravity. It gives the illusion you're wearing your bra under a sports bra and if you're like me, you've probably done that a few times in your life. There's a sexy factor to it that I like. Above all, it is super supportive and comfy; sometimes I just keep it on after a workout."
Motivation: "I exercise to burn calories and raise my heart rate. I really find it helps keep my energy up and takes away the blahs this time of year. Let's be honest, I sit at a desk all day, and I don't want flab next to my fab!"
The following two tabs change content below.

Brooke is the editor of this here blog. In a previous life, she was an editor at Good Housekeeping and O, The Oprah Magazine. Brooke has written for Glamour, Travel+Leisure, New York Magazine and more. She's into concerts, travel and her exceptionally adorable daughter and husband.

Latest posts by Brooke Glassberg (see all)