Behind every great swimsuit is an amazing cover-up, so the saying goes (or something like that, anyway).
Bare Necessities swim buyer Megan Puma believes you don't need a cover-up to expressly match every suit—the art is in the mix. "A cover-up should be this super easy thing you bring with you everywhere you go in summer," she says. "They elevate and complete your look without taking up a lot of space. If you throw one in your carry-on, you can hit the beach right on arrival."
Read on to see what stylish options she's uncovered for every body that can take to to the beach—and beyond—all summer long.
Skirts, Pants and Sarongs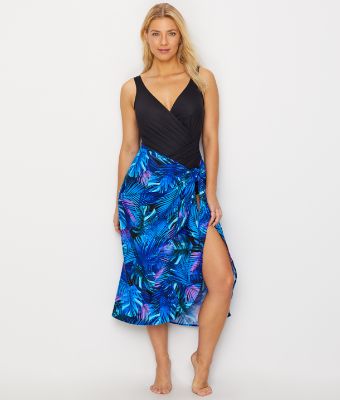 With so many fun, colorful options, bottom-friendly styles are really big this season. "I think it's because you get coverage but also sexiness and fashion," says Megan, who appreciates their versatility: Pair them not only with swim but with bodysuits or crop tops, too. And you can conceal stomach or thighs depending on how high you want to wear it.
Beach-to-Street Looks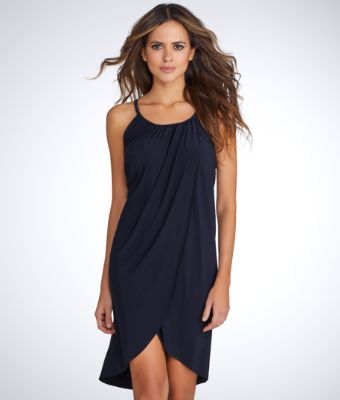 What's not to love about a light, airy cover-up that can double as an outfit? An elevated-looking romper or maxidress is ready to take you places on sunny days, be it the snack bar or cocktail hour al fresco. "Just throw a bandeau bikini top underneath, or keep a strapless bra in your bag to change into," Megan says. With the effort it takes to change from flip-flops into wedges, you're set to extend a beautiful day straight into the night.
Dresses and Tunics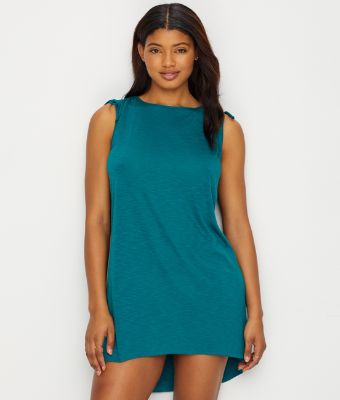 When you think about cover-ups, these are most likely the classic tops that come to mind—straight-up summertime essentials in solid neutrals to pair with every last swimsuit you'll ever buy. "They'll wear out before they go out of style," says Megan.
Functional Fashion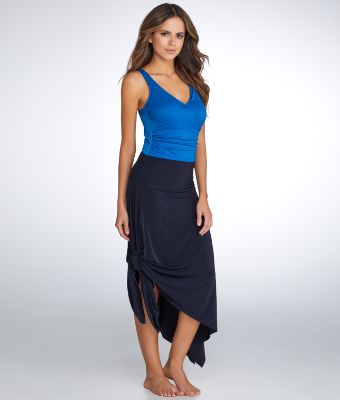 "Sometimes, you want to wear a cover-up for reasons other than sun protection," says Megan. Carrying around a cell phone and some cash calls for pockets; drying wet hair requires a hood. These adaptable, easy-on kinds may even negate the need to deal with a towel altogether, and sleeveless styles aren't going to make you hotter than you already are. That's what we call sun smart.
The following two tabs change content below.

Brooke is the editor of this here blog. In a previous life, she was an editor at Good Housekeeping and O, The Oprah Magazine. Brooke has written for Glamour, Travel+Leisure, New York Magazine and more. She's into concerts, travel and her exceptionally adorable daughter and husband.

Latest posts by Brooke Glassberg (see all)