As with all things, if you want it done right, you have to do it yourself.
Every 15 seconds, a woman is diagnosed with breast cancer somewhere in the world, and until there's a cure, the best option we've got to save lives from breast cancer is early detection, so it's nonnegotiable to take charge of your health and be your own best advocate.
"Despite all the attention breasts get, there really is very little that gets shared about taking care of them," said Corrine Ellsworth-Beaumont, MFA PhD and the CEO of Know Your Lemons Foundation, whose mission is to help women find breast cancer as early as possible.
When every day counts, knowing everything there is to know—or at least where to find it—saves lives. Rather than scouring the Internet to gather together all of this information, Know Your Lemons' new app centralizes it at your fingertips.
Read on for some of the crucial advice Know Your Lemons has put together…
KNOW YOUR PERSONAL BREAST CANCER RISK FACTORS
Age: The higher your age, the higher your risk for breast cancer.
Periods in your lifetime: Menstruation increase the amount of estrogen in your body, which can increase your risk for breast cancer. The more periods you've had, the more estrogen exposure.
Birth control pills: Not all hormone pills or birth control pills increase your risk for breast cancer, but some can.
Genetic mutations: A family history of breast cancer (particularly if it's a first-degree relative) increases your risk because you may share a genetic mutation. However, up to 90 percent of people with breast cancer do not have a family history and are the first to be diagnosed in their family.
Dense breasts: Half of women over the age of 40 have dense breasts. Breast density cannot be felt and can only be determined through a mammogram or other breast test.
Lumpy breasts: Some breasts are lumpy, which is common; it doesn't increase your risk for breast cancer. The medical term for lumpy breast tissue is "fibrocystic" and can cause tenderness, especially during the last half of your menstrual cycle.
Weight: Body fat produces and stores estrogen. Maintaining a healthy weight, especially after menopause, can reduce your risk for breast cancer and other diseases.
Exercise: Not exercising regularly, or being sedentary for long periods of time, can contribute to your risk for breast cancer.
Alcohol & Smoking: Consuming moderate to increased levels of alcohol, as well as smoking cigarettes, may increase your risk for breast cancer.
Race: According to the Center for Disease Control, breast cancer is more likely to be found earlier among white women.
Of course, sometimes even when we do everything right, we may still get breast cancer. That's where knowing what to screen for—and doing it regularly—makes a difference.
WHEN AND HOW TO DO BREAST CANCER SELF-EXAMINATIONS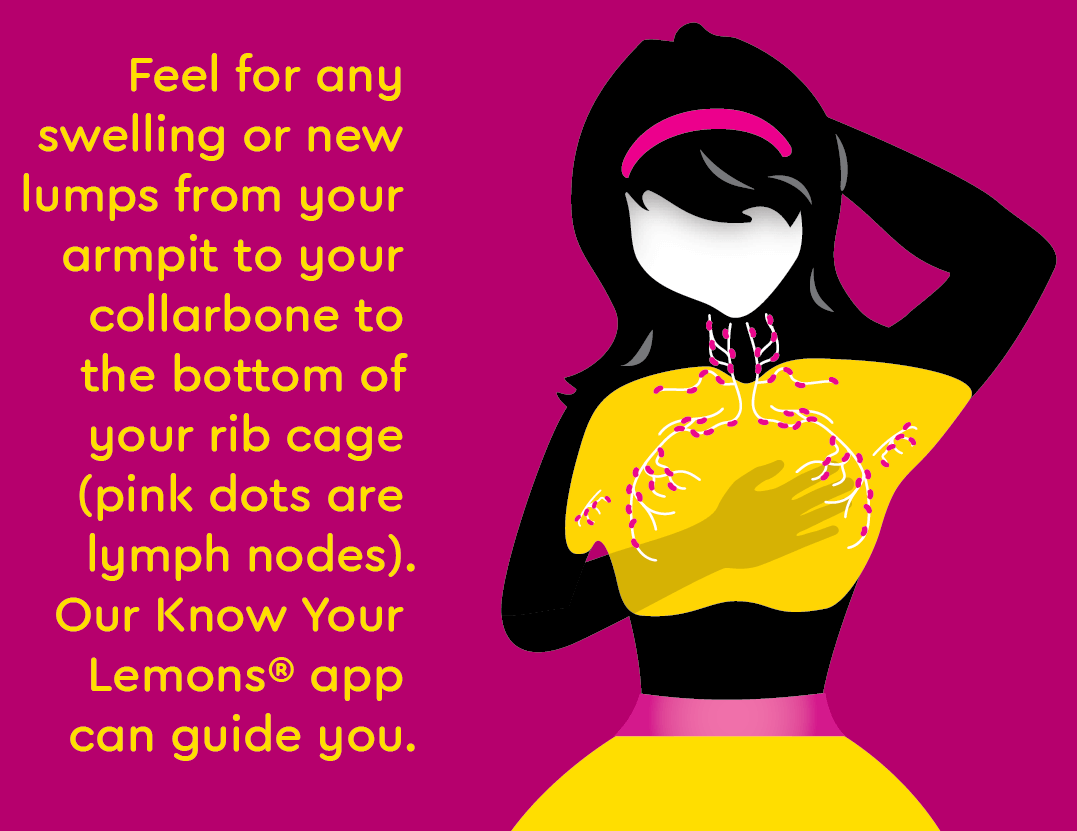 Did you know that your breasts are on a cycle? That's why self-exams should happen a few days after your period ends, when breast tissue is less impacted by hormonal changes that cause harmless lumps, tenderness and swelling.
Do a self-exam at the same time in your cycle each month to compare like-to-like. The Know Your Lemons app will calculate that time frame for you and send you reminders, whether you have a period anymore or not, then walk you through what to look for.
No one knows better than you what your breasts normally look and feel like. Any changes? Tell your doctor right away.
DIAGNOSTIC TESTS FOR BREAST CANCER
A mammogram, or X-ray of the breasts, can find a cancerous lump before it can be felt. According to the American Cancer Society, women ages 40 to 44 should have the choice to start having annual mammograms; women 45 to 54 should get mammograms every year; women 55 and older can switch to every two years if they choose to. Screenings should continue as long as a woman is in good health and expected to live 10 more years or longer.
A small percentage of women with heightened risk factors should also get MRI screenings. Talk to your doctor and make a plan that works for you.
Our Bra Fit Experts are trained to assist at every step along the journey through breast cancer. You can reach us at 877-728-9272 (select option 4) or via chat at barenecessities.com.
Read more posts on Breast Cancer Awareness here.
The following two tabs change content below.

Brooke is the editor of this here blog. In a previous life, she was an editor at Good Housekeeping and O, The Oprah Magazine. Brooke has written for Glamour, Travel+Leisure, New York Magazine and more. She's into concerts, travel and her exceptionally adorable daughter and husband.

Latest posts by Brooke Glassberg (see all)