Julie Ashenfalder, 27, is a registered nurse in a Burn Intensive Care Unit who spends demanding 12-hour shifts on her feet in sneakers, scrubs and sports bras.
"I never really got properly fitted so I thought by this point I should probably know for sure what works for me and run with it," said Julie. "I like the lacy, pretty stuff. Life is too short to not wear cute bras."
We couldn't agree more, but they also need to really fit if you want to feel good, and that's where Julie found herself wanting. She was trying to make 36Ds and 38Cs from Victoria's Secret work for her though they were falling short on support: "I like the different styles they offer, but the quality of the garments has declined, and they definitely don't fit me as well as they used to."
When she heard from a family member that Bare Necessities specializes in over-the-phone bra fittings, Julie said, "Heck, why not?" and dialed.
BEFORE
Bra Fit Expert Mette took Julie's measurements and asked about how her current bra was fitting. Julie said the top of center gore was sticking out a bit, and she noticed some spillage at the top and sides of the cups.
Technically, Julie measured a US 34DDDDD, but in reality, the cup size was too big on her, and the band felt tight.
"We went up in the band and down two cup sizes, which is in effect decreasing the cup volume by an inch overall," said Mette, who noted that certain brands like Panache can run snug. That kind of nitty-gritty technical know-how is exactly why it makes sense to have an Bra Fit Expert's guidance. Every style and brand of bra fits differently, just like shoes or jeans. There's not much you can do to avoid trial-and-error except be patient and work with someone who will make sure you ultimately get it right.
Julie's wish list: "First and foremost, I'm looking for comfort in a bra. Something that looks super cute and moves with me? Sign. Me. Up. I've always wanted to wear the different demi styles and lacy things, but I never know where to start. I'm not into push-up bras, but I definitely like the girls to look good."
"Breast shape has a big impact on what I recommend," said Mette, who suggested an underwire 3- or 4-part seamed cup to lift and center Julie's shallow, East-West chest and steered her away from the T-shirt bras that had a tendency to flatten her out.
And because spring is around the corner, Mette introduced Julie to bra-sized swimwear, too. Mette picked out bras and bikinis and had them sent to Julie, who tried on everything right at home.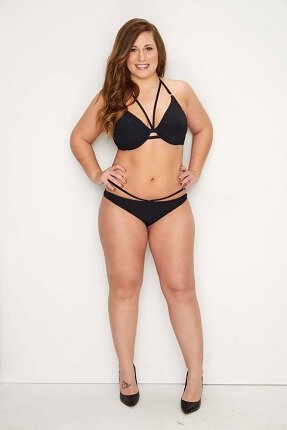 THE REVELATION
"The bikini top was easy. Right away, when I put it on, it was, "Aah, this is so good!" said Julie, who just got back from a cruise. "My Old Navy and Kohl's suits never totally fit right; the underwire is always too small and pinches me. When I tried the bra-sized bikini top from Miss Mandalay for the first time, I wished I'd had that on vacation instead. The 36F fits so well—it holds everything you want held and shows everything you want shown."
As for the bras, it took two rounds of try-ons to get the perfect size in each style. The clear winner: Panache Envy in a 36E. "It fits better than any bra I've ever had," said Julie. "I didn't realize how bad my fit was until I had this! It's not digging, it picks you up, it holds my boobs in, there's no spillage and it's not a grandma bra."
Before her fitting, Julie said she didn't know what a three- or four-part cup was; now, they're her favorite.
"Bare Necessities somehow manages to specialize in all shapes and sizes, so you will be able to find what works best for you," she said.
AFTER
"I like the lace ones [the Panache Envy and Freya Fancies] the best. Those fit much better than what I was wearing. They hold me in, the spillage problem is gone, the smaller band feels better and the center gores sit perfectly," Julie reported back. "I feel more comfortable all day long now, and I love knowing I have something cute on under my scrubs. Everybody has to wear this stuff—it doesn't have to be torture. I'm proof it can be fun."
JULIE'S BEST BRAS—AND BIKINI!
Panache Envy Balconette Bra
Freya Fancies Plunge Balcony Bra
Fantasie Rebecca Lace T-Shirt Bra
Miss Mandalay Icon Bikini
The following two tabs change content below.
Brooke is the editor of this here blog. In a previous life, she was an editor at Good Housekeeping and O, The Oprah Magazine. Brooke has written for Glamour, Travel+Leisure, New York Magazine and more. She's into concerts, travel and her exceptionally adorable daughter and husband.
Latest posts by Brooke Glassberg (see all)